Jeff Kready (Ted), Hayley Podschun (Linda), Nicholas Rodriguez photos by Jerry Dalia
By David Schultz
This perfect holiday classic, recently on Broadway in 2016 is brought back to delight yet again. This snazzy show is based on the well-known Bing Crosby/Fred Astaire film shown on cable year after year. It's a warm as a roaring fireplace, toasty as a hot toddy, corny as all get-out, comfort food writ large. With an enormous back catalogue of Irving Berlin classics including "Cheek to Cheek", "Easter Parade", "Steppin' Out with My Baby", "Easter Parade" and "White Christmas", how can you go wrong?
Director Gordon Greenberg once again helms this production, as he did a few years ago on Broadway. With a book shared by Mr. Greenberg and Chad Hodge the show seamlessly melds the robust Irving Berlin cannon with additional music culled from the film "White Christmas" as well as other familiar tunes to make this work overflow with over 20 songs that still stand the test of time.
This show feels at times to be a 1940's "jukebox" musical…with many of Berlin's songs shoehorned into whatever may be happening onstage. One is always aware of the slight manipulation at hand, but the perfectly cast performers and the exuberant choreography by uber talented Denis Jones makes you forget all about that.
His inventive use of dance, co-mingled with extraordinary tap-dance moves are consistently dazzling. The fluid cinematic settings are zippily created by Anna Louizos. With perfectly wrought 1940's garb designed by Alejo Vietti the visual aspect feels and looks like the folks onstage popped out of a Life magazine spread from the time period.
Jeff Kready and Paige Faure
The convoluted storyline: Jim Hardy (Nicholas Rodriguez) is tired of his song and dance gigs on the road, his girlfriend Lila Dixon (Paige Faure) still loves the bright lights, and on the cusp of a big time booking is jazzed to get famous. Not so Jim, as he proposes to Lila with the engagement ring proffered, he also has just bought the deed for a farm in Connecticut. No dice, says Lila. With Jim's other partner Ted Hanover (Jeff Kready) nearby wanting to continue the dancing life as well, the trio part ways leaving Jim to head to the hills and become the farmer he has always secretly dreamt of becoming. Lila and Ted go off to other musical gigs to hit the boards and hopefully get big time famous.
Hayley Podschun (Linda), Nicholas Rodriguez (Jim), photo by Evan Zimmermann
The forlorn Jim licks his wounds as he attempts to make his garden grow…with not much success. A knock on the door…the previous owners daughter Linda Mason (Hayley Podschun) comes a-calling to pick up some items left behind. In no time flat these two become enamored with each other. The mortgage is past due. Will Jim be able to keep the farm? Seems Linda was a singer years ago. In no time flat, the novel idea of 'saving the farm' opens up to creating a Holiday Inn with all of the dancers from Jim's dancing days, with the proviso that they only perform on the holidays. In no time flat the housekeeper kept on board Louise (Ann Harada) gets the gang together to meet up at the farmhouse and plan on the creation of the newly formed Showplace.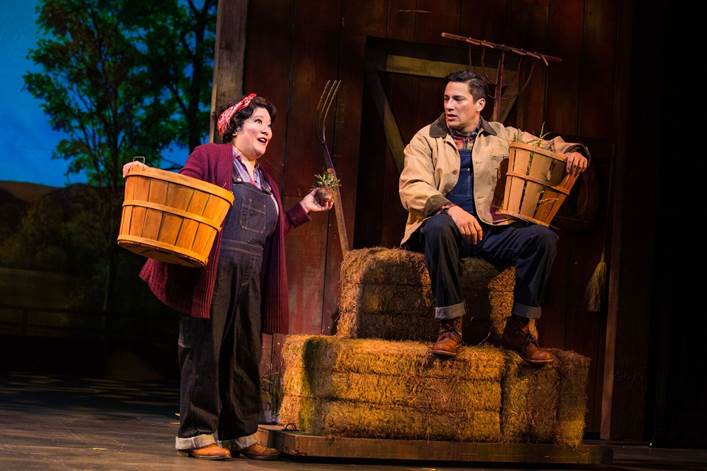 Ann Harada and Nicholas Rodriguez photo by Evan Zimmermann
Ok…Ok…corny, yes...with all the inherent complications that ensue, it's going get wild, don't cha know? Jim's ex partner Ted has already become cozily connected with Jim's previous flame Lila, as they seem to be on an upward rise to fame on tour and the radio. Ted finds himself at the farm at the end of Act One, with designs of nabbing Linda as his newest dance partner. The adaptors of this show have made all this nonsense extremely palatable for modern tastes. The homage to the original film is palatable, with a few standout numbers "Let's Start the New Year Right", a dazzling ensemble piece with tap dancing that brings down the roof, and "Song of Freedom"/ "Let's Say it with Firecrackers" a homage to the Fred Astaire set piece with mini explosions onstage. It's all just a giddy delight from start to finish. The cast seems to be on the same page and enjoying the ride with this musical throwback into a more innocent time. Director Greenberg seems to have a genuine fondness for the work, and it filters down to every aspect of the production.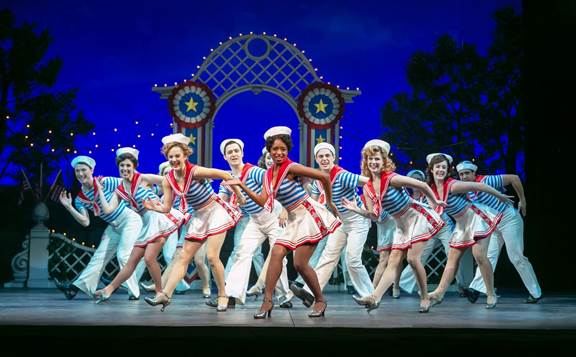 They don't make em' like they used to is a well-worn phrase. Call me old-fashioned, but some things do stand the test of time. The holidays are nipping at our heels right now, so nothing could be better than kicking back with a throwback to a 60 plus year-old look back on a glorious musical timeframe. Hooky, umm, yes…imperative to revisit again? Yes.
Playing at The Paper Mill Playhouse
22 Brookside Drive, Millburn, NJ
973-376-4343
PaperMill.org
Playing through December 30th