Rebeckah Brockman                              photos by
Russ_Rowland
                                            by Deirdre Donovan
"Dear Miss Littlewood,
Along with this letter comes a play, the first I have written.  I wonder if you would read it through and send it back to me because no matter what sort of theatrical atrocity it might be, it isn't valueless as far as I'm concerned."
Shelagh Delaney's above letter to Director Joan Littlewood has a searing honesty, as does her trailblazing play A Taste of Honey, which presents the lives of the working class in Britain during the 50s. 
Fortunately, Littlewood not only read Delaney's work, but was so impressed by its candor and wry humor, that she directed it for her Theatre Workshop and debuted it at Theatre Royal Stratford East on May 27, 1958.  It would later wing its way to the West End and Broadway and become the darling of the critics and public alike. 
After a 35-year eclipse from the New York stage, Director Austin Pendleton has remounted A Taste of Honey at the Pearl Theatre to kick off its fall season.  And the work surprisingly resonates with our contemporary culture and social issues today.
Before parsing the current production, a few more words on this play that jolted the theater world in the mid-twentieth century.  Delaney penned it in only ten days at age eighteen, when she was an unheard-of writer from Lancashire, England.  She had just seen Terence Rattigan's play Variations on a Theme in Manchester before its West End premiere and was incensed over its "ridiculous attitude to homosexuality."  A Taste of Honey not only was her response to Rattigan's insensitive work, it was a cri de coeur against the narrow-mindedness of people of her day.  What's more, she hoped it would serve as a lens into the disenfranchised lives of the poor and all marginalized people in her society.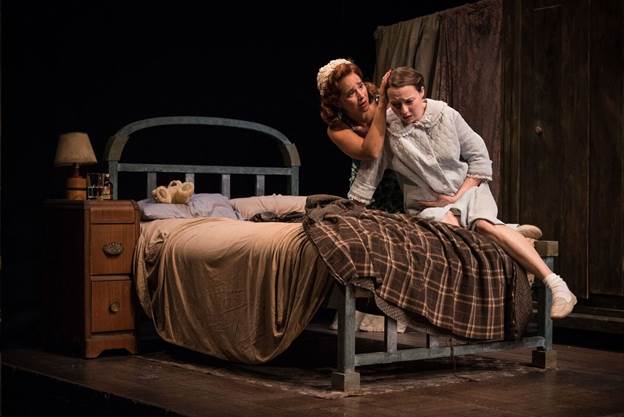 Rachel Botchan, Rebeckah Brockman
The play brings before us an impoverished teen Jo and her semi-whore mother Helen.  We meet them just as they are settling into an unheated flat just before the Christmas holidays.  But no sooner do they unpack their bags that Helen's boyfriend Peter materializes at the door with a spiel that he will give Helen the good life she craves.  Helen leaves with him with nary a thought for Jo's well-being.  Lonely, Jo has a love adventure with a handsome Nigerian sailor who soon leaves her for his next port o' call.  Jo finds herself pregnant in New Year with nothing but her own courage to rely on.  She meets Geoff, a gay art student with a kind heart, who moves into the flat and becomes like a "big sister" to her.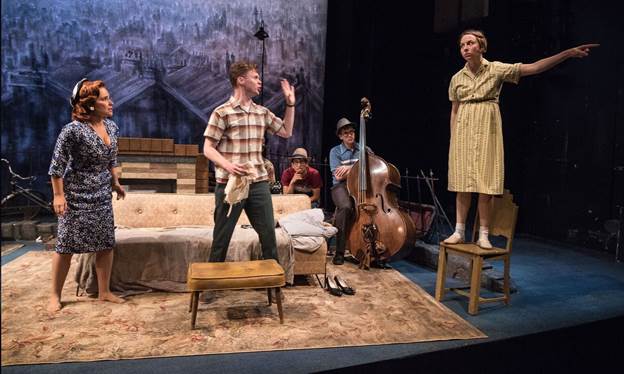 Rachel Botchan, John Evans Reese, Rebeckah Brockman
Returning to the current iteration, the acting is mostly effective.  Rebeckah Brockman is well-cast as the gamine Jo, balancing the tomboy with the budding woman in her character.  Pearl veteran Rachel Botchan, as the semi-floozie Helen, is fittingly brash and buxom but could add a whiff more bite to her 40 year-old character.  Bradford Cover is convincing as the rake Peter, mixing charm with a diabolical slickness.  And Ade Otukoya, as Jo's sea-faring and fly-by-night lover, is spot on.  And let's not forget John Evans Reese, who inhabits the gay art student Geoffrey with a winning simplicity.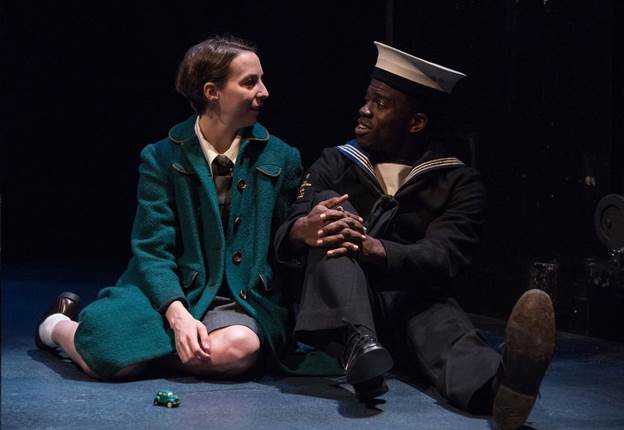 Rachel Botchan   and Ade Otukoya
Beyond the acting, Harry Feiner creates a suitably shabby set that depicts a seedy Salford flat and the ghetto surrounding it.  And, with Eric Southern's naked lighting outlining each tattered prop on stage, one gets a real taste of poverty in a British backwater town.  Rounding out the creative team is Barbara A. Bell, whose eclectic costumes are perfect for her down-at-heel characters.  
There's many poignant moments in this kitchen-sink drama.  And one of the most touching is when Reese's Geoffrey tells Jo that he likes her and doesn't mind being her temporary companion and protector during her pregnancy.  Or as he puts it baldly:  "Oh, well, you need somebody to love you while you're looking for someone to love." And though Jo will eventually accuse Geoffrey of instigating a "back-to mother" movement for her, she evidently has a great deal of affection for him and admires his courage for marching to his own drummer and pursuing his artistic dream.
Theatergoers who have never seen this play should take advantage of this opportunity to see it staged with sensitivity by Pendleton.
Pendleton, who has made a name for himself for his treatment of the classics, proves once again that he can dust off an old play and make it come alive for a new generation.  This provocative production of A Taste of Honey, which kicks off the fall season at the Pearl, begs the question:  What will Pendleton tackle next?
Through October 30th.
The Pearl Theatre, at 555 West 42nd Street (between 10th and 11th Avenue), Manhattan.
For tickets and more information, phone 212-563-9261 or visit www.pearltheatre.org.
Running time:  2 hours; 30 minutes with one intermission.