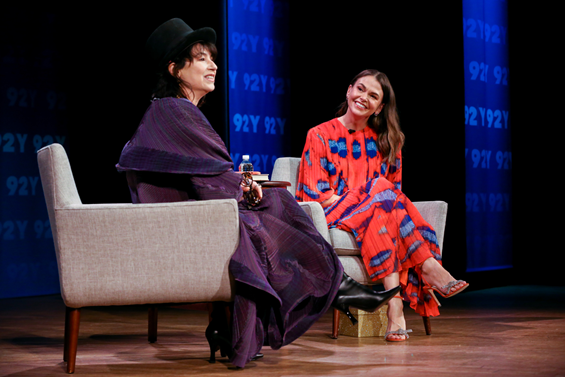 (left to right) Amy Sherman-Palladino, Sutton Foster
Photo: Rod Morata/Michael Priest Photography
Sutton Foster in Conversation with Amy Sherman-Palladino
Hooked: How Crafting Saved My Life
A Review by Deirdre Donovan
Teaser:  Two-time Tony Award winner Sutton Foster chatted with Amy Sherman-Palladino at the 92nd Street Y about her new memoir that explains how crafting has been a true life-saver for her.
What's Sutton Foster up to nowadays?  A lot!
In an interview with Amy Sherman-Palladino (Gilmore Girls, Bunheads, Younger, The Marvelous Mrs. Maisel) at the 92nd Street Y on Wednesday October 13th,  two-time Tony Award winning actress Sutton Foster talked about her new memoir, Hooked:  How Crafting Saved My Life and utterly charmed the audience.
Hooked, which is dedicated to her late mother, Helen, and her daughter, Emily, is a bittersweet collection of stories that will have you laughing and crying at once.  Rather than following a strict chronological order, Foster has taken poetic license and woven her stories together much like a giant quilt.  There's a chapter devoted to her fraught relationship with her agoraphobic mother, juxtaposed to a chapter on her first marriage and painful divorce to Christian Borle.  Then there's other swaths that describe her big breaks in theater and television, her second marriage to Ted Griffin, and the adoption of her daughter Emily (following a long battle with infertility).   In between, there are recipes, crafting patterns, and more.
In the hour-long program, Foster explained how the book arose from her passion for crocheting, a hobby that has both centered her and served as a kind of "time capsule" for her life.  Foster pointed out that crafting neatly indexes her past, present, and future.  Moreover, it has allowed her to tell her life story in a colorful and tangible way, gathering up the various narrative threads of her life and seamlessly letting her private and public personas overlap.
Both Sherman-Palladino and Foster were dressed to the nines on stage, with Foster outfitted in a long red-and-blue dress with a semi-abstract design and Sherman-Palladino in a full-length purple cape and—no surprise here--her signature top hat.
How did Foster catch the crafting bug?  She confessed it was through her fondness of a beloved family heirloom, the crocheted afghan that lay at the foot of her mother's bed.  Foster explained that it was a staple in their family home and could morph from a cozy blanket to a make-shift gymnast's mat in a nanosecond.  In fact, she often practiced handstands and other athletic maneuvers on it at home.   Little wonder that Foster had an edge at auditions when she started out in showbiz.
In Hooked, Foster notes that she has painstakingly penned a resume of all her crafting projects, which are as varied as crocheted toilet paper covers, blankets galore, collages, paintings--and her latest direction--mosaics.  Although Foster didn't specifically refer to her crafting resume during the program, she did broadly chronicle her crafting mediums, which have evolved over the years from gum wrappers, to cross-stitching, crocheting, painting, and collaging.
If pressed to describe Foster, most folks would summon up adjectives like "sunny," "plucky," and "vivacious."  But when Sherman-Palladino pointedly asked Foster to comment about the public's happy-go-lucky perception of her, Foster soberly responded that her new memoir gets closer to the truth of who she is.   Indeed, Foster shared that she has struggled through many crises in her life, and attests that crafting has "preserved her sanity" during some of its darkest moments.
Sutton Foster
Photo: Rod Morata/Michael Priest Photography
While crafting was the theme of the evening's conversation,
Sherman-Palladino playfully nudged Foster to recount some of her most memorable moments in showbiz, including her first big break in Thoroughly Modern Millie.  Foster smiled, and took a breath, before launching into the details of this real-life story. 
In fact, she had turned down the role of Eponine in Les Miserables on Broadway to be an understudy to the lead actress in Millie at the La Jolla production (her friends thought she was crazy!).  But what happened during the La Jolla production resembles a fairy-tale:  The lead left the show, and Foster stepped in and wowed audiences—and the rest, history.  When the show transferred to Broadway, Foster would go on to win the 2002 Tony Award for her starring role as Millie Dillmount.
Not all the stories that Foster told from the stage were as upbeat as that one.  In fact, Foster opened up about her "fraught relationship" with her mother, an undiagnosed and untreated agoraphobic, who seldom left her home.  Not only did it isolate her mother from family members (her brother Hunter didn't speak to his mother for 10 years when she disapproved of his romantic choices) and friends, it also meant that Foster would never see her mother in the audience on her opening nights.  Foster said that one of her mantras was "acceptance without expectation," words that helped her to cope with the Gordian knot of her late mother's mental illness.
Sherman-Palladino got Foster to talk a bit about her upcoming turn on Broadway with co-star Hugh Jackman in The Music Man.  Foster admitted that the extended pandemic lockdown, which had put the production on hold, has certainly exercised her patience.  But, she added, it hasn't dampened her enthusiasm over being cast as Marian Poo opposite Grant's Professor Harold Hill.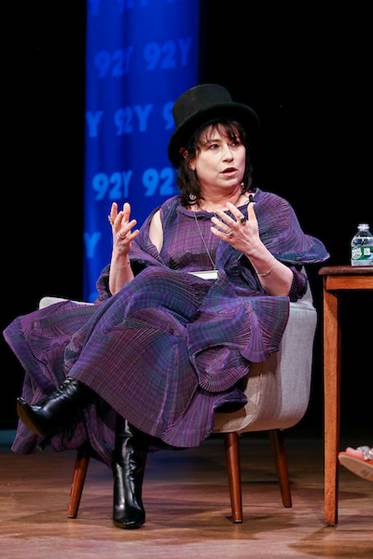 Amy Sherman-Palladino
Photo: Rod Morata/Michael Priest Photography
Just before the evening wrapped-up, Foster surprised  Sherman-Palladino with a small gold-colored gift package that she had tucked beneath her chair on stage.  And its contents?  What else?  A mini- top hat for Sherman-Palladino to add to her sartorial collection.  It was the perfect ending to the conversation, and the audience warmly applauded both luminaries.
The audience slowly drifted out of the Kaufmann Concert Hall, many pausing in the Hall of Mirrors to buy a copy of Foster's new memoir (it includes scrumptious family recipes and crafting patterns), to read at more leisure and to have as a keepsake of the star-dusted evening.
Sutton Foster in Conversation with Amy Sherman-Palladino,
October 13th.
At the 92nd Street Y, 1395 Lexington Avenue, Manhattan.
For more information on upcoming 92nd Street Y programs, visit www.92y.org.
Book is now available in hard-cover and e-book formats, visit Grand Central Publishing Online, www.hachettebookgroup.com.