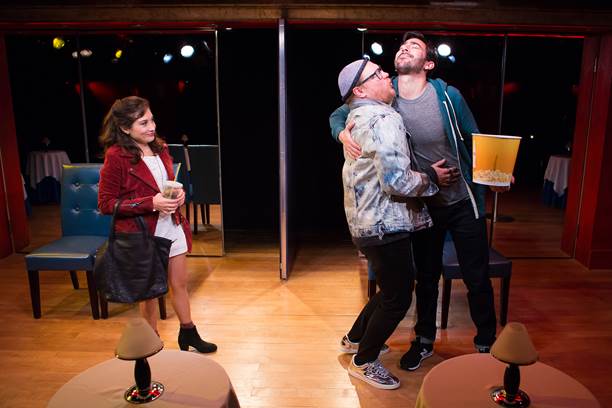 Lucy DeVito, Paul Molnar, Max Crumm              photos by Jeremy Daniel
                              By Ron Cohen
For a play that seems compelled to spew lots of graphic sex talk, Hot Mess also dispenses a lot of charm.
The script concerns the romance between Elanor, a female standup comic in Los Angeles, and Max, a one-time comic but now a writer for a humor blog. We meet them on their first night together in bed, and things seem to be going pretty well, as they make small endearing confessions. He's an alcoholic but has been sober since he was 18, 10 years ago. She comes from a pretty nutty family, including an alcoholic mother who left her alone on a train when she was six years old, leaving a deep psychic scar. Other stuff in her history hasn't helped. 
Paul Molnar and Max Crumm
The one thing Max can't bring himself to confess is that he's bisexual and has been until just recently living a gay life style. How Max finally gets up the courage to tell Elanor, prompted by his friend Lewis, another comic, is the crux of the plot. But it's not before Lewis playfully and rather incessantly prods Max on the type of sex acts he has committed with guys.
That this flimsy rom-com – written by Dan Rothenberg and Colleen Crabtree -- bubbles along like a good standup routine rather than seeming like a barrage of heavy-handed gay humor, credit goes to a winning cast directed for a blithe sense of fun by Jonathan Silverstein.
Or it may be that we just have become inured to the utter vulgarity of it all, as with growing regularity, tales of wayward penises fill the pages of our most prestigious publications, such as the New York Times and the Washington Post.
At any rate, Lucy DeVito is an absolute delight as Elanor. Quirky, yes, but also soulful and just sexy enough, and when the script calls for it, an uninhibited comic. Max Crumm registers with more than a dollop of an appealing "aw, gosh – early Jimmy Stewart sensibility," seasoned with the slightest dash of Jewish intellectual-cum-nebbish.
As Lewis, Paul Molnar ably does most of the heavy-lifting when it comes to delivering the bluest material. He's infectiously funny, even when explaining to Max that he will have to eventually spill the beans, because there are no Hallmark cards written for that purpose. He then gleefully proposes some greeting card messages that Hallmark might use for that purpose, until Max finally interrupts to shut him up. Here's the last of Lewis's gems: "I hope your birthday's been a blast, did I mention that I took it in the –." (Max cuts off the rhyme – for humorous effect, not propriety.)
Well, now you have an exact sample of the play's humor. As the guy says, you pays your money, you makes your choice. But you should also know, the production benefits from a sleek set design by Tobin Ost, suggesting a comedy club, with a row of café tables bordering the intimate thrust of a stage. Mirrored panels, which can be turned around to define other locations, make up the back wall. It's glamorously lit by Matthew Richards, with some dramatic effects underpinning time and locale shifts and the climactic look into the traumatic episode that goofily haunts Elanor. Yes, it that's time on the train, and as DeVito enacts it, it's hilarious.
Hot Mess has the potential to leave you feeling like you've just swallowed a sour, libido-lurching nostrum. But for whatever reason, maybe just the "magic of theater," it tastes rather like a bon-bon.  
 Off-Broadway play
Playing at The Jerry Orbach Theater at The Theater Center
1627 Broadway at 50th Street
202-307-4100
Playing until December 17