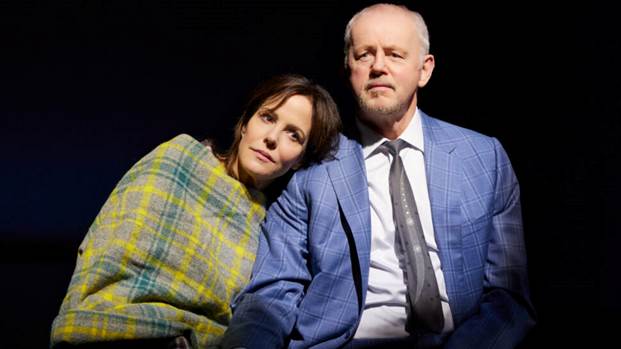 Mary-Louise Parker and David Morse
Jeremy Daniel
How I Learned to Drive
††††††††††††† by David Schultz
Manhattan Theater Club has remounted Paula Vogelís Award-Winning play to shattering effect. If anything, this Broadway iteration has only grown in stature throughout the intervening years. The original production had its premiere in 1997 with two standout performers at the helmÖ. Mary-Louise Parker as Liíl Bit and David Morse as Uncle Peck. These two mesmerizing performers have once again glided into these two iconic roles with uncanny ease.
†The topic of child sex abuse is abhorrent, but as this play unravels and peels away layer by layer, the complexity of Liíl Bitís young life is brought to horrifying light without any exploitation. The slow incremental shades of these two souls are intertwined with pain and shame. The wise use of nonlinear timeframes that stretch backward and forward give the play a self-reflective arc. In her first lines of dialogue Liíl Bit states ďItís 1969. I am very old, very cynical of the world, and I know it all. In short, I am seventeen years old, parking off a dark lane with a married man on an early summer night.Ē Not a creepy fella, not at all, this is her beloved Uncle Peck. Her lowly Maryland brood distain her and mock her with nasty comments. He treats her with respect and is the complete opposite in tone and demeanor.
His gentility is a salve that heals her emotional woundsÖ. at least initially in her conflicted mind. But the inner demons that haunt Uncle Peckís inner thoughts, then acted out, eventually come to betray the trust she gives to her uncle as the play moves throughout time.
Other characters populate the drama. The playbill states that the various male and female portraits are under the heading of Female Greek Chorus, Teenage Greek Chorus, and Male Greek Chorus. In various moments in the 90-minute play Johanna Day, Alyssa May Gold and Chris Myers portray grandmother, grandfather, aunt, and in a gut-wrenching final scene the 11year old Liíl Bit experiencing the shock of her first sexual assault with steely eyed confusion and terror as she looks straight aheadÖ. a deer frozen in the headlights. This occurs during a driving lesson with Uncle Peck. The sporadic scene titles that frame the evening are a cunning theatrical device to distance the audience, and put them at a relative ease on occasion.
Johanna Day lightens the mood in one scene entitled ďA motherís guide to social drinkingĒ, detailing as Aunt to her Liíl Bit the proper way to drink with a gentleman and how not to get overcome with libationsÖthe various pros and cons of what is a Ďladyí drink, a proper drink, and how to imbibe gracefully. These comic interludes are interspersed with scenes at various ages of Uncle Peck taking Liíl Bit out as an underage girl and plying her with various libations. The comic and insidiously monstrous implication of what all those drinks can do to a young girl are intertwined with Uncle Peckís preternatural intentions. The methodical comingling of gentle humor and impending emotional devastation are impeccably drawn out imperceptibly by Director Mark Brokaw who originally helmed the play 25 years ago. He draws out subtle performances from the entire cast. Many quiet moments are impeccably displayed. One can actually see and sense the inner thoughts of the actors onstage. In particular the two leads complement and swirl around each other with the sexual predatory ardor of Uncle Peck and Liíl Bitís innocence mixed with budding sexuality that creates this ungodly duo.
The tension of what happened, what will happen and the reaction of the eventual revelation to family members give the play a shivering momentum. The memory of events travels from year to year and back again with the stark visual that starts and ends the production. These two sitting in a car, and learning to drive with Uncle Peck giving the rules of the road. The minimal set design by Rachel Hauck is perfectly in sync with this memory play. Nothing gets in the way of the raw storytelling. Original music and sound design by David Van Tieghem gracefully give an undertone of emotional dissonance that underscores the evening. The climax of the evening is haunting and the visual picture it displays is calmly emotional at first, then devastating beyond description.
How I Learned To Drive
MTCís Samuel J. Friedman Theater
261 West 47th Street
(212) 399 -3000
Playing through May 29th†††