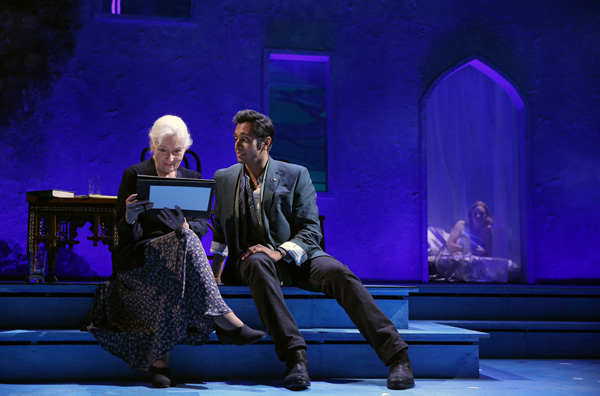 Rosemary Harris and Bhavesh Patel                        photos by Joan Marcus

                                          By Gene Paul
Set designer Neil Patel's elaborate Indian frame around the entire proscenium captures a certain exotic aura which enhances the tranquil,  pale blue  house – or is it a hotel? – within, its intricately arched windows saying this is India, 1930.  A travel worn young lady carrying her single suitcase in spite of the vigorous disapproval of her Indian guide cannot wait to go inside. Downstage, the tea table and chairs, though Indian influenced, say England. But might it just as well be saying England within India?   We know for sure as soon as starched, plain, Eleanor Swan (remarkable 87 year old Rosemary Harris) offers obsequiously bent Mr. Pike (excellent Neal Huff) a choice of cake for his tea.  Still worming himself into her good graces, Mr. Pike chooses her favorite.  She serves him a very slender slice, indicating a short interview.
Mr. Pike has come seeking anything and everything he can find out about Flora Crewe (lovely Romola Garai) the somewhat notorious older sister of Eleanor's whose poetry he has published to enough acclaim to stimulate Mr. Pike into wanting more: perhaps a biography?  Eleanor sets him right about that. Nothing like a biography to get everything wrong. Perhaps a memoir, M. Pike thinks, eyeing the box full of letters Eleanor has saved for over fifty years, letters from Flora from her stay in India, written around the time of her rumored nude portrait, now missing.  Eleanor has no such portrait, nor would she give it to him. Perhaps he should look in India, even after all this time?  Oh, he will, all right.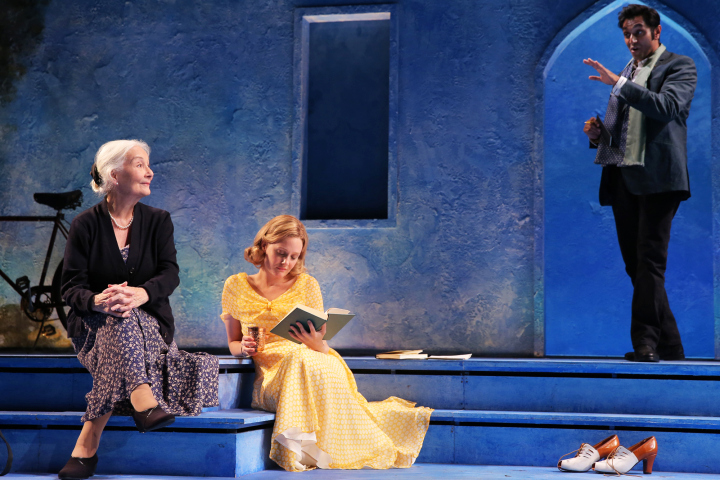 (From left) Rosemary Harris, Romola Garai and Bhavesh Patel
And we are in India again, in the 1930's as lissome Flora settles in, extravagantly fawned upon by Indian gentlemen and their lessers. Rumors of her arrival in India have attracted among others, Nirad Das (brilliant Firdous Bamji) all enamored shyness, confessing his absolute longing to paint her, the exquisite agony of being in her presence intensifying as the days go by, much of his enchantment conveyed in letters by Flora to her sister.  Also smitten is dashing David Durance ( spot on Lee Aaron Rosen) as British as British could be, his quest and his questions telling Flora he's somewhat on official business as well as being another worshipper at the shrine of Flora.
Playwright Tom Stoppard plays with us, plays with time, plays with his characters.  Is the lovely Flora as sweet and simple as she appears?  Then why the lip smacking history trailing behind her? Does she really know H. G. Wells, and how well?  For that matter, what was her relationship with that Italian sculptor/painter Modigliani? Why are British intelligence services, especially dashing Durance so interested in her? And what is she doing in India? And – can noted painter Nirad Das, contorting himself suppressing his grand passion for Flora, as he paints her, day after day, can he really be so in love with her without reciprocation on her part?
That, also is the burning question young Anish Das (splendid Bhavesh Patel) asks Eleanor, fifty years later. He, too, is looking for answers about his family's involvement hidden somewhere in the few tales and objects that have been handed down to him.  And playwright Stoppard is in no hurry to resolve anyone's curiosities, least of all, ours. What nags is a suspicion of subterfuge.  Oh, Not Eleanor's.  Rosemary Harris as Eleanor is the picture of protective rectitude concerning her sister's past.  It's our playwright, Stoppard, who is playing with us.  Even as he doles out Flora's story – in India – he allows us to see the British versus the Indians whose continent the British have subsumed and made their own.  Director Carey Perloff makes much of this fascinating, disturbingly insensitive baring of behaviors, Stoppard's subtext, and the play's real message.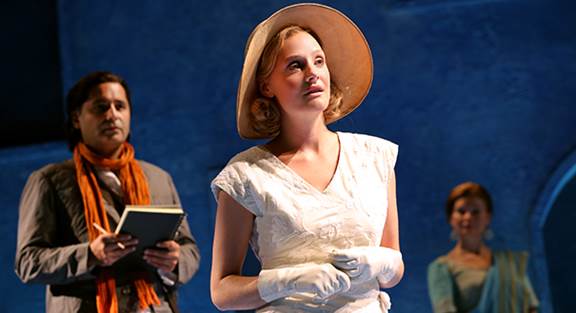 Firdous Bamji and Romola Garai
Because Flora's story, when you come right down to it, is lady's book twaddle, dressed to kill in Stoppard speak. How British the upper class Brits are, indulging themselves in India, even in those waning days of the Empire.  Dashing David Durance takes Flora riding to woo her.  To debrief her?  He takes her dancing in a very British club, and very off the cuff, although still stiff upper lip, he proposes to her. Flora dismisses his offer of marriage with the same aplomb.  It seems she is more intrigued holding her Indian painter, Anish Das, in thrall.
Romola Garai plays Flora as if she were, indeed, Flora, feather light but deep down weighted by what may have happened. Or by what is happening? Is she really in inclement India for her health as she claims or is another malaise lying heavily on her? Has Eleanor read between the lines and does not wish Mr. Pike to do the same?  Does Stoppard leave us wanting more, not knowing what we really want?  It's a slippery play, full of pleasures and disappointments.
Much as I admired Romola Gerai and Rosemary Harris, by far the most interesting character is Anish Das.  Firdous Bamji is giving one of the most complex, subtle performances in town.  I also particularly liked Rajeev Darma as a very obvious Rajah, Ajay Naidu, Omar Maskati and Nick Choksi, and Neal Huff as Mr. Pike grew on me. Costumer Candice Donnelly has dressed the company in story telling clothing they all wear as if lived in and director Perloff has baked her company as if it were a delicious tea cake.  I think I would have liked a bigger slice.                                                    
Indian Ink. At the Laura Pels Theatre, 111 West 46th Street. Tickets: $89. 212-719-1300. 2 hrs, 45 min. thru Nov 30.