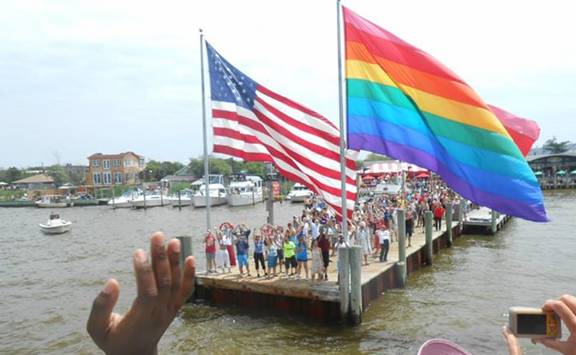 by Jeannie
                           Photos by Just Lorraine & Joyce Rogers
The modest event, that began in 1976 with just a water taxi load of Drag Queens "invading the Pines harbor" after Blue Whale proprietor John WHyte denied their forerunners entrance as violating the no cross dressing code, has attained even greater heights this year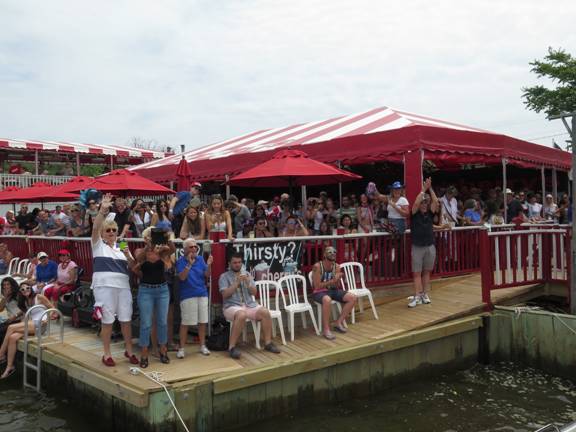 Additional Pomp & Circumstance to an already regal event was added by the march8ng bands on one of the two ferries this year.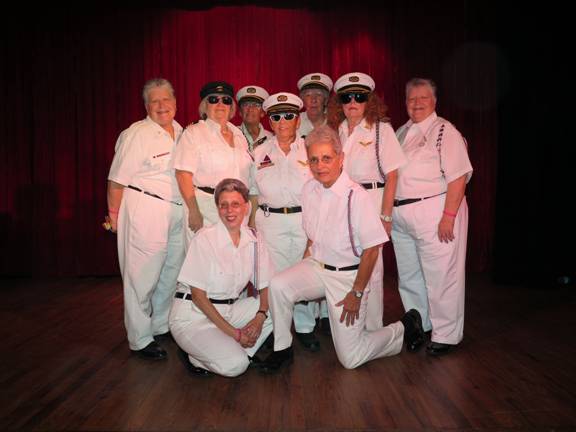 The community house hosted pre voyage convocation for photo ops and Homecoming Queens past & present then escorted by the  New York City Lesbian & Gay Big Apple Marching band to the Ice Palace to join hundreds of LGBT  participants  primping and posing for local photographers before boarding.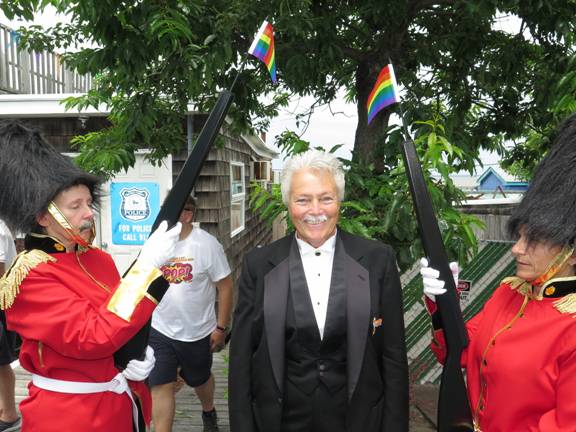 Our photographer Just Lorraine
There was some element of tension due to the friction between Pines property owners Ian Reisner and Matti Weiderpass and the community but it was dispelled in typical Grove fashion when Panzi, event coordinator, stomped the 2 blowup dolls in effigy of them with her stiletto heels to the cheers of the crowd. However parade dignitaries Panzi and Demi and her entourage remained on the dock and were the first onboard for the return trip to the Grove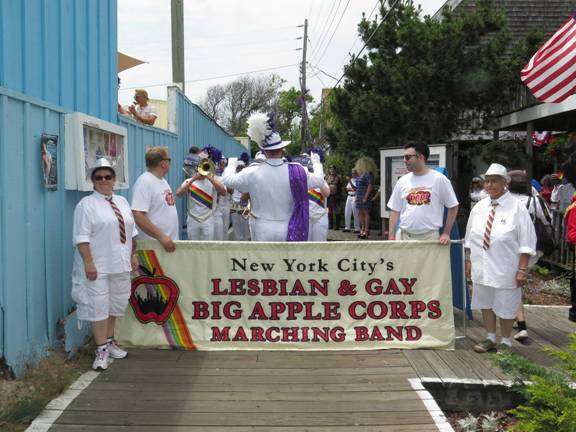 The parade to the boats was its usual colorful collage of feathers, frocks, wigs that made no attempt to follow nature, as the participants were "herded" onto the waiting boats spurred on by Pansy's bull horn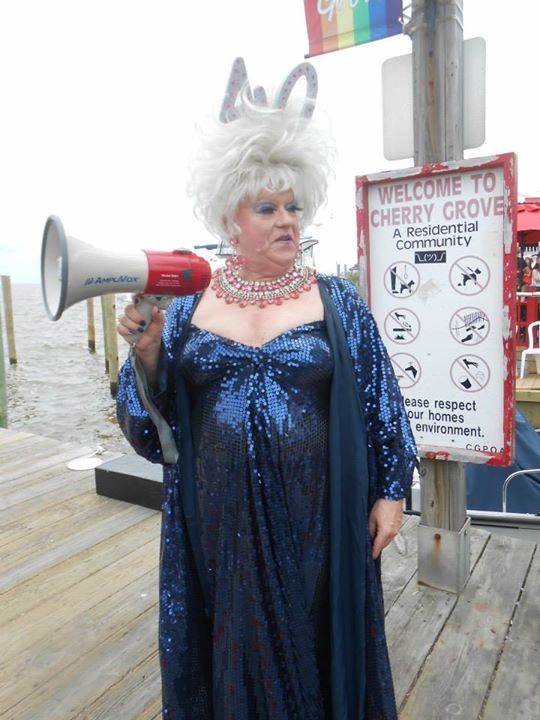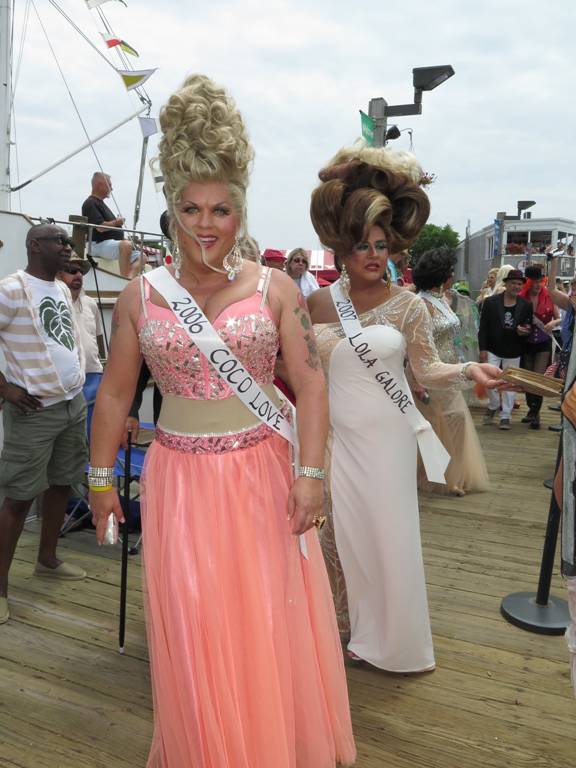 The ride over to the pines is a raucous experience with the omnipresent Drag Repair by providing nail glue and mascara, lip gloss, safety pins as needed before "show time" the disembarking along the Pines pier to the thousands awaiting them. A banner waving plane flew over with a marriage proposal. Occasion waves to "civilian' in passing boats and ferries a source of merriment. Music blared from the speakers with favorites like "It's Raining Men" and "I'm Every Woman." In welcome (I used to toot the horn as the ferries "invaded" the harbor lined with gaily decorated yachts who tooted back what ever signal I made up)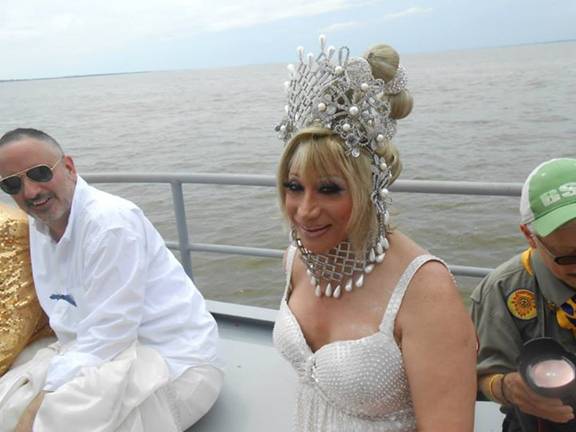 As announced by  Mistress of Ceremonies Panzi (with a barrage of bon mots for each) Homecoming Queen Demi Tasse led the procession with her entourage, then Miss Fire Island 2014 Brenda Dharling  followed by former Homecoming Queens China, Urban Sprawl, Beach Debris, YaNeeda Dunes, Whore D'Oeuvre and Donna Piranha…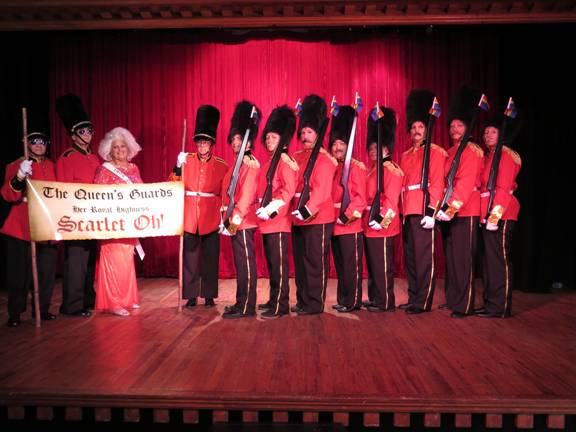 and 1994 HCQueen RG Scarlet OH (Joan Van Ness) with her convincingly attired "macho" all female royal guard.
The processing concluded with a fitting tribute to Captain Ken Stein the Stein family owners of Sayville Ferry Service, who helped make this day possible
There was a drag queen contest at The Pool in back of The Canteen with $1,500 in cash and prizes and free drinks to those in drag from 2-4PM at which time the ferries departed for the return trip to the Grove where another parade of participants occurred.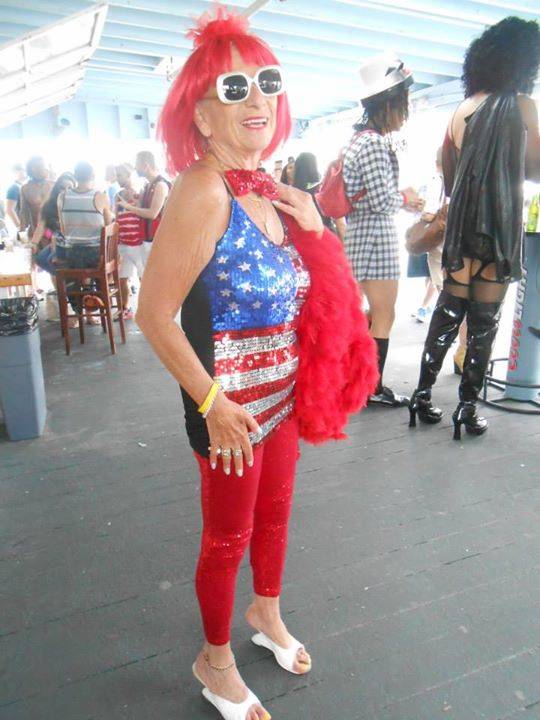 Our photographer Joyce Rogers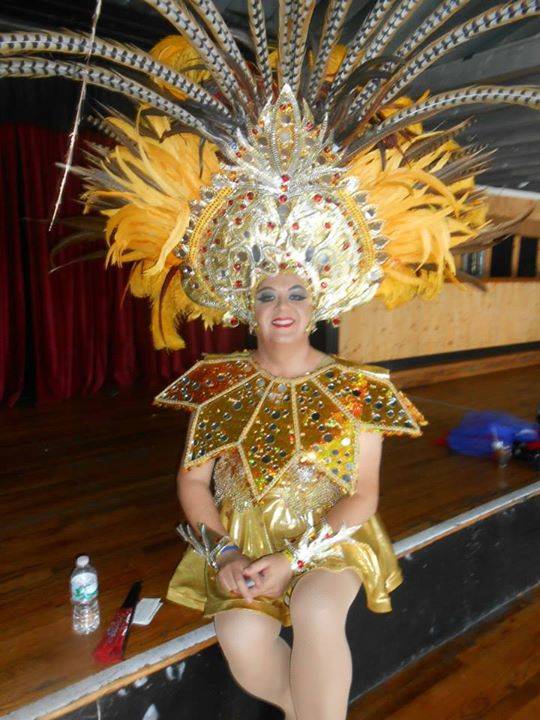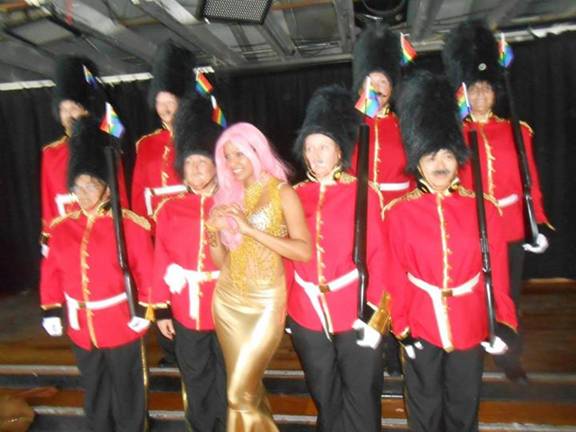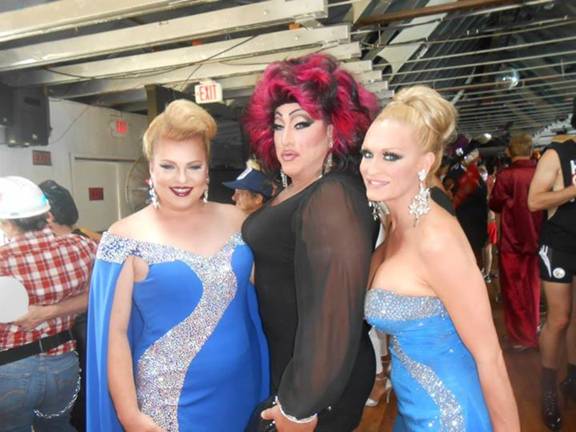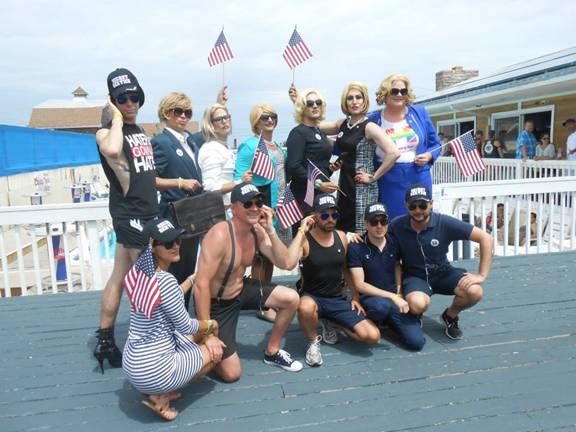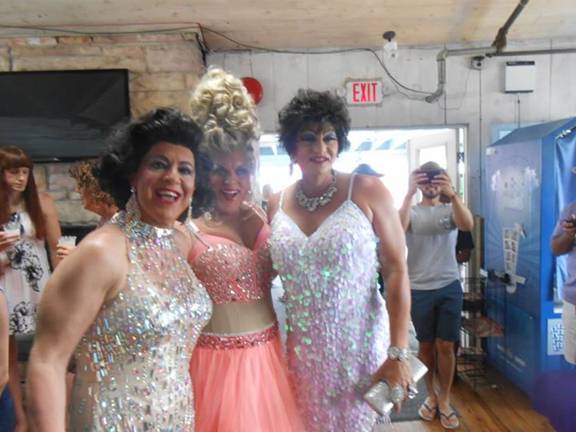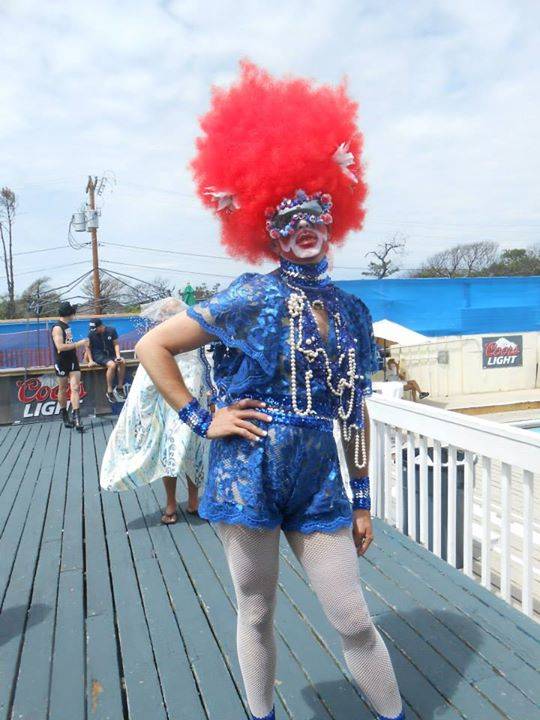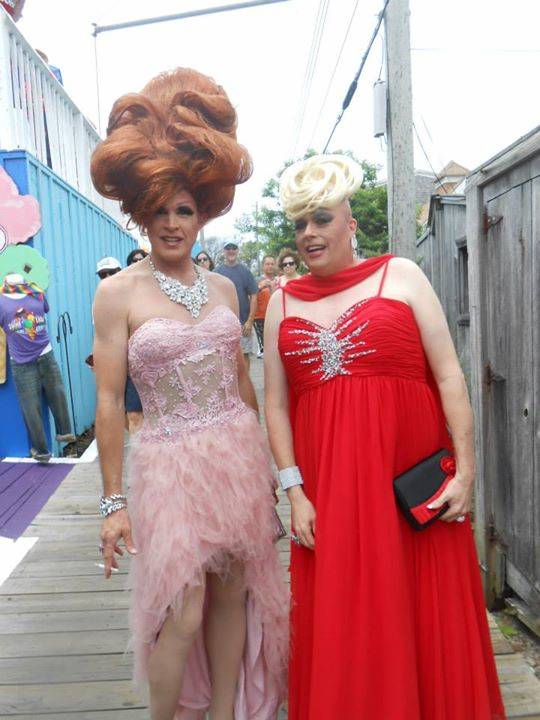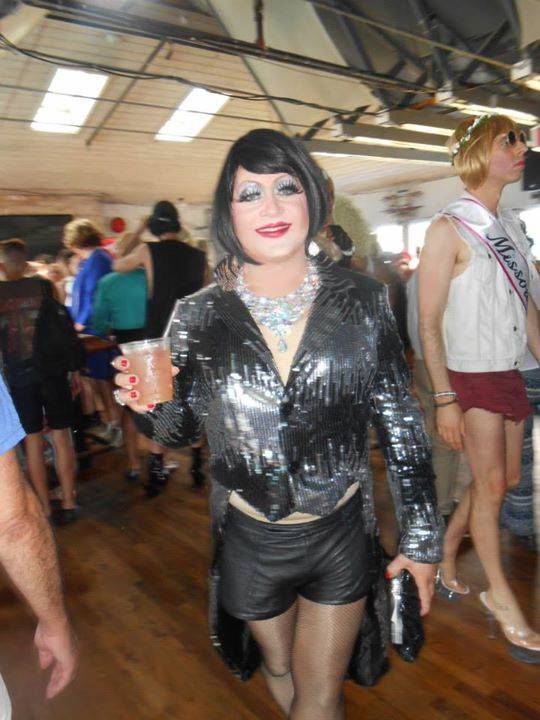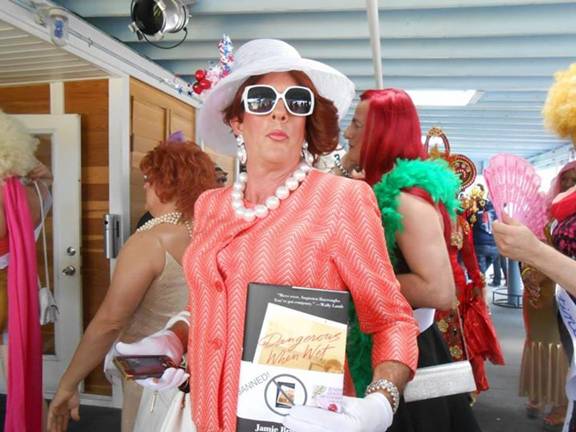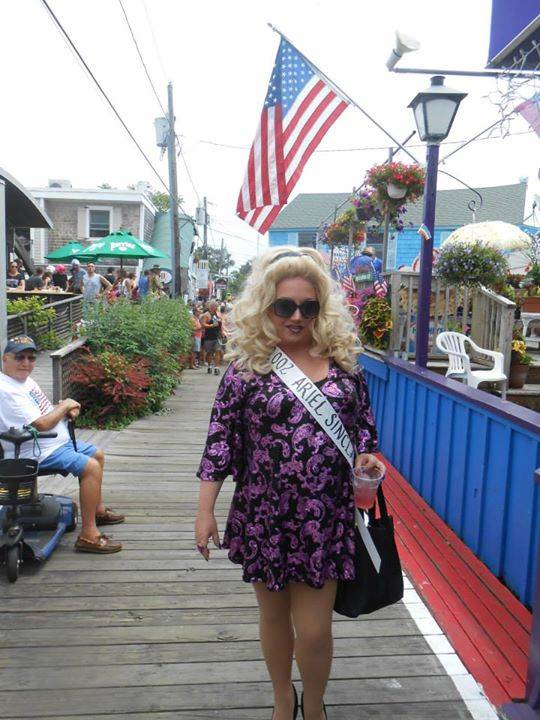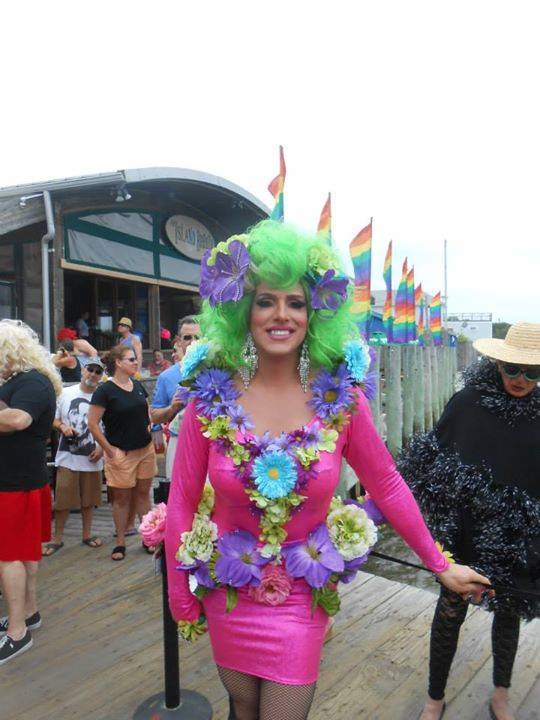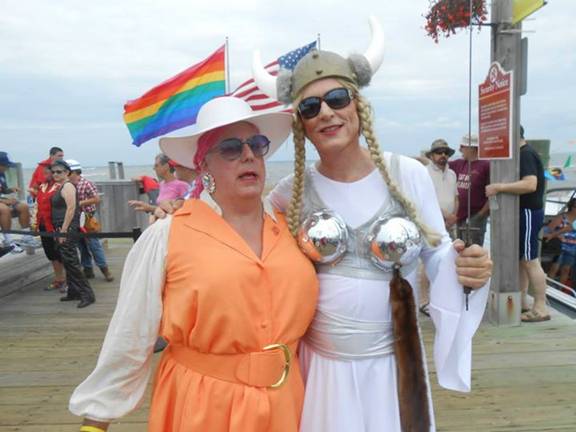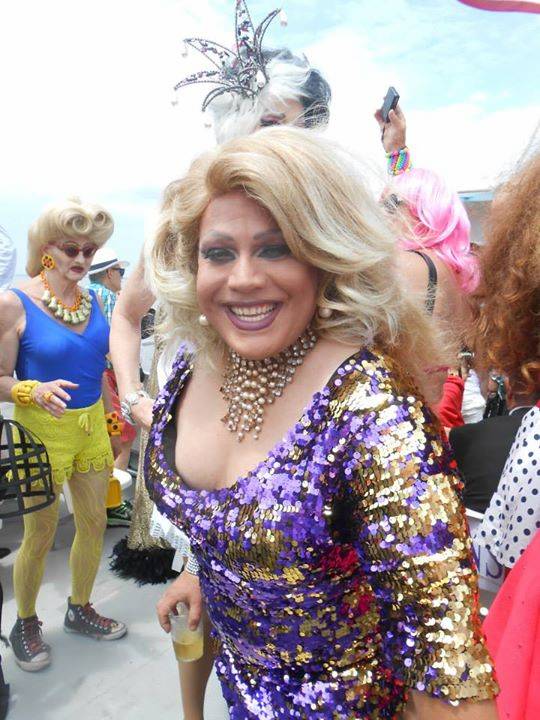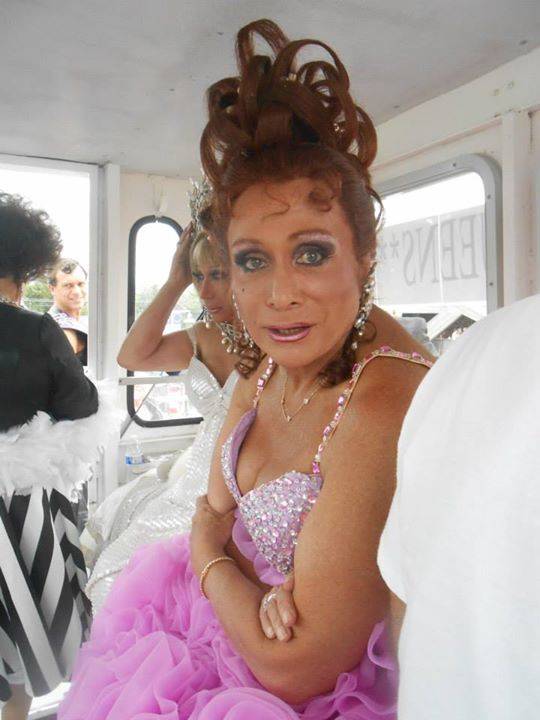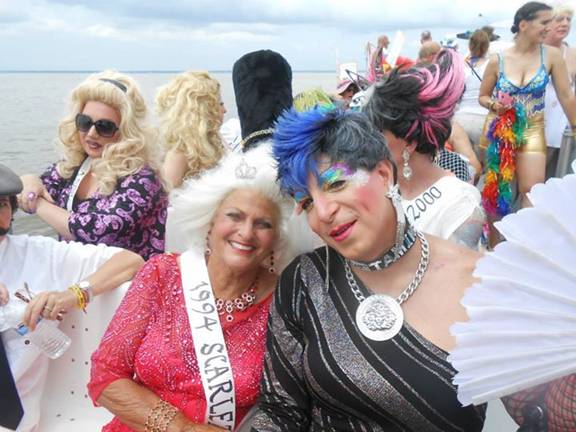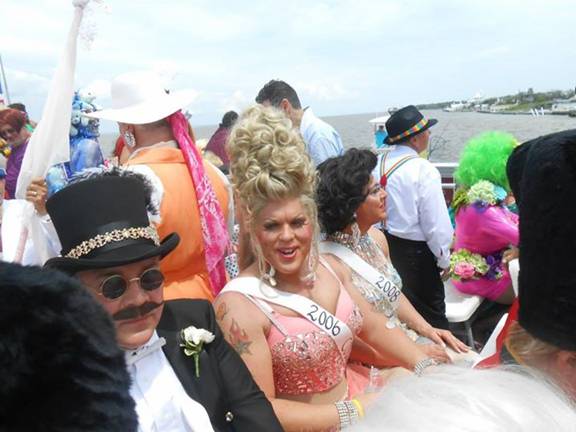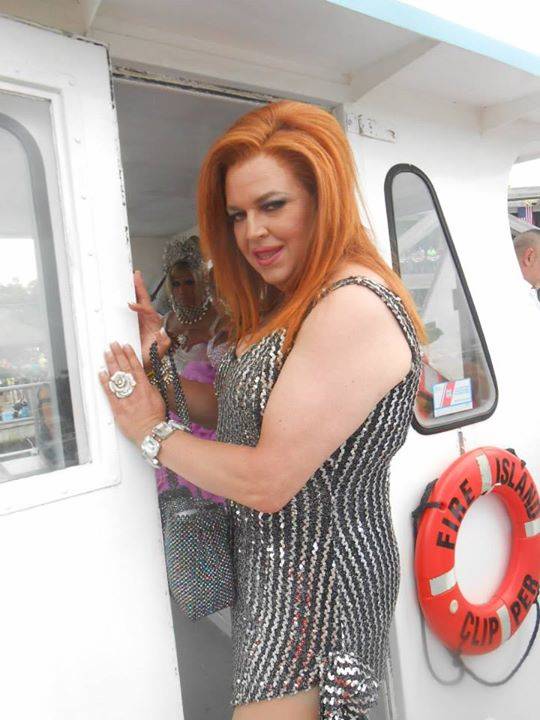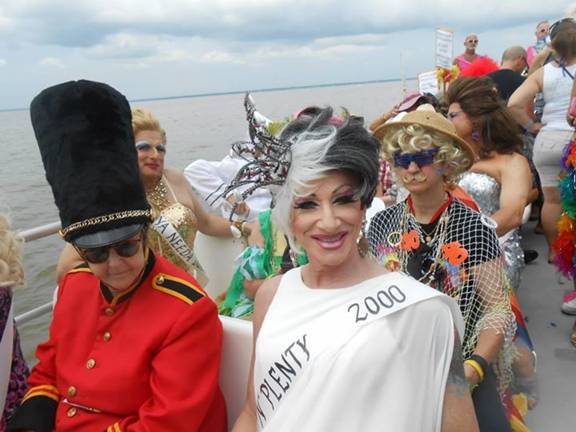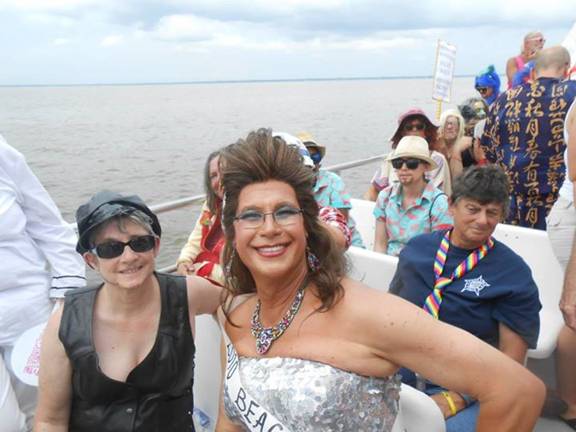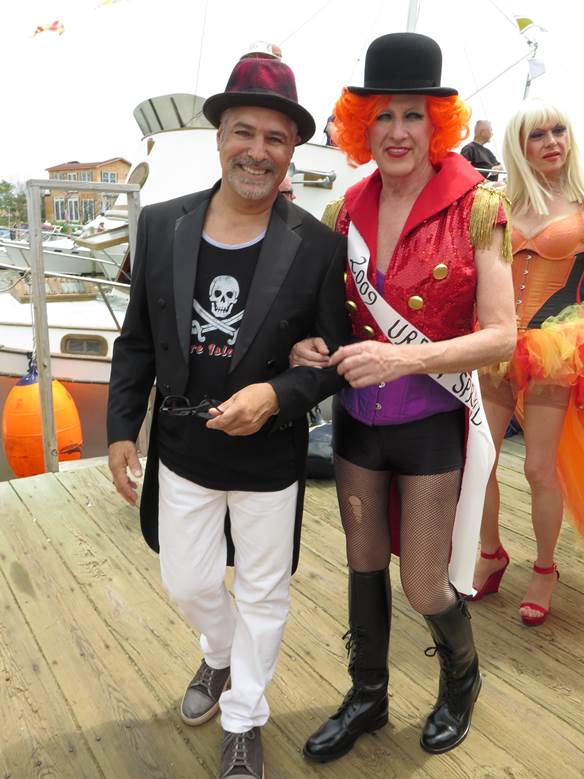 The Pines dock area was packed shoulder to shoulder with a record breaking crowd, an astounding welcome befitting this momentous 40th anniversary of the Invasion.