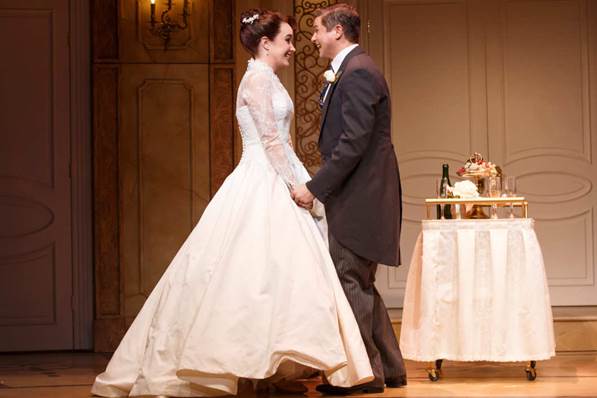 Sierra Boggess. and  David Burtka                 photos by Joan Marcus
                                        By Russell Bouthiller
Putting together a wedding can be stressful, especially when the parents of the bride or groom wish the happy event were not taking place at all.  Same old story: in the eyes of the parents, one's not good enough for the other.  As it happens in the original new musical It Shoulda Been You, both sets of parents are in agreement with their disagreements.  Yet, this is anything but your same ol' wedding story.
Making his Broadway directorial debut, the Tony-winning veteran actor David Hyde Pierce brings to the stage of the Brooks Atkinson Theatre a festooned confection of family farce and matrimonial mayhem.  With book and lyrics by Brian Hargrove and music by Barbara Anselmi, It Shoulda Been You comes to Broadway after a sold-out run at New Jersey's George Street Playhouse.
The show opens on the day of the big event at a richly adorned hotel that smacks of a three-tiered wedding cake, compliments of set designs by Anna Louiszos.  Lots of doors and staircases cue the audience that oodles of high jinks are in store.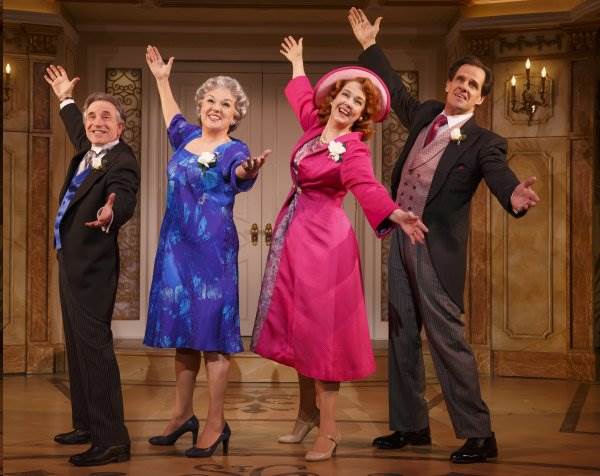 Chip Zien, Tyne Daly, Harriet Harris, and Michael X. Martin                  photos by Joan Marcus
The parents of the bride, the Steinbergs, are Jewish and the parents the groom, the Howards, are gentile.  (That they mention a priest as being from "our side," presumably they are Catholic.)  That mixed religious backgrounds should present such ill feeling initially comes off as awkward and archaic, but these old-school prejudices quickly become comic fodder as the younger generation gives the older one a lesson in 21st Century etiquette.
 It Shoulda Been You stars Tony-winners Tyne Daly as Judy Steinberg and Harriet Harris as Georgette Howard, polarized mothers-in-law-to-be.  Lisa Howard is the stout maid of honor, Jenny Steinberg, who tends her svelte sister, Rebecca, played by the lovely Sierra Boggess.  David Burtka is the handsome gentile groom, Brian, and the adorable Josh Grisetti as Marty Kaufman is the boy who should have been walking down the aisle; at least, that is how both sets of parents see it.  But, surprises are in store.
Without giving away too much plot—and you don't want to know it prior to going to the show—It Shoulda Been You is not the standard panini station one might imagine.  The problem at the center of the story is actually one that fuels much of the darker news stories of today: can't we all just get along?  Tackling so many "isms" is no small feat, especially when the method of squelching prejudice is done with such panache.
What makes these characters so funny is their earnestness.  They believe their own nonsense.  This is where the author and the director achieve their greatest success.  What should have been not so funny is, indeed, hysterical.  What frustrates these characters is exactly what makes the audience laugh.  And, this is a musical with big laughs and hearty songs.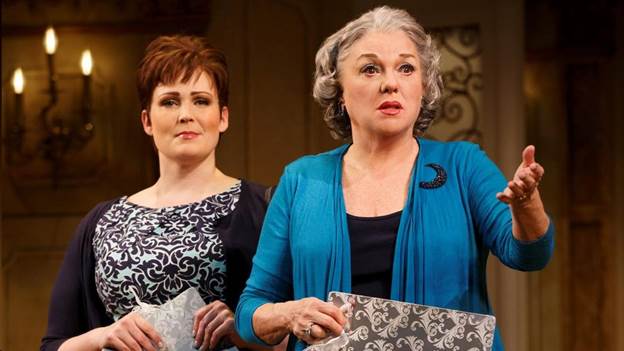 Lisa Howard and Tyne Daly
Tyne Daly as the domineering mother who sees herself as sweet is the driving force behind the show.  Minimizing daughter Jenny seems her default mode, which prompts the show stopping number, "Jenny's Blues."  But, it's not just her own family she guilts into submission.  When ex-boyfriend Marty shows up at the wedding, she confronts him.  "What I do?" he asks quizzically.  "My daughter breaks your heart and you don't have the decency to call me."  This sets up the title song, one of the shows best numbers.
Henpecked husband and proud Papa, Murray Steinberg, lovingly illustrated by veteran Chip Zien, is no match for his wife.  "Your mother and I had words, but I didn't get to use any of mine."  Harriet Harris holds her own with a riotous upper-crust approach to alcohol consumption.  Her zany number "Where Did I Go Wrong" is done with a shake and a stir.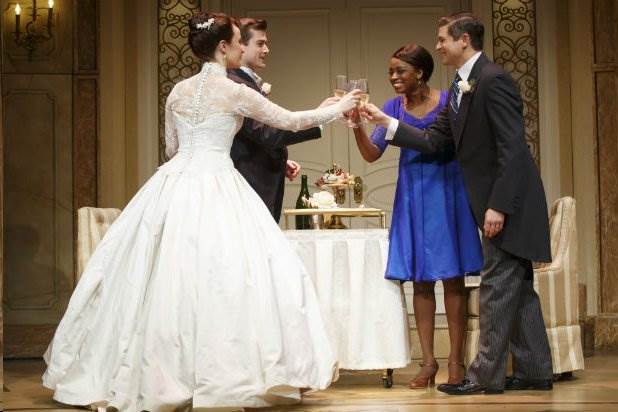 Montego Glover and Nick Spangler  join the couple
Montego Glover warms us as Rebecca's best friend, Annie.  Nick Spangler stands up cutely as the best man, Greg.  And, the brilliant Edward Hibbert has the most fun of all as the prescient wedding planner, Albert.  And everyone looks good enough to eat in William Ivey Long's frothy costumes.
It Shoulda Been You and Broadway, a match made in heaven.
The Brooks Atkinson Theatre
256 West 47th St. (just west of Broadway)
New York, NY
Tickets: 877-250-2929 or o
More Information: www.itshouldabeenyou.com
Running time: 1 hr. 45 minutes, no intermission