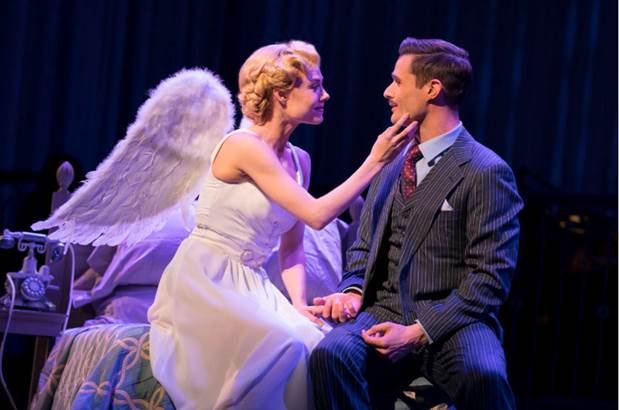 Sara Means, Mark Evans                        photos Joan Marcus
I Married an Angel
Encores! At New York City Center
                            by Julia Polinsky
What theater aficionado doesn't love a Rodgers and Hart score? Just knowing that Encores! was doing their dance musical, I Married an Angel, was enough to tip off anticipation. The cream on top? Director and choreographer Joshua Bergasse cast his wife, New York City Ballet principal Sara Mearns, as Angel, paralleling the original 1938 pairing of choreographer George Balanchine and his wife, ballerina Vera Zorina.
Such anticipation! Such eager looking-forward! Such a disappointment, although that's not Encores! fault, or Bergasse's, or anyone involved. Encores! did its usual first-rate presentation. I Married an Angel itself is just not good – it lacks coherence, it's a little stupid, and has only one really good song ("Spring is Here").
Back in the day, it was possible to write a plot about Count Willy Palaffi (a charming performance from Mark Evans), a jaded bachelor banker living the high society life in Budapest, who "hates women" and swears he will only marry an angel. Poof! A real angel (the exquisite Sara Mearns) dances onstage and into his heart ("I Married an Angel"). They marry immediately, of course. Then things get complicated.
Musicals of the 1930s require a healthy dose of the willing suspension of disbelief, and it can be fun to enjoy that experience. However, I Married an Angel also comes with a whopping dose of misogyny, one that cannot be edited out by any script doctor on the planet.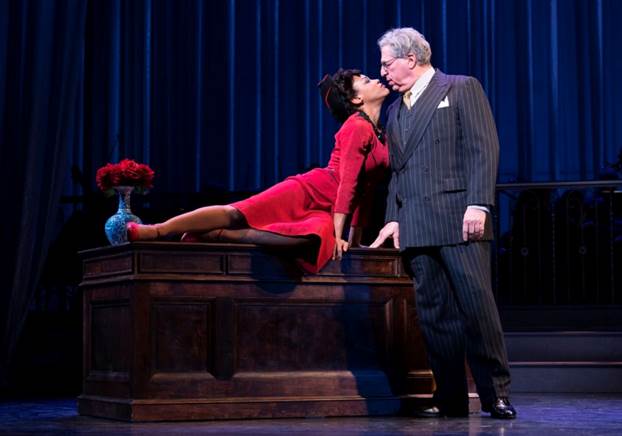 Nikki James, Tom Robbins
An odd choice for revival in the #MeToo era, I Married an Angel has two kinds of women: scheming, duplicitous gold diggers, or, well, angels. Contrast Willy's sister, Countess Peggy Palaffi (the wonderful Nikki M. James), with Angel. Countess Peggy has been married four times and when an old flame, the wealthy Harry "Noodles" Szigetti (Tom Robbins) reappears, angles for a fifth ("I'll Tell the Man in the Street"). They make a deal, when the somewhat reluctant Noodles agrees to marry Countess Peggy and save brother Willy's bank, if Peggy can prove her brother is happily married.
Angel embodies otherworldly naivete and innocence; she cannot lie or deal with social values and behaviors. She tells uncomfortable truths in the midst of her husband's high-society cocktail party, ruining her marriage and causing a run on her husband's bank.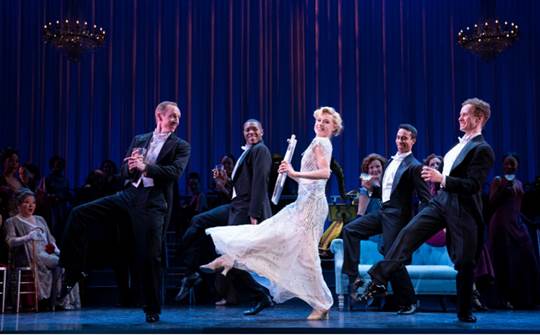 The broken-hearted Count Willy leaves her, believing she doesn't love him. ("Spring is Here,") Duplicity to the rescue! Countess Peggy teaches Angel to lie, flirt, and deceive ("A Twinkle in Your Eye"), all for the greater good of saving her marriage and the bank.
Plot threads cross and tangle into a frothy cat's cradle of women manipulating men into supporting them. Subplots involve Willy's assistant, Peter Mueller (Phillip Attmore) and his romance with the brash American girl, Anna Murphy (Hayley Podschun), who wants to be someone's well-compensated mistress. Not content with Peter, Anna also targets the wealthy "Noodles," creating a catfight between her and Countess Peggy.
Meh. The story is the least important part of I Married an Angel; clearly, the show exists as a vehicle for the dancing. Oh, what dancing! Bergasse directed and choreographed I Married an Angel as a showcase for his exquisite-ballerina wife; she dances a major ballet sequence in each act. They make zero sense, being shoehorned into the absurd plot, but are beautiful to watch, particularly the eye-filling and gorgeous second act knockout, "Othello: A Surrealist Ballet." 
However: the tap numbers steal the show. Hayley Podschun and Phillip Attmore kick the Act 1 showstopper, "How To Win Friends and Influence People," into the highest of high gear. It's pure Broadway, and a reminder that before WWII, spreading American ideas and values could be done with a song, a smile and a killer change step. The second act's "At the Roxy Music Hall" was even better, leading to the several fantasy dances, some of which were eye-poppingly odd -- "Harry's Fantasy," in particular.
In traditional 1930s Broadway Show fashion, romance triumphs; people pair off, and everyone's happy in the end, and there's a rousing, tuneful finale, with the Encores! orchestra, led by music director Rob Fisher, sounding the best it's ever sounded. What a pleasure it was, to hear that old-fashioned Broadway sound, in the original orchestrations by Hans Spialek. It matched the gorgeousness of Alejo Vietti's costume design; it's hard to decide what's better, the beautiful gowns, or the terrific costuming for the dance fantasy sequences, with the "Othello" ballet as a peak.
Encores! may present "staged readings," but I Married an Angel felt fleshed out and solid. It's a pity the story isn't worthy of Encores! beautiful job.
I Married an Angel
Encores! At New York City Center
131 W 55th St (between Sixth and Seventh avenues)
New York, NY 10019
https://www.nycitycenter.org/pdps/2018-2019/I-Married-An-Angel/