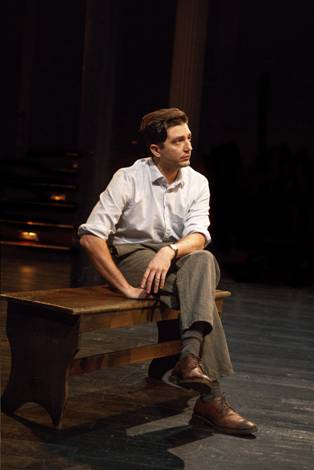 John Magaro      photos by Joan Marcus
                                By Ron Cohen
Before it had the Delacorte Theater, before Hair, A Chorus Line and Hamilton, the New York Shakespeare Festival was in dire straits. And it's that stressful period that Richard Nelson engrossingly targets in his new play Illyria, offering an affectionate portrait of the Festival's founder and long-time head, Joe Papp, and his colleagues and pals.
The year is 1958, and – as we learn as the play unfolds -- the four-year-old Festival, which is presenting Shakespeare productions free of charge on a portable stage in Central Park, is perilously low on funds. It is also at odds with the city's park authorities, who would just as soon see the Festival fold. Some of them are demanding that the Festival charge for its productions, with the hope that the admission price will lower audiences to the point that will make the Festival an easy mark for removal.
Casting a perhaps even darker shadow on the operation is Papp's appearance that year before the House Committee on Un-American Activities, investigating Communist infiltration into arts and entertainment. Rather than fully testifying, Papp took the Fifth Amendment, and that action cost him his day job as a stage manager for CBS television, although he was later reinstated.
Adding to the financial woes, schools have informed the Festival that they will stop supporting the student matinees, which have kept the company busy during the non-summer months. Meanwhile, Papp worries about the potential threat to his modus operandi from the Lincoln Center complex, then under construction. It's a project that the Papp crowd disparages as a "palace of art" for and by "rich people." (Ironically, Papp in addition to his Festival duties, became head of Lincoln Center's theater operation in 1973, a post he gave up in 1977.)
As in Nelson's series of plays about the Apple and Gabriel families of Rhinebeck, NY, which in recent years have been prestigious hits for NYSF's Public Theater, the playwright intermingles here the external civic and political events with the personal, primarily as the characters join in and exit out of lengthy gabfests.
The first of Illyria's three scenes takes place in the green room of an auditorium where a student matinee of As You Like It has just finished, and a young actress, Mary Bennett (Naian González Norvind), has come to audition for a role in the upcoming summer production of Twelfth Night. (As I'm sure you all know, Twelfth Night is set in the mythical land of Illyria. Hence, Nelson's title.)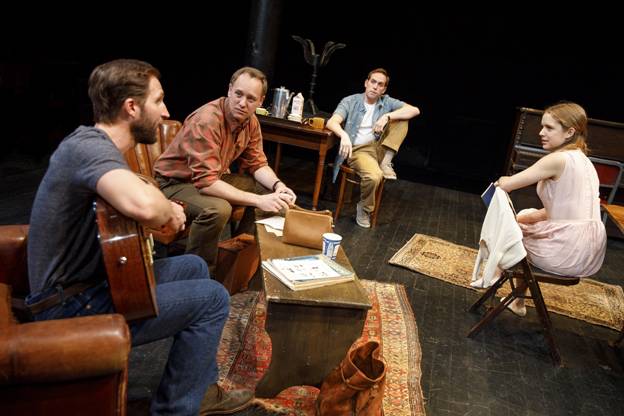 Blake DeLong, JohnSanders,Max Woertendyke,Nalin Gonzales Norvind
The cast of characters who come into this scene or later includes several names that should be familiar to seasoned New York theatergoers: the director Stuart Vaughan (John Sanders), closely associated with NYSF in its early years; the composer David Amram (Blake Delong); the publicist Merle Debuskey (Fran Kranz); Bernie Gersten (Will Brill), a stage manager not working with NYSF but Papp's close friend who later became executive producer at Lincoln Center Theater, and the actress Colleen Dewhurst (Rosie Benton).
Also making appearances are Gladys Vaughan (Emma Duncan), Vaughan's wife and Papp's dedicated assistant; Papp's then wife Peggy (Kristen Connolly), also an actress, and the NYSF stage manager John Robertson (Max Woertendyke). Dewhurst's husband, George C. Scott, does not appear but his wayward behavior and thespian genius as a member of the NYSF acting company are fodder for a lot of the dialogue.
Papp, peppery and gracious, idealistic but practical when necessary, comes to vivid life in the portrayal of John Magaro.  Under Nelson's thoughtful direction, Magaro like the rest of the cast, exudes a documentary-like authenticity. The importance that each brings to the group is palpable.
Much of Illyria's personal drama revolves around the conflict between Vaughan and Papp. Papp is determined that his wife, who is also a new mother, will play Olivia in Twelfth Night, while Vaughan, who will direct, favors Bennett. More significantly, Papp feels betrayed that Vaughan has taken a job with another well-financed theater company.
The play's second scene takes place at a birthday dinner for Papp being held at Dewhurst's apartment. The friction with Vaughan comes to a head when Papp says that for political reasons he should step down for a while as head of NYSF and offers the post to Vaughan. It's an offer that Vaughan refuses, and at the same time, he bluntly questions the artistic integrity of the entire NYSF.
After the fireworks of that confrontation, the play's final scene serves as an extended pacifying, almost poetic coda. We're in Central Park after a performance of the aforementioned Twelfth Night production. Papp has taken over the directing reins and he's anxious to hear reactions. And as the night moves on, it's just Papp, Gersten and Debuskey, joking and dishing about the state of the theatre and their city. How Papp, who died in 1991, finally overcame all the hurdles in his way to building NYSF and The Public Theatre are left to the future…perhaps another Nelson play or two.
But witnessing the confidence and good humor of Papp and his pals being portrayed within the confines of the bustling Public Theater, the theatrical mecca that Papp created out of the landmark Astor Library Building, is a heady experience, one where playmaking and reality meld in a breathtaking compression of time, accomplishment and art.
Off-Broadway play
Playing at The Public Theater
425 Lafayette Street
212 967 7555
Publictheater.org
Playing until December 10
In line with Joe Papp's mission to provide free theater for all, a limited number of free tickets are distributed beginning 90 minutes before each performance, and another number of free tickets are offered through lottery on Todaytix.