Photo by Joan Marcus, 2016
                                      by Julia Polinsky
With In Transit, director and choreographer Kathleen Marshall has worked theater magic. Marshall's clear and accomplished direction transcends the expectations of much ensemble theater, which often blend into mush; this one leaves one indelible image after another.
In Transit features a beatbox/vocal percussionist (Chesney Snow) as a combination Greek chorus/Dante's Virgil, and a terrific cast of singing actors. They are so fresh and exciting, it's hard to single out any one performance, but a shoutout and huge kudos for memorable moments go to Margo Siebert, Arbender Robinson, and Moya Angela.

Nicholas Ward, David Abeles, Margo Seibert, Moya Angela
Photo by Joan Marcus, 2016
The stories: Jane (Margo Seibert) an actress a little past her sell-by date, working a temp job and auditioning on her lunch hours, hoping against hope. Nate (James Snyder), who was recently fired from his hedge fund job, and can't catch a break. Trent (Justin Guarini) and Stephen (Arbender Robinson), who need to work out some teeny family issues before they get married, and Ali (Erin Mackey), the lonely girl/marathon runner, who moved to NYC to be with a guy and got dumped.
Their lives intersect with Althea (Moya Angela) the MTA worker (whose own story, btw, gets a satisfying and unexpected resolution), and Boxman, who ties them together, sings with them, helps them out, guides them (and us) through the underworld, and gently lets them recognize that they don't have to be in transit to somewhere: they can just be.
In Transit works Just Be, its Big Idea, and works it well. From the opening scene, when Boxman asks, "How you gonna get where you're going, if you don't know how to be where you are?" through the next hour and a half, the characters transition through hookups, breakups, getting fired, getting discouraged, getting The Big Audition, getting married – maybe – and moving on to just learning how to be. No spoilers here, and no real surprises, just a hint of the story arc, and how, even if you're constantly going from one place to another, you can just be.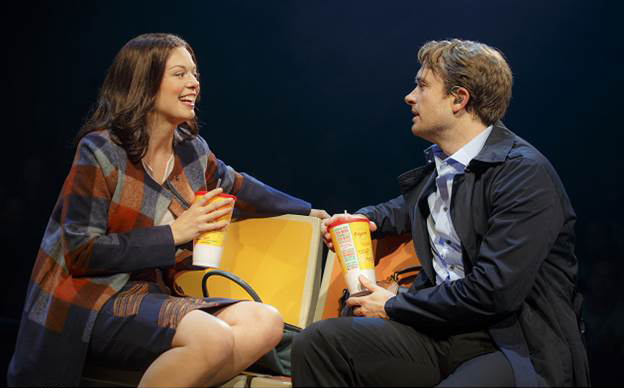 Margo Seibert, James Snyder
Photo by Joan Marcus, 2016
Terrific scenic design by Donyale Werle (seriously, that is one awesome set) makes the most of lighting by Donald Holder, costumes by Clint Ramos, and somewhat problematical sound design by Ken Travis. Extremely high volume does not help the audience hear each singer with complete clarity. Loud and clear are two different things, and too loud works against the magic of In Transit.
Each generation has its own quintessential New York Musical – West Side Story, Hair, Avenue Q, to name a few. Well, add In Transit to that list. Set in the subways, with a few jaunts to places as exotic as a midtown office building and small-town Texas, the show sings very New York-y New York Stories, and New York may the world capital of transitions.
Yes, it sings those stories, in splendid vocal arrangements by Deke Sharon, which are pretty much state of the art for acapella these days. In case you are unfamiliar with the acapella phenomenon, in acapella music, singers perform without accompaniment. No orchestra; no piano-bass-drums; no guitars and banjos, nothing but a sound-wall of voices. Think barbershop quartets and doo-wop groups.
Acapella's most recent popularity was fueled by college students, stoked by TV and film, and, of course, the internet and YouTube. Acapella has become an art form, with complex arrangements, national competitions, and Billboard hits. So, it was only a matter of time before the phenomenal popularity of acapella landed on the Broadway stage. As one character says, "When something true gets set to music and put onstage, it becomes more true." That's In Transit, the apotheosis of the high school choir nerd. It's also a roaring good time.
In Transit, scored to splendid acapella vocals and a kickass beatbox, weaves a counterpoint of ambition and disappointment, love and connection and hope, in the New York City subway system. A feel-good musical at a time when we need one. Go see it, and be happy to be where you are.
In Transit
At Circle in the Square Theatre
235 W 50th St., New York, NY
Tuesday, Thursday, 7pm; Wednesday, Saturday 2 and 8; Sunday, 3pm
Tickets, $89-249: 212-239-6200 or telecharge.com