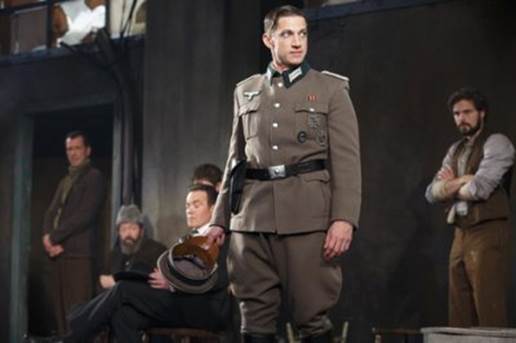 Darren Pettie, Jonathan Hadary, Derek Smith, James Carpinello and Jonny Orsini
                                by Eugene Paul
In this occasion of Arthur Miller's celebratory 2015 season—100 years since his birth – Miller plays are in evidence all around town in a range from his stunning Off Broadway Yiddish production of Death of a Salesman to his stunning  Broadway production of A View from the Bridge. In between, his rarely performed Incident at Vichy, his intellectual exercise regarding systematic murder of Jews at the hands of Nazis in occupied France.  The play is presented in its intermissionless version, good for the play, good for the respectful Signature audiences.
Ever perfecting its product, the Signature Theater Center has adopted a device during delivery of performances which projects the lines of the script as it is being enacted and identifies the characters by name as well, something useful indeed, needed in this day and age when actors no longer trouble – or know how -- to reach the back row and Signature audiences are, for the most part,  lending older ears, ears still eager to absorb, grateful for the boost via older eyes.
If you've observed Signature audiences over the twenty-five years of that company's happy life, you've seen the pattern of its choices that has developed its large, faithful following and Incident at Vichy fits like a glove with the bright, polite, attentive club like community atmosphere in its handsome, more comfortable premises than on Broadway, and a general sense of doing good as well as doing well. They approve acting that they can see is acting, writing that they can see as challenging, productions physically that they can see are attractively apt.  It is doubtful that you would find either the Yiddish Death of a Salesman or the symbolically expressive A View from the Bridge here but that's okay.  It takes all kinds to make a theater.
The intensely actory impression is particularly pronounced in director Michael Wilson's production of the Signature's Incident at Vichy. You don't really believe any of the actors but you enjoy and admire their obvious effort. There is nothing of any ethnic feeling about the characters in the play, no Frenchness,no Jewishness, no Germanness, for that matter. Neither director Wilson nor his cast have given any true flavor of what the play's setting and characters are supposed to indicate to us, as if Miller had written in a vacuum.. The play's dismaying relevance to today's world is sickening to the spirit in its implications, which carries all. It has to. Criticism was rampant of this play's early days.  Miller was harshly accused of giving  a strong impression through this play that Jews were complicit in their own deaths at the hands of Nazis.  He went so far as to create a second  version of the play in order to counteract that criticism.  Signature, however, is presenting the original, not the amended version.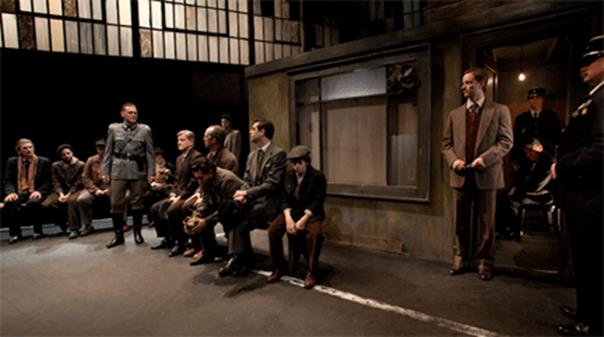 A large group of men are in an improvised holding pen, designer Jeff Cowie's spot on dirty, empty factor warehouse outfitted with steel mesh caging, somewhere in southern France, 1942.  The Vichy territorial area is nominally under French rule but the Vichy government is powerless to oppose its  Nazi overlords.  They have been ordered to round up everyone with false documents.  There has been a rash of counterfeit identity papers.  All these men have been pulled in with that as the ostensible reason but they know the hunt for Jews is the real motive  because the adjoining train yards have box cars ready to be loaded with discovered Jews for shipment to German concentration camps, where it is rumored that they will be exterminated.  No one wants to believe the rumor but no one wants to admit to being a Jew, in any case. Save one, who never talks, but he's so obviously a Jew – thanks to costume designer David C. Woolard -- he doesn't have to say a word.
One by one, the men are taken into inner quarters to be interviewed.  Will any of them be released?  Or are all to be consigned to the box cars? Oh, the man doing business.  He gets a pass.  But that fretful artist? A million reasons to be fearful? Never once mentioning he's a Jew?  And the supremely confident actor, beloved every time he's played in Germany? But his papers flat out say he's a Jew. Nevertheless, he knows he is too esteemed do be harmed. And the military man, the engineer, ready to fight, ready to try for freedom, all he needs is two men to help overpower the inadequate two French guards? Not the Gypsy with the copper pot. Everybody assumes he stole it.  That's what Gypsies do.  The boy, not fifteen, will they free him? Will he fight?  He was caught while trying to get food for his ailing mother.  The waiter? He's made friends of his German customers, surely he will be freed?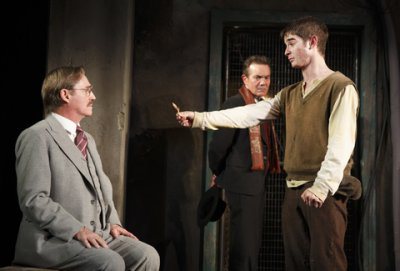 Richard Thomas, Derek Smith and Jonathan Gordon
Into the mix arrives a stuffy, mild mannered, German.  No, not  a German, an  Austrian.  He's recognized.  He's an aristocrat, a prince.  What is he doing here? They surely can't do anything to him.  Can they? Even if he can't stand Nazis? They have to free him, give him a pass. The prince used to own an orchestra which played  for him in his gardens.  The musician he treasured most was taken by the Nazis and slaughtered.  He was a Jew.  The heartbreak tears at him daily. He must do something. After the Nazis take the old Jew and scatter the pink feather contents of his pillow, all he has left in the world, there is no one except the Austrian prince and the Jewish soldier and doom foretold.
But in director Wilson's production there is no agonizing connection with his audience, no passion, no outrage, only bleakness and a sense of unresolved questioning. True, Miller wrote the play twenty years after the war well into the aftermath of intellectualizing man's inhumanity to man. He knew full well that in the theater, that was not enough.  Linda Loman told him. Attention must be paid.  It's still true.  It will always be true.
Incident at Vichy. At the Signature Center, 10th Avenue and 42nd Street.  Tickets: $25. 212-244-7529. 2 hrs. Thru Dec 20.