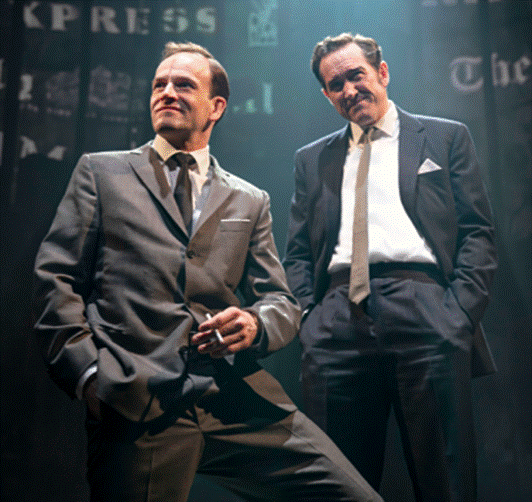 Bertie Carvel, Jonny Lee Miller. Photo:  Joan Marcus
Ink
                                      By Fern Siegel
Newspapers and TV have been forever changed by one man: Rupert Murdoch.
It all began in 1969, the year Murdoch, a brash, reptilian Australian publisher, transformed the U.K.'s Sun, a respectable, low-circulation paper into an in-your-face tabloid that upended Fleet Street norms.
Ink, the British import now on Broadway at the Samuel J. Friedman, is a fast-paced chronicle of ambition and anger — as well as the corruption of media norms. "There is no why," newspaper editor Larry Lamb (a frenetic Jonny Lee Miller) explains to a conniving Murdoch (Bernie Carvel).
It's all about the story, Lamb adds. And this story has plenty of twists and turns that make the first act a cauldron of activity. Like super-charged bees in a hive, Lamb recruits various reporters — lured by higher salaries and the intoxication of the new — in pursuit of one goal: beating The Mirror, the establishment leader.
Neither man is fussy about how they get there.
With a ripped-from-the-headlines feel, Ink captures the intensity of a long-gone newspaper world, where chain-smoking reporters filed to rewrite, font size mattered and the roaring presses were set in hot metal type.
It also exposes the winning formula that propelled Murdoch's rise to media mogul:  offer free stuff, sex and cater to base instincts.
Murdoch wants to overthrow the stuffy British elites; Lamb wants an editorship long denied, he suspects, due to his working-class roots. Both men make a Faustian pact with the other: They will sell their souls to topple all competitors.
For Murdoch, newspapers are a business, plain and simple. He is all about profit. (To other press barons, like the imperious Hugh Cudlipp (Michael Siberry) of The Mirror, they also double as a public service.)
Lamb is more primal. He's initially hesitant to cross the traditions of journalism. Then Murdoch waves a big check — and all bets are off.  At first, it's exciting to watch the Sun's metamorphosis. In an astoundingly short time, the newspaper does the impossible: grabs readers in a competitive race to the top — or is it the bottom?
Murdoch posits his improbable mission as democratic — he's giving working-class people a paper that speaks to them. "Do you know what I hear when I hear 'codes,' and 'traditions?' " Murdoch asks. "I hear the rules as written by those who benefit from them, to stop others from treading on their turf."
His celebration of populism sounds refreshing at first, but the reality is far darker. As his competitors note, fascism is the ultimate populist movement.
Indeed, there is little the Sun won't do to lure readers — even exploiting a colleague's horrible tragedy. It's a compelling, even frightening tale of anarchy and mission, but once its intentions are clear, it's less a commentary and more first-year bio.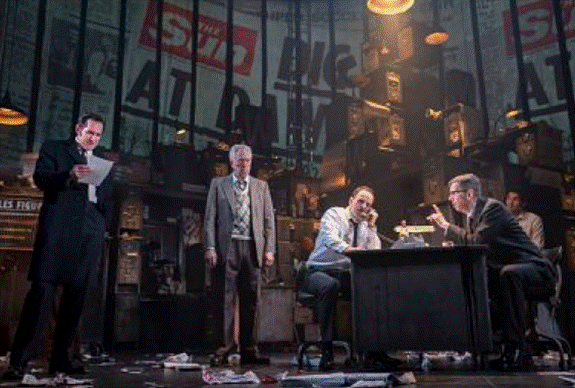 (L-R) Bertie Carvel, Bill Buell, Jonny Lee Miller, Robert Stanton and Eden Marryshow
Director Rupert Goold, who brought the production in from London's Almeida Theatre, is excellent at creating an upbeat, celebratory mood in act one. Lynne Page's swinging Sixties choreography, Bunny Christie's perfect set and costume design, Neil Austin's lighting, Adam Cork's sound design and John Driscoll's attention-grabbing projections greatly enhance the experience.
As the driven Lamb, Jonny Lee Miller is exciting to watch: persuasive, crazy-energetic and incapable of looking beyond the press run. Both he and Murdoch, played with a slimy relish by Carvell, live in the eternal now. Their nefarious pact changed journalism, yet neither seems reflective or remotely concerned.
Ink is a nasty foreshadowing of what's to come. It's amazing audiences aren't screaming stop the presses!
Ink, Samuel J. Friedman Theatre, 261 W 47 St., Through July 7
Running time: 2 hours, 40 minutes
Tickets: www.manhattantheatreclub.com/