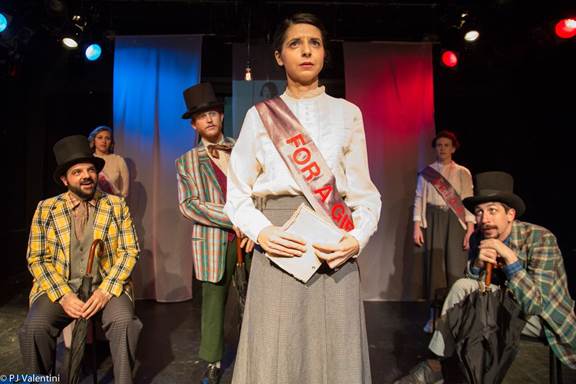 Andrew Dunn, Ashley Adelman, Tim Riley, Alla Illvosa, Kaitlyn Huczko, Jordan Gwiazdowski
                                   by Julia Polinsky     
Who's insignificant? Sean Michael Welch's Insignificant, as mounted by Infinite Variety Productions says that women are, even when they do important work. The show feels like a class in Women's History, complete with a catalogue of postmodern feminist resentment, presented in two acts. Single motherhood? Got it. Women paid next to nothing for their work? Check. Inequality of men and women in the sciences? Got that too; it's basically the entire play.
As the show begins – considering the constraints of off-off Broadway, budget, a lot of imagination comes into play in the intriguing set – Annie (Kathleen O'Neill) and Celia (Deanna McGovern) have tea, and discuss Celia's recent conference with her dissertation director, and the results of her research. Celia has asserted that the sun is made of hydrogen, a radical idea, in a world in which everyone knows the sun is made of iron. Casually, in conversation, Celia mentions to Annie that she might put an addendum, a disclaimer on the work, saying that her conclusions might not be accurate.
Annie, incensed, takes Celia to task for betraying her intellect, and the work of the women who went before her. Flashback: Celia and Annie watch as time whirls back to the 1880s, and Young Annie (Kaitlyn Huczko), Henrietta (Alla Illvosa), Antonia (Ashley Adelman), and Mina (Laura King Otazo), take their places in the field of astronomy.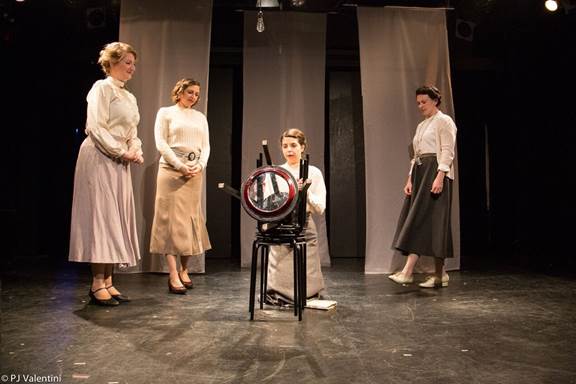 Laura King Otazo, Ashley Adelman, Alla Ilyasova, Kaitlyn Huczko
These four women do groundbreaking, important work – yet they are paid, if at all, next to nothing, have no academic titles, no rewards other than the work itself, are not even permitted to use the telescope. One of them was the housekeeper to one of the three Gentlemen in the show, who hired her to catalog the stars when he was disgusted with the incompetence of his (male) students – she could hardly do worse, a ringing endorsement if ever there was one.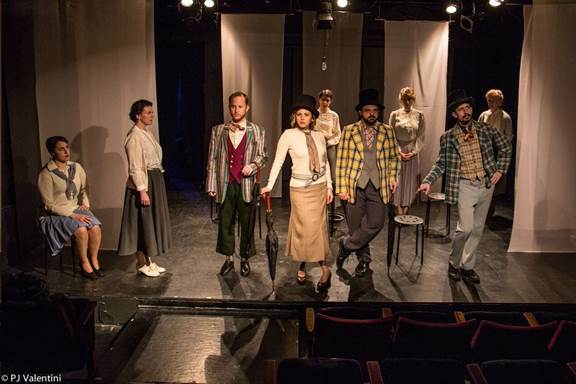 Deanna McGovern, Kaitlyn Huczko, Tim Riley, Ashley Adelman, Alla Illvosa, Andrew Dunn, Laura King Otazo, Jordan Gwiazdowski, Kathleen O'Neill
Yet, their influence on astronomy continues to this day – they produced Nobel-level work, important work -- done by women, the most insignificant of assistants. And yet, the characters in Insignificant who come across as the lightweight, shallow ones, are the three Gentlemen (Timothy Ellis Riley, Andrew Dunn, and Jordan Gwiazdowski). Costumed like Vaudeville clowns, acting like song-and-dance men, the director (Colleen Britt) of Insignificant could not have made them less important.
Until. after the flashbacks –there's even a flashback within a flashback – when the audience reunites with Celia and Annie and their tea, the truth of Celia's dissertation conference comes out. The audience witnesses the conversation between Celia and her advisor, who has told her that she is wrong, that she risks her future, that no one will take her seriously, that he will not put his academic status on the line by associating his name with it. And suggests that she might put a disclaimer on the work.
She may rage, she may vent her frustration, Annie may rail against injustice: so what? Celia adds the disclaimer, making her research, and herself, even more insignificant.
The show raises so many questions of value and importance, that some directorial choices jar the mind. Breaking the 4th wall, over and over again, even addressing the audience directly, asking, "Are you enjoying the show?" destroys continuity. Post-postmodern self referential writing may be fashionable, but it had damn well better be very, very good. Which Insignificant was not.
Pity. The story is interesting; the women, fascinating. The set works beautifully – never have a few four-legged stools been used so well – but the costuming contributes nothing to verisimilitude, and Celia's English accent rang badly false. To have so much of value to say, and then treat it so shabbily, makes the play itself insignificant.
Insignificant
At the Kraine Theater
http://www.horsetrade.info/event/0bddd74f3e7d2635a58f6c111bc35717
Thursday/Friday/Saturday, through December 17, at 7pm
85 East 4th St, Between 2nd and the Bowery
First floor Theater, no wheelchair access
(212) 777-6088