Kearstin Piper Brown             photoa by Charles Erickson
Intimate Apparel
                                   Off-Broadway opera

                                                  By Marc Miller

What a lucky season we're having: Three Lynn Nottages! First, Clyde's, her revealing, funny, and phantasmagorical study of striving among the underclasses. Now, in rapid succession, MJ, which at least tries to untangle a messy life and circumvent some jukebox-musical cliches, and Intimate Apparel, an early work of hers recast as a chamber opera. Nottage is about the best playwright we have working today, with a seemingly, but only seemingly, effortless ability to entertain, inform, touch, and plumb deep into her characters' souls. But Intimate Apparel comes with a catch.
That catch, it gives me no pleasure to report, is her collaborator, Ricky Ian Gordon, a well-respected purveyor of operas, musicals, and art songs, all of which generally work within established harmonic forms, but often leave audiences, unless they're thoroughly schooled in the vagaries of contemporary classical, grasping for something to hang onto. So it is with much of Intimate Apparel, though let's give him credit for being in a more melodic mood than usual. For Ricky Ian Gordon, that is.
Things begin promisingly, with Gordon dispensing sounds that evoke 1905 New York. Esther (Kearstin Piper Brown), a talented seamstress, has been about as successful as a single illiterate black woman can be in 1905 New York, which is to say not successful enough. She's well liked and has faithful clients. Among them: Mrs. Dickson (Adrienne Danrich), a sharp-tongued but maternal bawdyhouse madam, and Mrs. Van Buren (Naomi Louisa O'Connell), a bored white society lady who is friendly and supportive to Esther, but can't entirely conceal her racial prejudices.
To set the scene, Gordon indulges in some attractive period styling: a little ragtime, a little cakewalk. Later, for Mayme (Krysty Swann), a free-living hothouse flower who will become Esther's nemesis, he provides an "Opium Rag," a sinuous blues that's as close as Intimate Apparel gets to an extractable song. Mostly, though, he's dealing in song fragments or recitative, and rather formless recitative at that.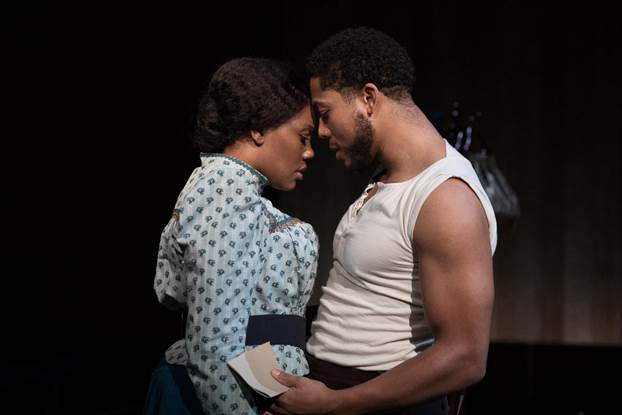 Kearstin Piper Brown and Justin Austin as Esther and George. Credit to Julieta Cervantes.jpg
But he's provided some tasty song-letters for George (Justin Austin), a laborer digging the Panama Canal, who begins a shy correspondence with Esther that will blossom into what she and we take to be love. He's gorgeous, he seems articulate and caring, and he has the voice of an angel. So as he courts her and she asks Mrs. Dickson, "Is there something wrong with a woman alone?", we want her to come to her senses and accept his advances. George will turn out to be not quite what he seems, and his destructive machinations will take up most of the second act. Austin makes us care about this guy, and only slowly reveals how we, and Esther, have been taken in.
Meantime, we're mainly keeping company with Esther, whom Brown invests with grace notes and subtleties not always seen in operatic acting: Watch her sidelong glances, her tentative reactions, her muted expressions of Esther's frustrations at being at the bottom of the socioeconomic ladder. Esther does have one unlikely confidant: Mr. Marks (Arnold Livingston Geis, with a lovely tenor), the Orthodox Jewish fabric merchant on Orchard Street, who shares her interests, maintains an easy rapport with her, encourages her dream of opening her own beauty parlor, and, in more enlightened times, might be the love of her life. But these aren't more enlightened times, and Nottage spins out this sad almost-romance with the utmost delicacy.
The previous, nonoperatic version of Intimate Apparel, starring Viola Davis, premiered at the Roundabout in 2004 and immediately established Nottage as a major playwright. She has adapted her work artfully, whittling her play down to rhyme and near-rhyme and no-rhyme as suits the moment, though character details have been necessarily simplified or dropped to allow room for Gordon's music. There's needless repetition—"I come here so the story'll be different," Esther and George sing of their journeys to New York, no fewer than eight times—and plot and character expositions that meander somewhat, not helped by Gordon's more fragmentary indulgences. The closer he hews to accepted song forms, the better. But much of the time he just seems to be spinning out notes, which come one after the other because they can't all come at once, and which don't illuminate Nottage's explorations of limited opportunities among lower classes that shouldn't be lower. The story pulls us in; too often, Gordon's musical wanderings don't pull us in any further.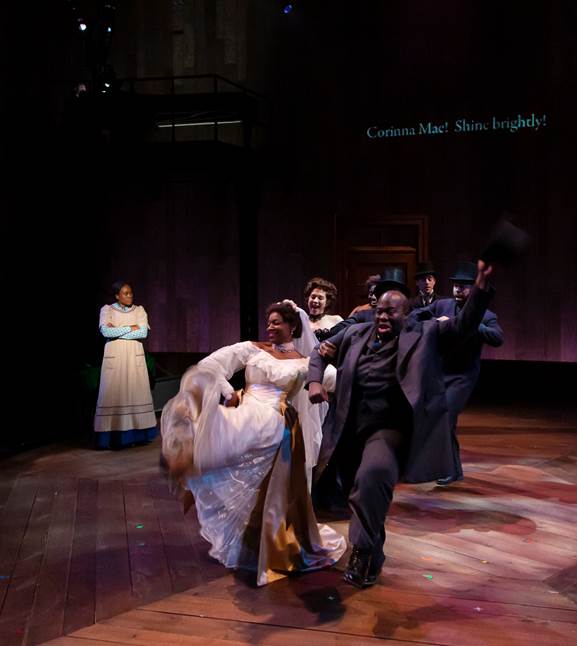 the cast  photo by Charles Erickson
It's scored for two pianists situated high above the stage, and conducted by Steven Osgood, so furiously that you may be distracted at times from what's going on down below. Michael Yeargan's set, on a revolving stage, is modest, but every aspect of Lincoln Center's production is top-notch. Catherine Zuber's costumes illustrate the lavish colors and fabrics that are endemic to the story; Marc Salzberg's sound allows us to hear nearly all the words (there are, though, welcome supertitles); Jennifer Tipton's lighting is colorful and moody; Dianne McIntyre has contributed some appropriate, unobtrusive choreography; and Bartlett Sher, no less, directs the principals and large, excellent ensemble to sing what they're acting and act what they're singing.
Intimate Apparel was a touching, even heartrending story in 2004—a cri de coeur about how an unenlightened society can crush the ambitions and personal longings of those it perceives to be unequal, and in doing so deprives itself of talent and creativity. It's still a touching, heartrending story in 2022. But in assessing any adaptation of a prior work to the musical stage, the question has to be: Has the original been value-added? Does the music take us deeper, accentuate the emotions, send us to places that mere dialogue didn't? With Intimate Apparel, the answer has to be, kinda-sorta-sometimes. But often, just no.

Intimate Apparel
Off-Broadway opera
Playing at the Mitzi Newhouse at Lincoln Center Theater
150 W. 65th St.
Intimate Apparel : Shows | Lincoln Center Theater (lct.org)
Playing through March 6, 2022
Running time: 2 hours 30 minutes