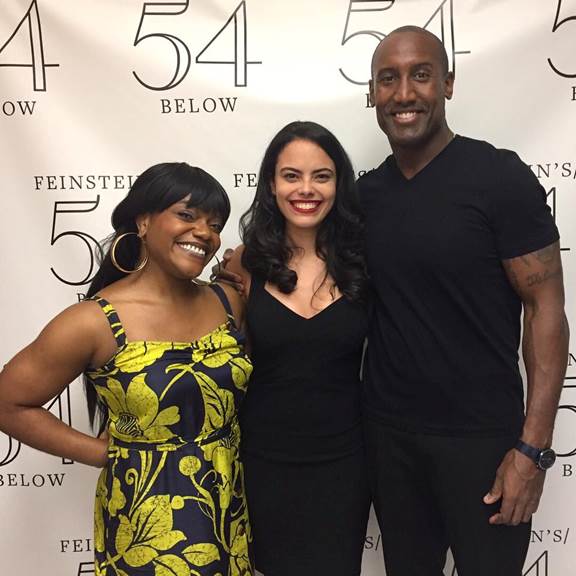 God Bless America:  The Music of Irving Berlin
A Review by Deirdre Donovan
Impresario Scott Siegel returns to Feinstein's/54 Below with an homage to the great American songwriter who had a talent for giving the American people what they wanted.
The celebration of Independence Day didn't end with the Macy's Day fireworks display over the East River this year.  Impresario Scott Siegel presented some aural fireworks of his own at Feinstein's/54 Below with the crème de la crème of Irving Berlin's oeuvre on July 5.  Accompanied by Broadway and nightclub stars and Ron Abel at the piano, it was a scrumptious post-holiday treat.
Siegel, who's best-known for his signature Broadway-by-the-Year series at Town Hall, has also become a fixture at the prestigious midtown nightclub.  Indeed, he can spin a yarn for almost any song, past or present, that has wafted over Broadway's boards.  What's more, he nurtures Broadway talent and those up-and-comers in showbiz.
The program began with Siegel noting the impact of Berlin's songwriting on American popular music and used Jerome Kern's pithy quote to illustrate his point:  "Irving Berlin has no place in American music.  He IS American music."
Was this a patriotic show?  You betcha.  But it wasn't mawkish, overly-sentimental, or stale.  In fact, the magic of a Berlin melody is that it never seems to go out of fashion.  No matter when or where you play it, it seems to appropriate itself to the occasion.
First up on the program was "I Got the Sun in the Mornin' and the Moon at Night," sung in a crystal-clear tone by Brooke Wetterhahn.  It was the first of three songs from Annie Get Your Gun, that 1946 musical that Berlin was drafted to score after its original composer Jerome Kern suddenly died.
If Wetterhahn warmed up the room with her pipes, Lauren Kolas sailed into another one of the show's sure-fire hits, "I Got Lost in His Arms."  As Kolas crooned out Berlin's music, one could almost travel back in time to 1946 when Ethel Merman first stepped into the role of Annie Oakley and hit the bull's eye.  Kolas might not have the same gritty quality in her voice as Merman possessed.  But Kolas scored all the same with her satin-smooth voice.
Jacob Pressely gave us a new rendition of Berlin's World War I hit, "Oh, How I Hate To Get Up in The Morning."  Siegel interjected that Berlin, an inveterate night owl who seldom rose before noon, was inspired to write the protest anthem for reveille from his own experience as a soldier.  In short, Berlin literally hated to get up in the morning and felt that lots of other folks (in and out of uniform) felt the same way.
The show shifted gears with the classic "Let's Face the Music and Dance," sung by Liesel Lott in a chic midnight-black gown.  While this number smoldered with passion and evoked memories of Fred Astaire and Ginger Rogers in the film Follow the Fleet, it was soberly contrasted by the darker-toned "Love, You Didn't Do Me Right."  Expressively sung by Jeanine Bruen, it serves as a cautionary tale about the dangers of romantic love.
Siegel prefaced the next song "What'll I Do" with a juicy slice from Berlin's personal biography.  We leaned in as Siegel recounted how the famous songwriter, a Russian-born Jew, set tongues wagging when he married the Long Island debutante Ellin Mackay, the daughter of multimillionaire Clarence Mackay.  According to Siegel, Ellin's father, not only threatened to disinherit his daughter if she entered an interfaith marriage with Berlin, but announced to all that "it will be over his dead body."  In spite of Clarence's strong opposition to their marriage (his daughter was 15 years younger than the composer), Irving and Ellin would eventually elope, with their marriage ceremony taking place at City Hall.  And the real zinger?  The bride and groom arrived by subway (it was Ellin's first subway ride!) at the municipal building due to unexpected car problems.
Siegel had an ironic sequel to add to this latter-day Romeo and Juliet story as well.  Although Ellin's father never forgave Berlin for marrying his daughter, fate would twist things around later on in Mackay's life when he lost his whole fortune in the Stock Exchange crash of 1929.  Berlin, in fact, ended up giving Mackay a million dollars to help get him through the Depression.  Perhaps the best wrinkle to the story, however, is that Ellin Mackay's marriage to Berlin lasted 62 years.
As audience members sipped on cocktails or coffee at tables in the cozy nightclub, Emily Quinta served up a fresh interpretation of "Always."  We learned that Berlin had originally intended to include this song in the Marx Brothers' 1925 musical Cocoanuts.  However, Berlin's theatrical instincts told him that the melody wasn't right for the nonsensical musical.  So he saved "Always"--and gave it as a wedding gift –copyrights and all--to his new bride Ellin on their honeymoon.
Optimism was in Berlin's DNA, and it was brightly reflected in Philippa Lynas' delivery of "Blue Skies."   Siegel cited that the song was interpolated into Richard Rodgers and Lorenz Hart's 1926 musical Betsy when the show seemed en route to oblivion.  And, truth be told, Berlin's song became the most remarkable thing about this unremarkable show.
The best number of the evening by far was "I Can Do Anything Better Than You" from—you guessed it--Annie Get Your Gun.  One-upmanship rules in this argumentative duet.  And it was robustly performed by Sarah Bishop and and Ben Chavez, who did double duty at the piano.  Bishop and Chavez' verbal sparring was fun to listen to.  And, if any director is looking to cast a new millennial Annie Oakley and Frank Butler, he (or she) need look no further than Bishop and Chavez.
In spite of his reputation for churning out catchy, entertaining songs, Berlin was an artist with a social conscience.  And he proved it with songs like "Harlem on My Mind" and "Supper Time."  Kenita Miler, who breathlessly arrived on stage after performing in her current stint as Mama Euralie in Once Upon this Island four blocks away, brought a raw emotional edge to both of her numbers.  The former ballad captures the complex feelings of an African-American expatriate as she longs for her native Harlem; the latter is a lament that reveals a black Southern woman in mourning for her lynched husband.  Both works share the theme of loneliness and Miler's rich modulated phrasing captured the psychological depths of the songs.
Quentin Earl Darrington, another actor recruited from Once on This Island, joined the Berlin songfest for its second half.  With effortless ease, he dove into the sonorous notes of "How Deep is the Ocean," and then after taking a breather off-stage, returned to deliver a soulful "Give Me Your Tired, Your Poor."  No question it served as a point of reflection on the controversial events now happening in our country connected with immigrants hoping to make the United States their home.
Politics aside, one could only wonder what Berlin anthem would serve as the finale.  That was easily resolved, of course, when the company gathered on stage to sing "God Bless America."  The troupe invited everybody to chime in, and the braver members of the audience joined their voices with the pros.
If there was anything to quibble over in the program, it was that the performance was over too soon, and that a slew of Berlin's classics had been omitted.  But, as Siegel had wisely pointed out at the show's onset, nobody can do justice to Berlin in a 90-minute performance.  One can only lasso a small portion of his immense genius at one sitting—and save the rest for a return visit.
July 5th, one performance only.
Feinstein's/54 Below, 254 West 54th Street, Cellar.
For more information on upcoming shows, visit www.54below.com or phone (646) 476-3551.
For more information on Scott Siegel's upcoming shows, visit www.siegelpresents.com
Running time:  90 minutes with no intermission.