Ian Holcomb, Orlagh Cassidy, Aaron Gaines, and Dewey Caddell               photos by Carol Rosegg
                                    by Deirdre Donovan
Of all the holiday shows in New York this season, none is as life-affirming as It's a Wonderful Life: The Live Radio Play.  This stage adaptation of Frank Capra's classic film returns to the Irish Repertory Theatre and is the perfect mood elevator for anybody who finds December a cold and bleak month.
This isn't a straightforward presentation of Frank Capra's 1946 film, starring James Stewart and Donna Reed.  Written by Anthony E. Palermo, it's a simulation of a live radio broadcasting of It's a Wonderful Life. 
But don't expect to sit back and passively watch this faux radio broadcast on stage.  Viewers are invited to become de facto audience members at the "broadcast," and on cue, applaud the proceedings.  In fact, during the pre-show stage business, the radio announcer (Ian Holcomb) breaks the fourth wall and coaches audience members on the finer points of applause.  With this mastered, more or less, he then instructs everybody to clap enthusiastically whenever the neon sign "APPLAUSE" above the stage lights up.  Whether one wants to call this pre-show rehearsal a kind of actor-audience interaction, or simply how a cast gets a round of applause in a hurry, it definitely added to the fun of this radio-play.
The action unfolds in a series of vignettes that all take place in the radio station, realistically designed by James Morgan.  The lighting scheme by Brian Nason makes effective use of a wintry white palette.  The live sound design by Zach Williamson is at its best when homespun (think of the click-clacking of shoes on a wooden surface to suggest the passage of years).  And the period costume design by Barbara Bell is right on the button.
The acting ensemble--Aaron Gaines, Haley Bond, Dewey Caddell, Ian Holcomb, Orlagh Cassidy, and Rory Duffy--are all excellent under Charlotte Moore's direction.   As George Bailey, Gaines demonstrates his range by conveying, in turn, stark desperation, bewilderment, earnestness, and devotion.  Bond, playing opposite him, is a good foil for her stage husband, projecting the conventional feminine virtues of loyalty, sacrifice, and total support of her man.  Another standout is Caddell, who plays five roles, morphing from the angelic Clarence to the villainous Mr. Potter, and then rotating from Pop Bailey to the druggist Mr. Gower and the Italian café owner Martini.   Indeed, the six-member cast summon up 25 characters in all during this 70-minute presentation, with nary a mis-step.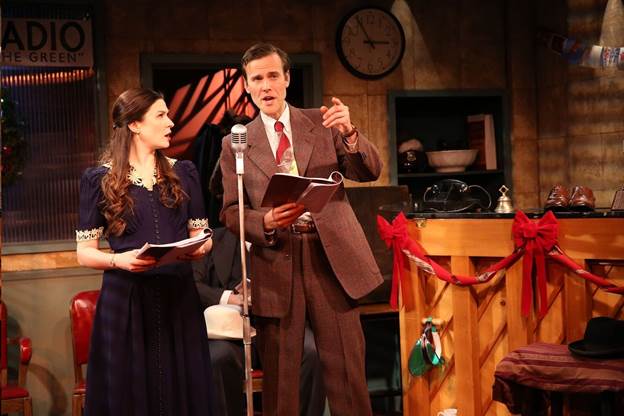 Haley Bond and Aaron Gaines
In keeping with her work with the actors, Moore succeeds in creating a mood on stage that mirrors the gritty milieu of a radio station.  Moore has adroitly blocked the piece that begins with the casual banter at a radio station, segues to 1940s commercials, and then transitions to the narrative at large.  In short, one gets an authentic flavor, not only of the classic, but of the broader American culture during the Truman era.
Rusty on the Capra classic?  Well, here's the chestnut in a nutshell:  Set in Bedford Falls on Christmas Eve in 1946, the plot revolves around the kind-hearted but despondent George Bailey, who is on the verge of jumping to his death from a bridge.  Clarence, George's guardian angel who still hopes to earn his wings, miraculously intervenes and shows the suicidal George how his life has positively impacted upon others in Bedford Falls.
The story is a celebration of small-town life in America.  In the vein of Thornton Wilder's Our Town, it points out the old-fashioned virtues of family life, hard work, and civic responsibility.  In a series of flashbacks, the audience is clued in on George Bailey's personal history:  how George rescued his younger brother when he fell through the ice, saved a child from being poisoned by tainted medication, married his sweetheart and raised a family, and reluctantly took over his late-father's building and loan business.  While it highlights George's positive character traits, it also reveals how the harsh realities of his life thwarted his dreams of doing something "great" for mankind. 
Based on a short story by Philip Van Doren Stern, It's a Wonderful Life has become a staple of the holiday season.  But its message of goodwill truly transcends any calendar day and can be savored long after the last cup of eggnog vanishes.
As a piece of theater, this adaptation of It's a Wonderful Life is winning.  Palermo has managed to pare the narrative down to the bone without losing any of its beloved scenes and lines.  Yes, you will still hear the film's most famous line spoken by Zuzu Bailey: "Every time a bell rings . . . an angel gets their wings."  But even better, you'll be able to join in with the entire cast at the finale to sing a rousing version of "Auld Lang Syne."
Unfortunately, this show has an all-too-brief run and wings out of the Irish Repertory Theatre on December 31st.  So catch it now or catch it never.
Through December 31st.
At the Irish Repertory Theatre, 132 West 22nd Street, Manhattan.
For tickets and more information, phone (212) 727-2737 or
 visit www.irishrep.org.
Running Time:  approximately 70 minutes.