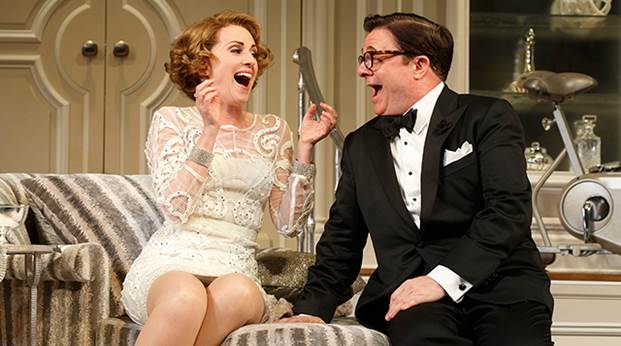 Megan Mullally and Nathan Lane
                                                    by Michall Jeffers
The answer is Nathan Lane. The question is what's the best reason to see It's Only A Play. This nearly sold out smash hit is playing to full houses chocked with appreciative theater goers. Just as trumpeted, the laughs never stop. Director Jack O'Brien has done a masterful job keeping everything moving at breakneck speed. The deck is stacked with performers who know how to deliver a line for maximum effect. Playwright Terrence McNally is in familiar territory, and nary a quip fails to get the desired reaction.
But at two and a half hours, the production is too long, and even laughing can become tiresome. There's a lot of repetition, not all of it for comic effect. I question how long the show will run without its marquee names. Lane is such a master of both the one-liner and the slow burn, it's difficult to imagine anyone else driving this vehicle.
Much of the humor is a compilation of one in-joke after another. There's a snobbish pride in being theater knowledgeable, and a savvy New Yorker, when we catch all the witty lines. I wonder whether the tourists who are necessary to sustain a long run will understand why it's funny when the director declares, " I won't work with animals, children, or Frank Langella." Will they get it when Nathan Lane references The Addams Family? The title of another McNally play, "Love! Valour! Compassion!" is slipped in so fast, it almost zips past even the locals. Of course, there are gags that are easier to get yuks from everyone, most of them involving the names of celebrities. We're told Kelly Ripa has been bitten by a dog. Shia LaBeouf has been arrested.  Patti LuPone has thrown pasta at a critic. When a woman was told she looks "just like Hillary Clinton," she replied, "I should hope so; I am Hillary Clinton."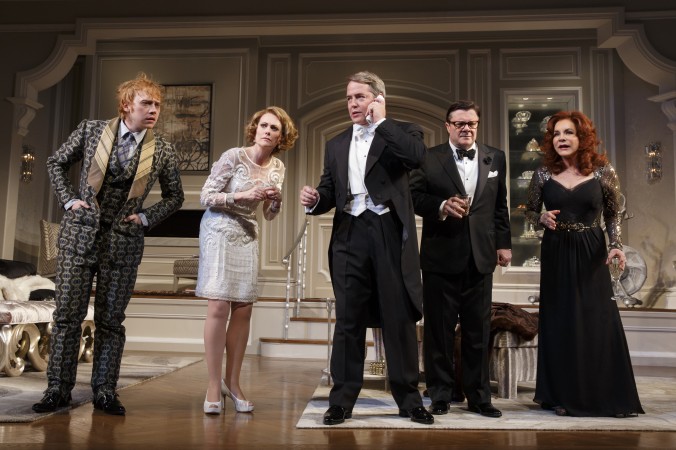 (L-R) Rupert Grint, Megan Mullally, Matthew Broderick, Nathan Lane, and Stockard Channing - Photos by Joan Marcus
The premise of the piece is that it's opening night for a not-so-great play. Everyone who's anyone, Liza Minelli, et al, has gathered at the home of the producer, Julia Budder (Megan Mullally) and her playwright husband, Peter Austin (Matthew Broderick). They're waiting for the all-important review from New York Times critic Ben Brantley. Good friend James "Jimmy" Wicker (Lane) has flown in from the Coast, where he's been on a hit TV series for years. British director Sir Frank Finger (Rupert Grint) bursts into the room, as does been-there-done-him leading lady Virginia Noyes. Joining them with his own agenda is meaner than a junkyard dog critic Ira Drew (F. Murray Abraham).  A naïve wannabe actor, Gus P. Head (Micah Stock), is depositing coats and fetching liquor.
While their guests are down below frolicking, the principles wander into Julia and Peter's bedroom. And what a bedroom it is; Scenic Designer Scott Pask has created the perfect boudoir, all sandy beige walls, silver bannisters, exercise bike, expensive bowls and candlestick. The crowning glory is a glimpse into Julia's closet, filled with shelf after shelf of designer high heels.
While Lane is clearly at the center of the action (he enters to wild applause, as do the others), he has first class colleagues. Stockard Channing is droll as the star who has seen better days. The ankle cuff she sports is to inform her parole officer where she is at any given moment. A high point in Channing's performance is when she nonchalantly tosses off the reason she's been in trouble. It goes well beyond the booze and drugs, although there are plenty of those at hand. Channing now looks more like Elizabeth Taylor than ever, and that works to her advantage here; she's stunning in long black gown with golden sleeves and back, designed by Ann Roth.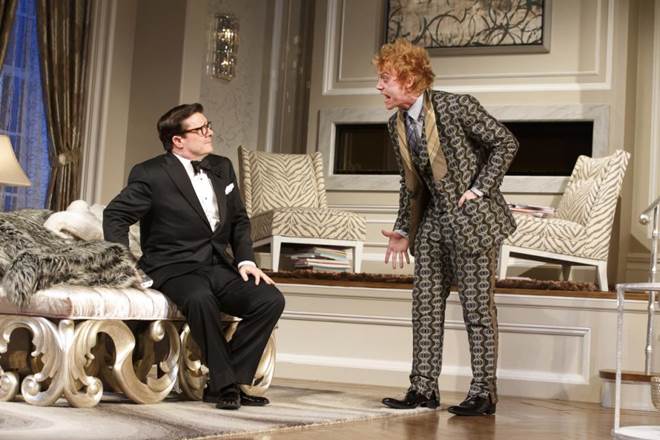 Nathan Lane and  Rupert Grint, of "Harry Potter" fame
Rupert Grint is over the top as Finger, the golden boy director who longs for a failure. With disheveled red hair and bizarre eye makeup, he's every bit the wild man wunderkind; but his best moments are the quiet ones which play up his chemistry with Channing. F. Murray Abraham delights with a maniacal laugh, but has too little to do toward the end of the play. Megan Mullally of Will And Grace fame knows how to knock every comedy line out of the park, but her voice becomes more annoying than funny by the end of the evening. More Southern honey, less shrillness, would be a huge improvement for the actress who can otherwise do no wrong for her audience. Incidentally, note to the real producers: Mullally here is a dead ringer for actress Deborah Rush; when it comes time to recast the show, Rush would be perfect. Newcomer Micah Stock brings the right amount of gullibility and ambition to Gus. And Matthew Broderick is, well, Matthew Broderick. As usual, he maintains a monotone throughout, and delivers his lines as though he's sitting around a table with the cast, at a first reading of the play. But the audience adores him.
The ending of the production doesn't seem like the right payoff for the time we've put in. The deus ex machina seems tacked on. It's Only A Play is both self-referential and self-reverential. If you care enough about the theater to read a review about it, this may well be the comedy of the season for you.
Gerald Schoenfeld Theatre,  230 West 45th , 212-239-6200
Running time: 2:30
Author: Terrence McNally
Director: Jack O'Brien
Cast: F. Murray Abraham (Ira Drew), Matthew Broderick (Peter Austin), Stockard Channing (Virginia Noyes), Rupert Grint (Frank Finger), Nathan Lane (James Wicker), Megan Mullally (Julia Budder) and Micah Stock (Gus P. Head)
Technical: sets, Scott Pask; costumes, Ann Roth; lighting, Philip Rosenberg; sound,  Fitz Patton