JULY 4th WEEKEND IN KISMET Parade, Sam's tribute slide show, the houses, Seabay Annual Potluck dinner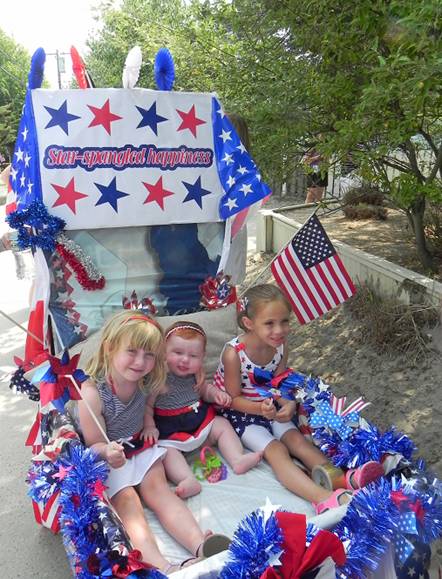 July 4th (5th) Parade in Kismet
                          Photos by Bradlee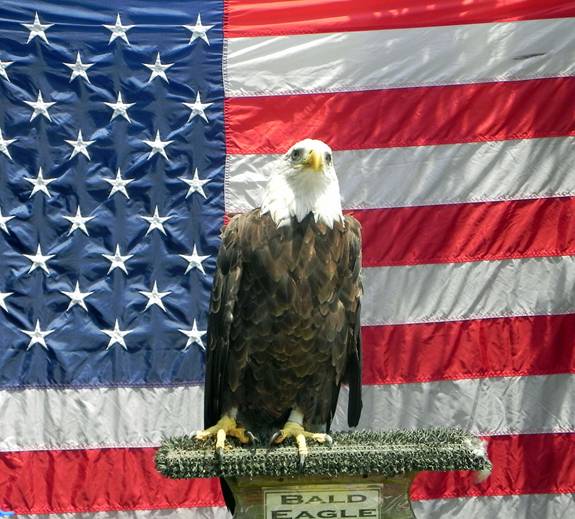 Jon Woods Bald Eagle
 part of a program to preserve Bald Eagles - he takes this one to show various places.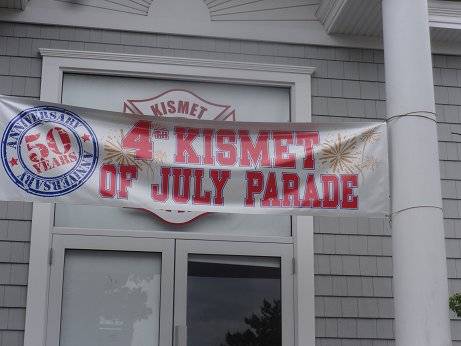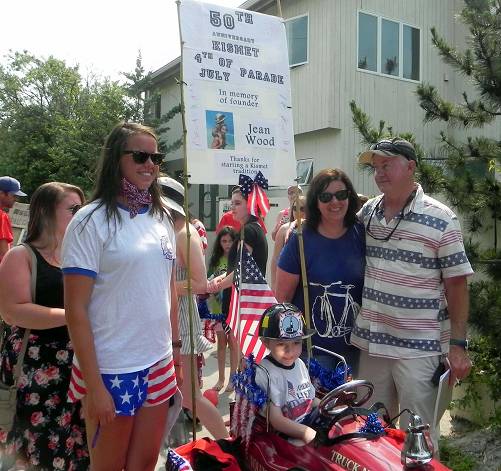 Most Topical Jean Wood 50 years of parades
Tribute float in memory of Jean Wood included Kai Sitone in toy fire truck.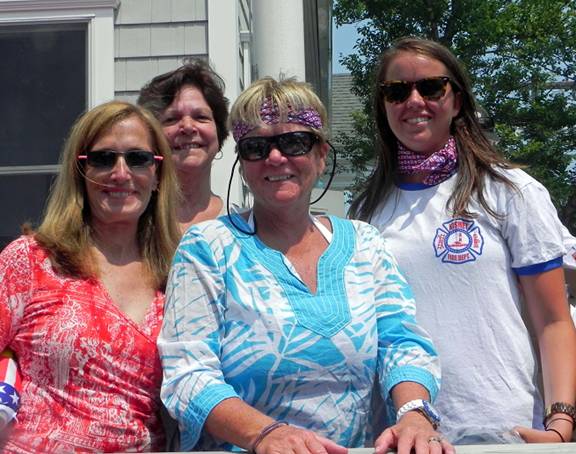 Judges Patty, Phyllis, Joanne, Mallory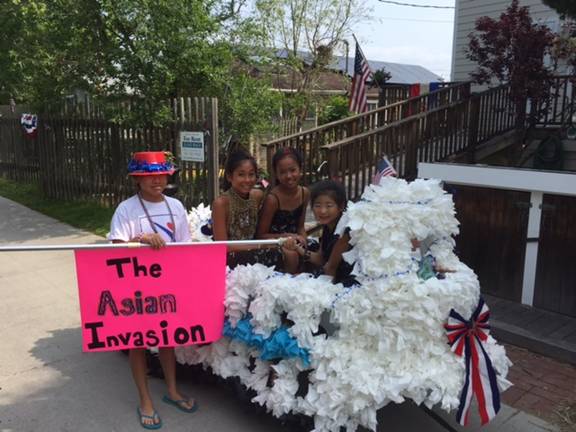 Asian Invasion – Most Creative
 included Gigi Vallachi, Anna Manzo and Lucy Watch.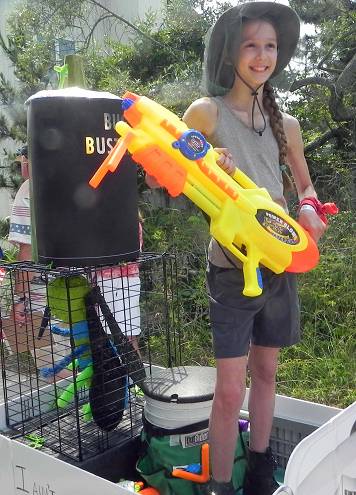 Bug Busters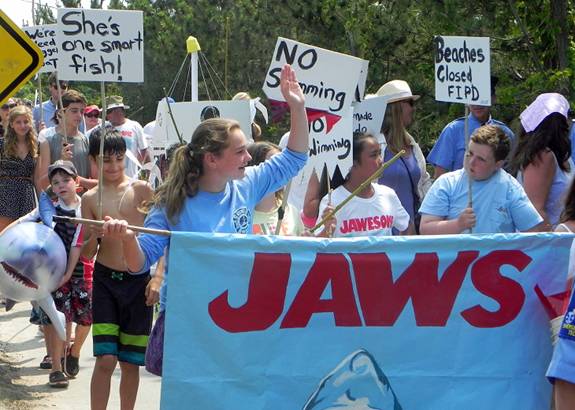 History of Jaws -
History of Jaws float was the extended Lambie family.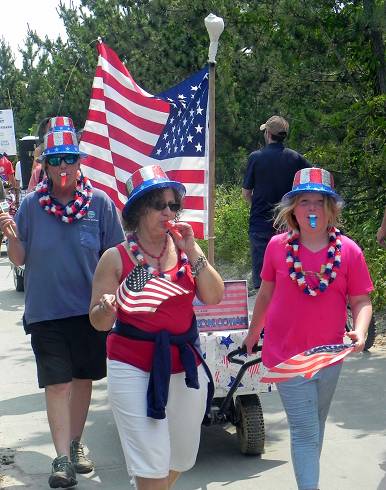 Kazoos are back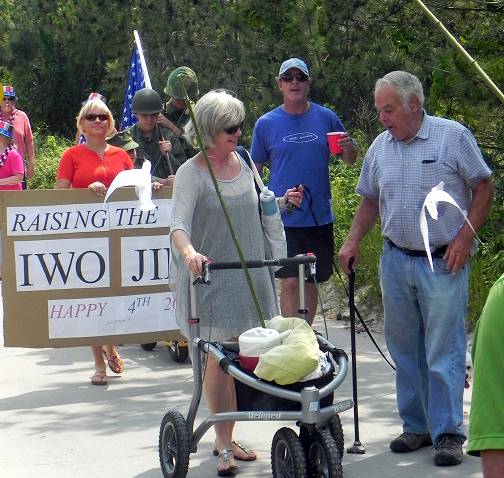 Most Patriotic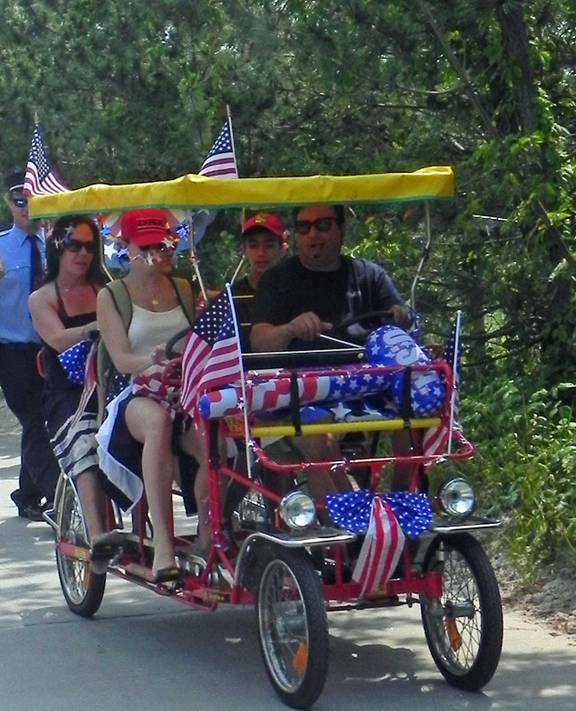 Paul's old time carriage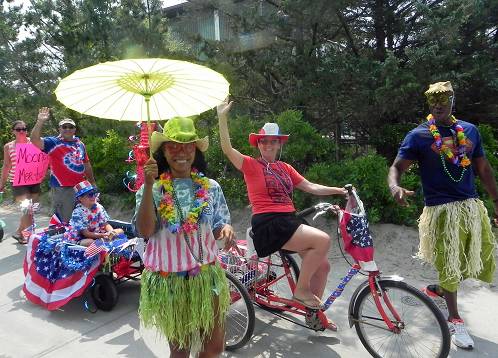 Sunset House
Grace sang Anthem
Sam didn't make speech except to mention O'Halloran & Guinta (relative of Don, the freight ferry guy) -
Most Historical - 90 years of Kismet History - the Crawsons
Most Patriotic - Iwo Jima - Arthur
Most Topical- 50 Years of 4th of July - tribute to Jean Wood
Most Creative - Asian Invasion - Gigi Villachi Anna Manzo, Luch Watch
Best in Parade = History of Jaws - Lambe family & friends
Wagon of Cheer - Buddy
50-50 - Carmine
Bicycle - Kelly Briscoe
JULY 4th in KISMET
 The houses were on display, too
                                 Photos by Jeannie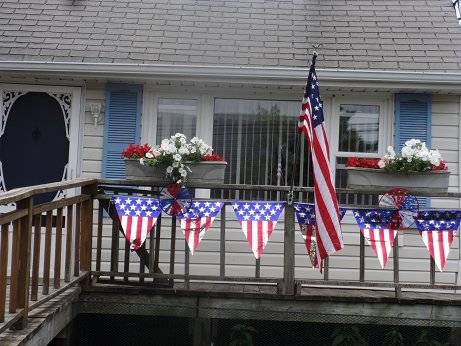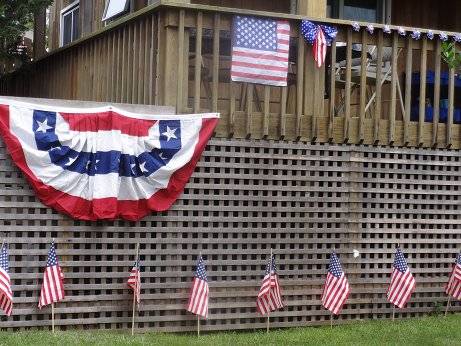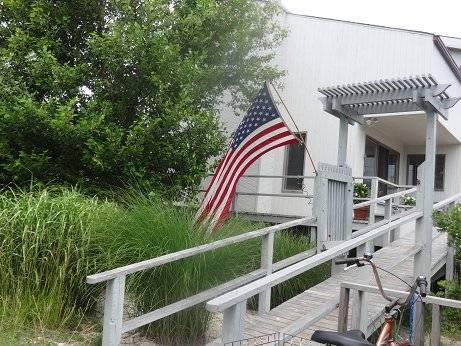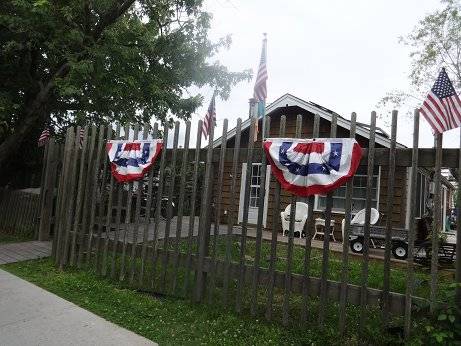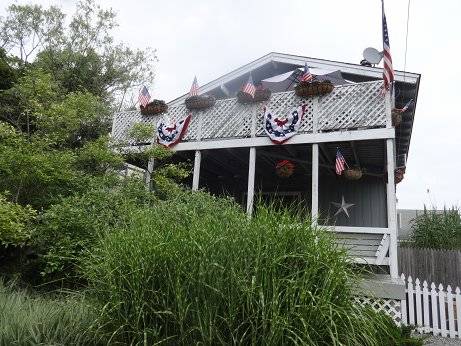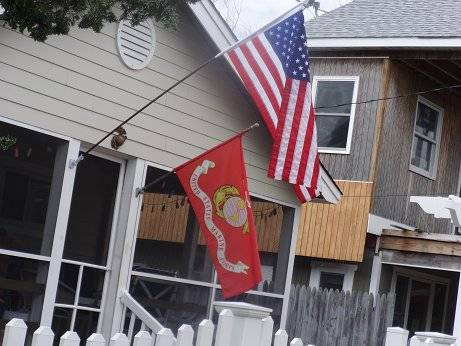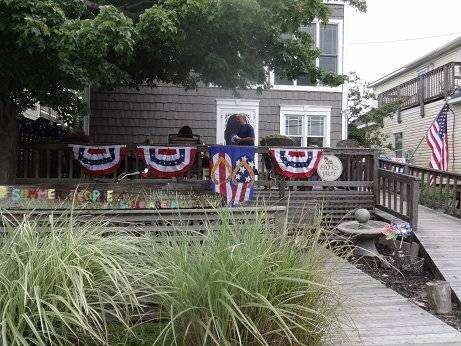 JULY 4th Slide show and Kismet Parade
IT WAS STANDING ROOM ONLY FOR SAM'S SLIDE SHOW
                              Photos by Jeannie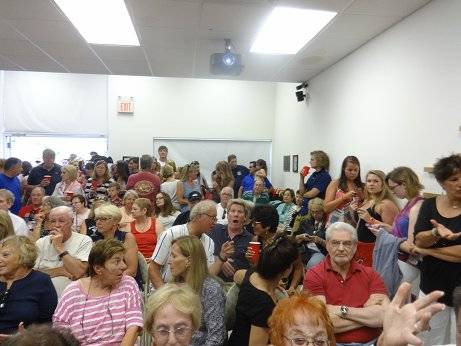 Sam Wood who dedicated the parade to his mom, created a slide show of vintage (and not so vintage) photos from the beginning.
"The First Parade started with an idea based on the holiday and our red wagons that made perfect floats for Kismet in 1965.
 Dick Genemayor, Allen Hathaway, along with Artie Shiller convinced the Bay Shore Fire Dept to bring their band to Kismet.
My mom, along with the Daniels, organized the rest of it and Jean Wood continued to run it for 40 years.
 A big thanks to all of them, especially my mom.
As time went on more prize categories were added: Most Beautiful, Patriotic, Topical, Historical, Creative and Best in Parade. In the old days there was one trophy that had to be handed down from year to year.
In those categories for Topical we had everything from Watergate to Weinergate, water pollution to global warming. In Patriotic and Historical we had Paul Revere, Boston Tea Party, George Washington, and Lincoln, Betsy Ross (she's still around)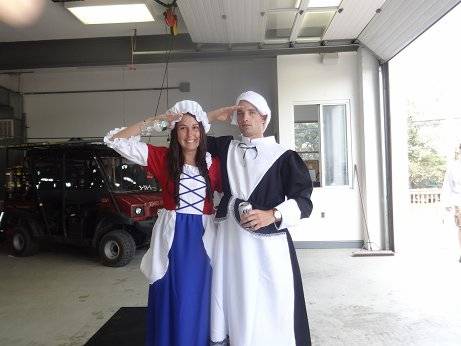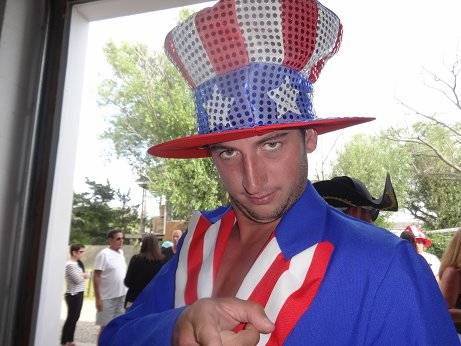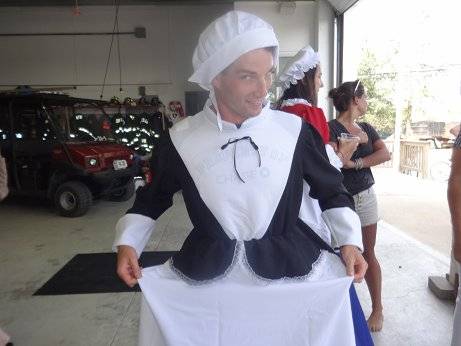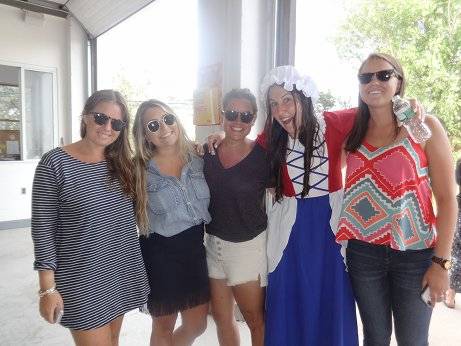 In whatever categories we had the Cone heads, the Flintstones, Power Rangers and Austin Powers.
Many great ideas are hatched the night before over cocktails.
One year, the night before the parade, I built a giant wedding cake out of plywood and spackle and decorated with caulking. People from the block party next door started eating it.
The parade sometimes resembles a Red, White & Blue Halloween party.
The parade is very unique because it involves the community and is an all inclusive event. Everyone wants to be involved. Many of the families from 1965 still have a presence here. The Woods, the Meyers, the Dietrich's, Dennis's, Fields and Hollingers.
In these photos and video you will see old Kismet with the old chimney at the tennis courts, no bulkhead building, and no firehouse and there was no Out restaurant. I bet Larry Cole remembers that.
(Sam also showed in slides that in those days Kismet was flat, it had no trees so the main social activity was always a building project involving the townspeople – there were no unions)
 I want to thank everyone for coming, so stuck round, enjoy the refreshments and visit the symbol of our land, Uncle Sam, who was brought her by my brother Jon Wood."
Sam also thanked Amy, Grace, Karen and Kevin d for their help putting the event together.