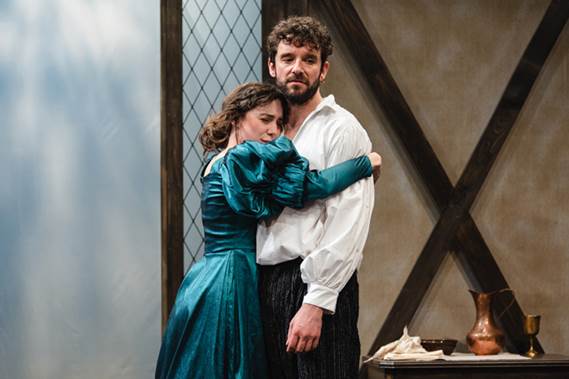 Talene Monahon and Michael Urie in Jane Anger. Photo: Valerie Terranova
Jane Anger
                                        By Fern Siegel
"Jane Anger" gives a satiric, almost woke poke at Shakespeare. While the one-act show is billed as a "Jacobean feminist revenge comedy," the premise manages to tweak Shakespeare's nose, while noting that in a pandemic, the living ain't easy.
The play opens in London with William Shakespeare (a perfectly cast Michael Urie) bemoaning the productivity of Ben Johnson, while deciding to steal a new play, "King Leir," and make it his own. The catch? He revamps it as "King Lear – "ea!")
Urie's Shakespeare is narcissistic and charming. He's funny and exasperating, but he meets his equal in Jane Anger (Amelia Workman). She explains she's been a weaver and a whore — and her latest job description is a cunning woman. "I've been cunning going on 14 months now." What the post celebrates is her versatility; she can do almost anything. And we soon learn that Jane is no stranger to the wily Shakespeare.
She doubled as his muse, which he recorded as the "dark lady" in his famed sonnets, and was also his favorite pick at a local brothel. While he is delighted she has inexplicably climbed through his window, she isn't as impressed with him.
And when Francis, his devoted adult servant (a hilarious Ryan Spahn) who tries to pretend he's 16, asks if the cunning woman is a barber-surgeon, Shakespeare replies: "Yes Frankie, it's similar. But the differences are the person has breasts and makes less money."
We're not in Stratford-on-Avon any more.
Shakespeare turns his attentions to "Lear," admitting his usual fast and productive style has eluded him. His past output came despite the dreaded — and never-ending — plague. And many of the jokes ring true to a Covid-enduring audience. The 1606 social-distancing practice is measured in ponies. As Shakespeare and Francis canter around the stage, their chemistry clicks. 
So does the word play that happens between all the characters. "Jane Anger" is not only a send-up of Shakespearean pretensions, firmly rooting its famed author in the squalor and egoism of everyday life, but a wonderful exercise in satire.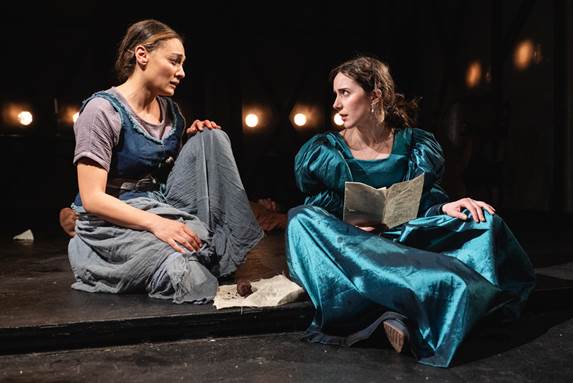 Amelia Workman (l) and Talene Monahon in Jane Anger. Photo: Valerie Terranova
But it's the women who get the last laugh — since Shakespeare can't seem to finish "Lear" and he needs something or someone to unblock his creative juices.
Once again, a woman enters through his window. Though this time, the uninvited guest isn't as welcomed. It's Shakespeare's long-suffering wife, Anne Hathaway (Talene Monahon, who is also the playwright). She's not seen her spouse in seven years, which she explains in a rambling speech that ends with "let's make out." Little is known historically about Hathaway, save that she was older than her husband and from a financially comfortable family. She was pregnant when they wed, a situation not unusual for the times.
Shakespeare makes a point of always calling her "Anne Hathaway," thereby increasing the emotional distance between them. He also insists on calling Anger "Janie," a diminutive, which refutes at every turn.
Michael Urie (l) and Ryan Spahn in Jane Anger. Photo: Valerie Terranova
The Bard wants adoration; Anger wants him to sign a document allowing her to publish a feminist tract. That battle, holding and withholding power, is played out against a comedic backdrop, but the issue of women's rights is never far from the surface. And Monahon's final twist is terrific, a perfect comeuppance to sexists everywhere.
Jess Chayes' direction is lively and she gets the best out of her cast. Spahn has a knack for physical comedy, a perfect foil to Urie's verbal asides. Workman is wonderful as a strong woman with vision, while Monahon's Anne carries off simplicity and quiet cunning of her own.
Jane Anger, New Ohio Theater, 154 Christopher St.
Running time: 93 minutes
Tickets: www.JaneAngerPlay.com