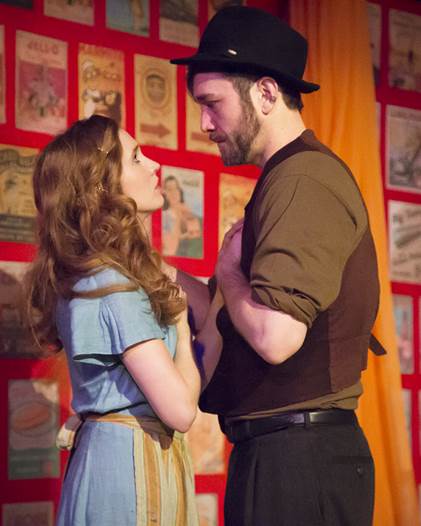 Hannah Sloat & Vasile Flutur††††††††††††† photos by Dustin Moore
††††††††††††††††††††††††††††††††††††† by Deirdre Donovan
Youíve got to hand it to Michael Weller for his good timing in bringing his new play Jericho to the New York boards.† An adaptation of Ferenc Molnarís Hungarian masterpiece Liliom (1909), which is the source for Rodgers and Hammersteinís Carousel (arriving on Broadway February 28th), Wellerís play is a welcome addition to the new season.
The advance publicity for Jericho refers to it as a ďdark fairytale for adults.Ē† Set in Coney Island in the Great Depression of the 1930s, the story centers on a love affair between a handsome carousel barker named Jericho and a young kitchen worker at a Catholic Young Womenís Hostel named Julie.† In spite of Jerichoís gruff manners and devil-may-care attitude, Julie is smitten with Jericho, and vice versa.† The plot, in fact, closely follows Molnarís Budapest narrative.† Jericho and Julie live together, and before four months pass, Julie becomes pregnant.† Jericho is euphoric over the idea of becoming a father.† But worry sets in for him.† Both Julie and he have lost their jobs.† Unbeknownst to Julie, he gets involved in crime with the neer-do-well Tynk.† When a cop corners Jericho in a shady scheme, Jericho commits suicide rather than be arrested. †Of course, thereís more to the story but youíll have to drop by the Wild Project in the East Village to learn what happens to the characters.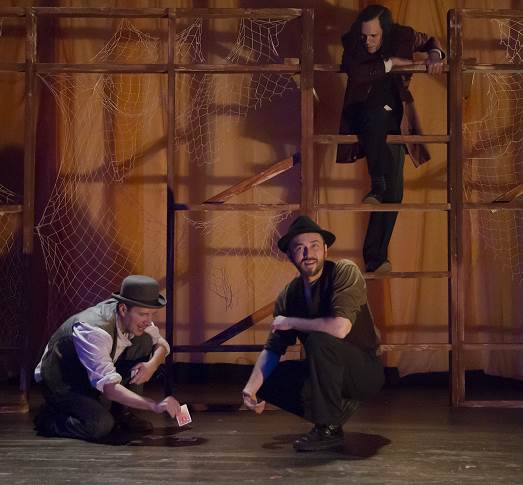 Jack Sochet, Vasile Flutur & Jerzy Gwiazdowski
Jericho has a lot going for it.† Wellerís new take on Liliom has New York flavor and grit.† With its episodes of domestic violence, unemployment, and single parenting, it speaks to vital issues that tear at the fabric of our society today.
That said, Laura Brazaís production never totally catches fire.† Itís difficult to pinpoint exactly whatís wrong with the staging, but the sum of its parts donít equal a whole.
The problem is partly with the casting.† Vasile Flutur has a tricky job in playing Jericho but manages to pull it off by suggesting a blend of cockiness, hot lover, abusive husband and proud father.† Hannah Sloat is excellent playing opposite Flutur as Julie.† And Jack Sochet also turns in a riveting performance as Jerichoís manipulative partner-in-crime Tynk.† Less effective are those in supporting roles.† Many performers in the minor roles simply seem miscast or lack verve.†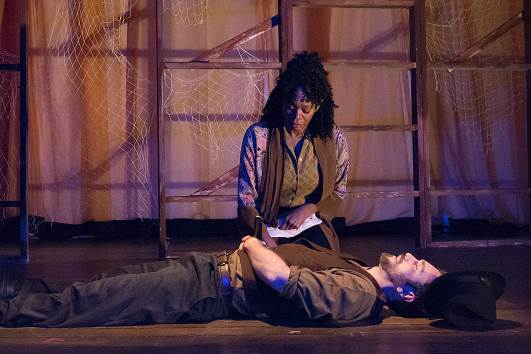 Stephanie Pope & Vasile Flutur
When it comes to the production values, Julia Noulin-Meratís set gets the seedy carnival atmosphere down pat.† Bevin McNallyís eclectic costumes, however, miss the mark.† They are a mixed-bag of carnival wear, period dresses, and thigh-high shorts that look more in synch with the revolutionary 60s than the depressed 30s.
But even if you donít subscribe to the various casting or creative choices that Braza has made with Jericho, itís good to see a Weller play back on a New York stage.†† Weller is best-known for his Viet Nam-era play Moonchildren, which had a run on Broadway, as well as Loose Ends, Spoils of War, and Fifty Words.† In addition to his stage work, Weller penned the screenplays for Ragtime (Oscar nomination) and Hair.
When you come out of a performance of Jericho, you might not be singing.† But you are sure to have your heart touched and consciousness raised on some thorny economic and moral issues confronting families back in the 30sóand still lingering through today.
Through February 10th
At the Wild Project, East 3rd Street, East Village in Manhattan
For tickets, visit www.thewildproject.com
Running time:† approximately 2 hours with one intermission.