CREDIT: MONIQUE CARBONI
Jennifer Allen, Florrie Bagel, Brandon Contreras, Sean Patrick Doyle, Brad Greer, Luke Grooms, Nathaniel Hackmann, Billy Hepfinger, Justin Keyes, Beth Kirkpatrick, Elizabeth Loyacano, Terrence Mann, Tiffany Marin, Jill Paice, Will Swenson, Nichole Turner, Kim Steele.
                                              By David Schultz
Wonder of wonders…this television parody of the Jerry Springer show still has something to say and boy does it ever. A Trailer-trash parody, that meets an operatic sung-through musical with more obscenities per minute than any other musical in history, has finally arrived in Manhattan. On paper it sounds ridiculous and insipid. This British musical had its premier way back in 2003, and ran for an astounding 600-plus performances. Adding to its shocking longevity the musical won four Olivier Awards, including the coveted Best New Musical Award. The musical was also staged as a concert version (that was decried as obscene and was picketed up and down the street) at Carnegie Hall in 2008.
How and why it took this long to reach New York City with a fully staged production is a mystery. On initial glance the early going does seem rather dated with a dutiful and convincing simulacrum of the show and its blue-collar participants. The spot on set design by Derek McLane perfectly sets the mood. The theater audience is seated on three separate sections that face the stage; a cunningly accurate reproduction of the Jerry Springer television set. Lining the first rows of the audience are various cast members who will all eventually find their way up to the stage with their dirty laundry ready to be exposed for all to see.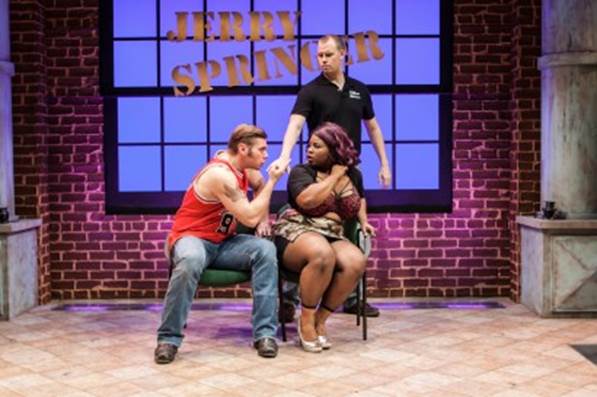 Nathaniel Hackmann, Tiffany Mann, and Billy Hepfinger
These wildly insane folks proceed to reveal their dark secrets to their prospective husbands or wives on television, and, no surprise here, end up yelling, jumping up, throwing things, as they proceed to hurl a fusillade of obscenities along the way. The first guests include a rather rotund man (Luke Grooms) who is cheating on his girlfriend (Florrie Bagel), with…. guess who?  Her best friend (Beth Kirkpatrick) didn't you guess that already? Not to mention there is another person that is involved as well, an anorexic transsexual (Sean Patrick Doyle) to confuse things even more. Followed in quick succession by a man (Justin Keyes) who sheepishly admits to his future wife (Elizabeth Loyacano) that he 'wants to be her baby'. When he says it repeatedly, begging her to acquiesce, she doesn't realize the real meaning of his request, until he strips down to his diaper, and proclaims that he wants it literally. Rounding out the group in the last segment of the first act is a very plump African American woman (Tiffany Mann) who against the wishes of her husband (Nathaniel Hackmann), yearns to be a pole dancer and garner the attention she desperately craves.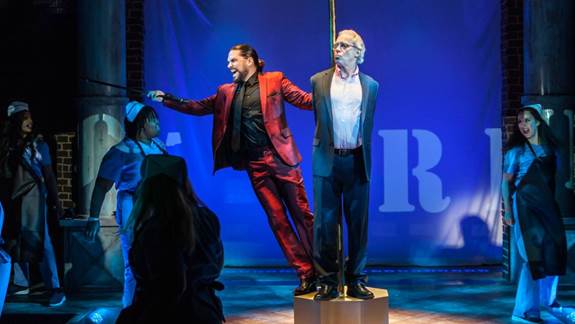 Will Swenson and Terrence Mann                              Monique Carboni
Hovering over all of these misguided souls is our host Jerry Springer (Terrence Mann), aided and abetted by the taciturn security guard Steve (Billy Hepfinger). The hyperactive and devious looking warm-up man (Will Swenson) drives the crowd watching the show into frenzy, but irks Jerry with a variety of his ill conceived ideas about the show. The first act ends on a bizarre note with an elaborate dance number sung by a bevy of Ku Klux Klan members tap-dancing on stage. The madness reaches a violent climax with the recently fired warm-up man climbing up a balcony and shooting Jerry in the chest as the first act ends on a dark note.
 So far so good, though it seems this has been just an accurate rendering of what a typical show looks and sounds like. The voyeuristic peek into these angst-ridden folks is almost too on point. One of the pleasures of this oddly endearing musical is that the entire score is operatically sung through. The juxtaposing of this sordid group with operatic complex melodies is rather unique. Sensitive souls that are easily offended by coarse language best veer far from this production. Obscene, filthy, naughty, foul, blue…. take your pick. Words of every shape and color flow effortlessly from the ensemble, and after the initial shock of hearing them repeatedly sung, they somehow, depending on your bent, seem less offensive as the evening wears on. Or maybe not…. this musical will offend and please in equal measure. The musical score by Richard Thomas, book and additional lyrics by Stewart Lee and Mr. Thomas draws gasps and laughter in simultaneous moments with each new soaring aria.
So where can this show go from here? Why to Hell of course. The Second Act takes place in Hades, or perhaps in the fever dreams of the recently shot and blood stained mind of Jerry. The warm up man has now been reborn as the Devil himself who convinces Jerry (with the threat off an even more horrific death just waiting in the wings) to host a show where the guests include Jesus Christ, God Almighty, the Virgin Mary … with the first couple Adam and Eve rounding out the group. It seems a bit blasphemous at first glance, and its detractors would heartily agree, but there are some unexpected revelations and, can it be…pathos lurking around the edges of this musical.
Director John Rando, manages to corral his 17 member cast on this tiny intimate stage, with a snarky wink and a kick in the ass, aided and abetted by silly, goofy choreography by Chris Bailey that ends up being witty and laugh out loud funny. The outlandish cartoonish costuming by Sarah Laux, looks like she has watched every single episode of the show, and accurately and eerily replicated them in fine garish fashion. This show is not, obviously, everyone's cup of tea. But, somehow I think most people going in to see it, sort of know in advance what they are going to witness when they bought their ticket in the first place. Jerry! Jerry! Jerry!
Playing at The New Group at The Pershing Square Signature Center
480 West 42nd Street
212-279-4200
thenewgroup.org
Extended through April 1st