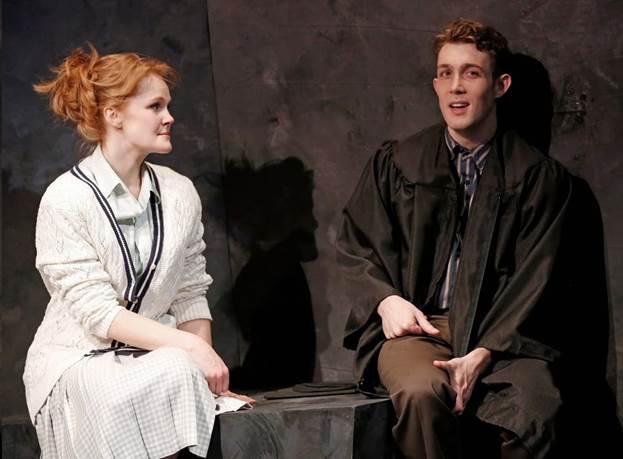 Kate Baldwin & Conor Ryan                                                        photos by Carol Rosegg
                                                   by Joel Benjamin
Andrew Lippa and Tom Greenwald's John & Jen at the Clurman Theatre is a chamber musical that bursts with emotion.   Kate Baldwin, an extraordinary actor/singer joins newcomer Conor Ryan in a tale that spans decades.  J&J explores the complexities of blood relationships here tinged with unconscious obsessive, possibly incestuous, overtones.  In the first act, John (Mr. Ryan) is Jen's (Ms. Baldwin's) brother and in the second he is Jen's son, his uncle's namesake, John.  Jen can't seem to find a healthy way to relate to either one.  Her inner emotional turmoil is the subject of John & Jen which takes her from her childhood attachment to her sibling to her smother-love for her son.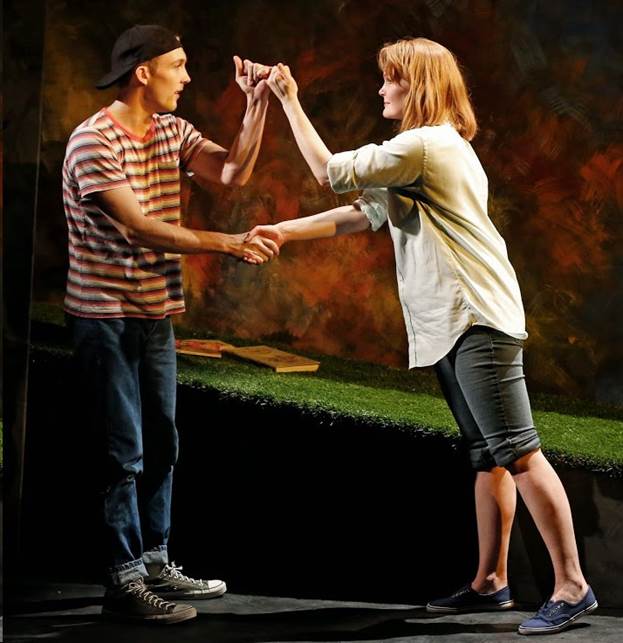 Photos by Carol Rosegg
Act One finds Jen, older sister to her cherished John, having to take on parental duties after they live through the breakup of their parents' marriage.  We see her reaction to his birth—"Welcome to the World"—and an early Christmas—"Christmas I."   Jen tries to placate John and support him through the thick and thin of their parents' problems.  His love of baseball becomes important to her.  As he grows up they reach an impasse that leads to his tragic death:  "Out of My Sight" and "Run & Hide."
In Act Two Jen has idealized her brother, naming her son after him.  Her marriage in shambles, she channels her energies toward him, unconsciously (or not?) turning him into a living substitute for her brother.  She forces baseball on him by giving him her brother's old baseball glove—"Christmas II" & "Little League."  In the latter song, she becomes the baseball equivalent of a stage mother, leading to friction that gets worse and worse until Jen has an eye-opening revelation that leads to an uneasy self-understanding—"Every Goodbye is Hello."
The songs range from straight-forward storytelling to explorations of the minds and emotions of the characters, all done with agreeable melodies and styles ranging from Rodgers & Hammerstein to Sondheim.   Lippa and Greenwald sculpted these songs to keep the story rolling along easily and expressively.  There is humor, wit as well as sadness in these beautifully sung works.
Both performers acquitted themselves beautifully.  Young Mr. Ryan with his boyish good looks managed the transformations required with aplomb, going from lanky youngster to troubled adult and back to youngster.  Ms. Baldwin somehow magically became the young Jen and then the mom, all with just the slightest changes in posture and voice.  The actors were—refreshingly—unamplified, easily heard over the on-stage band led by music director Lily Ling who was joined by Melanie Mason on cello.
Steven C. Kemp's set was too abstract, consisting of angular grey walls splotched with vague colors, punctuated by three ramps which served as beds, outdoor patches and gravesites.  The show needed a real sense of place and period, which this scenery failed to provide.  Were they poor, middle class? Was their house large, small?  None of this was answered, although Sydney Maresca's costumes and the props designed by Ricola Wille and Julia Moreno helped.
John & Jen is a small show with big emotions, illuminated through the writing of Lippa and Greenwald and given life by Conor Ryan and Kate Baldwin.
John & Jen – through April 4,, 2015
Clurman Theatre at Theatre Row
410 West 42nd St., just west of 9th Ave.
New York, NY
Tickets:  212-239-6200 or www.telecharge.com
Running time:  2 hours, one intermission
More information: www.keencompany.org