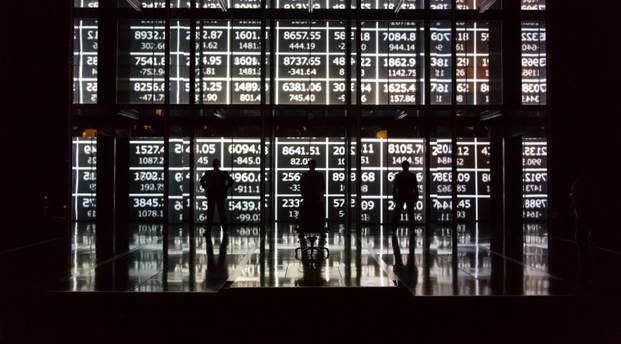 By Ron Cohen
Who would have thought that junk bonds, those infamous high-interest, high-risk investment vehicles that were all the rage in the 1980s, could still be so pertinent and entertaining?
However, that's what Ayad Akhtar accomplishes handily in his financial thriller, aptly titled Junk and being given a rousing Lincoln Center Theater production.  It's a monumental offering, with a company of 23 actors portraying nearly 30 characters, charged up to high voltage performances under the sizzling pace of director Doug Hughes.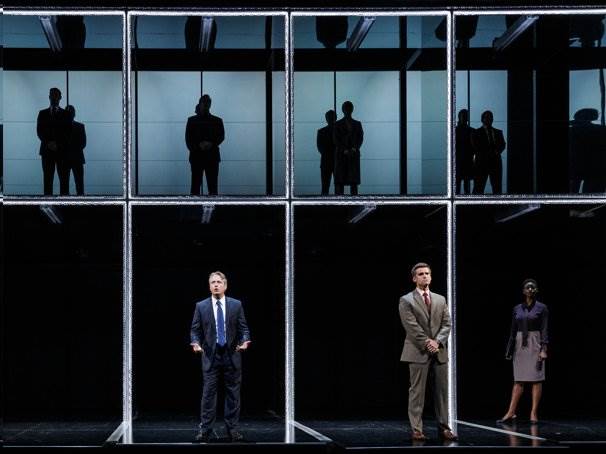 The story romps through a maze of Wall Street machinations as a brash financial firm and the small-time conglomerate it is backing aim to take over a long established but failing American steel company. The purchase money will come from the sale of bonds, the debt then charged to the faltering company, which will then have sell off its assets, making oodles of money for the investors and lots of unemployment for the company's workers. Or something like that.
For some audiences who have already absorbed the complexities of such films and plays as The Big Short, Wall Street and Other People's Money and such books as Liar's Poker, Junk may feel like it's dredging up overly familiar ground.
However, Akhtar -- whose intimate drama Disgraced, dealing with Muslim-American identity, won a 2013 Pulitzer Prize -- takes on this much broader canvas and much different subject matter with such incisiveness and brisk illumination of situation, it should hold you totally engaged. His leading characters are quickly sketched to emerge as arresting individuals, even the deplorables, and their personas are further sharpened in an array of flawless performances.
The provocateur in this maelstrom of money and power – with reverberations that may well remind you of 2017 -- is the junk bond trader Robert Merkin, a man whose ability to reap wealth out of debt, has – with the help of a fawning financial press – turned into a messiah of the marketplace. Stephen Pasquale's rich portrayal of the man endows him with a bounty of both intensity and charisma, and even a touch of soul.
While that old devil greed is certainly a factor in his psyche, other forces drive him as well. There's a taste for revenge, as he aims to outdo the old, established "white shoe" banking firms that refused to hire his numbers-wizard of a father because he was Jewish. There's the drive to be appreciated by his wife, whose smarts even outpace his. She's radiates bone-deep intelligence in Miriam Silverman's deft portrayal.
Merkin also seems motivated by his genuine belief in a global economic society, which means buying steel from Asia if it's better and cheaper than American steel. It's a shocker of a message that puts him on magazine covers.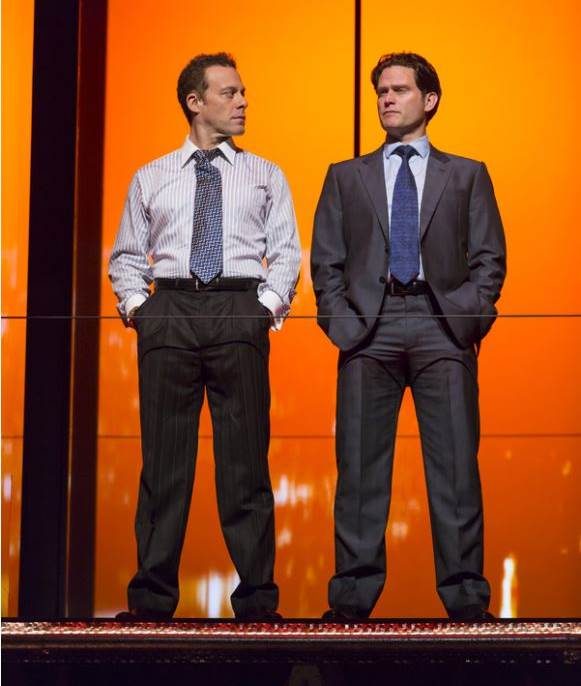 Matthew Rauch and Steven Pasquale
Then, finally there's the rogue impulse to move outside the law, even without his wife's knowledge, as he trades insider tips on the progress of the takeover scheme for a percentage of the trading profit to a group of sleazy stock and bond traders. Joey Slotnick gives the head of this group just the proper amount of sleaziness, while Matthew Rauch nicely mixes sleaze with charm as the head of the conglomerate making the hostile bid.
Another mix of elements – self-righteousness, self-doubt and genuine concern for his employees who may well lose their jobs – are expertly melded in Rick Holmes' assaying of the head of the steel company.
Teresa Avia Lim and Michael Siberry
A host of other compelling performances keep the action galloping along. Among them, Michael Siberry flamboyantly inhabits a blustery old-time financier, who for a time considers helping the steel company fend off the takeover bid. He also manages to conduct an affair with a curvesome financial reporter, played with sexy ferocity by Teresa Avia Lim.
Then there are assorted financial and legal advisors, each of them given sharply shaded identities by Henry Stram, Ito Aghayere and Matthew Saldivar. And even more kudos are due Charlie Semine as a ''crusading" district attorney with an eye on Gracie Mansion, Phillip James Brannon as his relentless investigator and Ethan Phillips as a conflicted investor worried about the investments he's making with his wife's money.
They all add up to quite a show, given more zest by John Lee Beatty's multilevel, knockout of a set, divided into various sections outlined in lights and housing an array of pitch-perfect vignettes, from elegant restaurants to classy offices and luxurious domiciles. You can smell the money, and you can hear the anxiety getting it causes in Mark Bennett's throbbing original music and sound design, while Catherine Zuber's excellent costumes will help you keep the characters straight.
Okay, so you've heard this junk bond-hostile takeover-insider trading story before. Akhtar's take on it makes it quite worth the retelling.
Broadway play
Playing at Lincoln Center Theater at the Vivian Beaumont
150 West 65th Street
866 302 0995
lct.org
Playing until January 7