By Jeanne Lieberman
 "I am yours, you are mine no matter what you are"
Justin Vivian Bond burst upon the community house stage amidst a barrage of cheers and applause, a trans-genre tall blond in a feminine, flowy, floral ensemble of kimono and pajama pants over a clingy top that clearly outlines her breasts.
Mx Bond was accompanied by director and pianist Matt Ray, and barefoot and stylishly cropped guitarist NathAnn Carrera contrasted by starkly attired violinist Claudia Chopek.
Running down a list of recent performances V was "excited to bring a show that no one has seen before".
V interspersed the seemingly extemporaneous evening with sometimes revealing, sometimes cynical remarks in a gravelly baritone. ""Estrogen will give you titties, but it won't change your voice".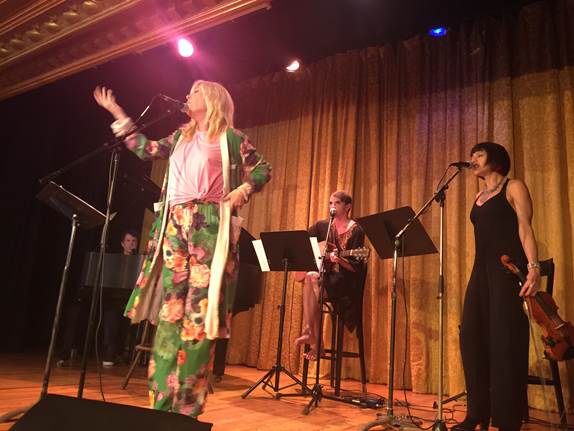 The evening's theme was dedicated to the 1960's mellow style of Los Angeles' Laurel Canyon referencing Joni Mitchell and Judy Collins ('Conversation") but soon departed from their style with
Crosby, Stills, Nash, and Young's "Almost Cut My Hair", V's
anti-assimilationist anthem" followed by Jim Morrison's "Love Street".
Somewhere in there the comment was interjected "I was tired of everybody staring at me…misogyny and homophobia – but neither of them was wrong…I just need to show up – nothing I like better than to  hear 'Hello, Goddess' ".
The Mamas and the Papas' "Twelve Thirty" and Sill's "The Kiss" prompted V to reminisce about a first affair with a young boy, which began with an "unintended" kiss, who died of AIDS, and somehow segued into a glimpse of her early life as a victim of child molestation, an occurrence which V viewed as rampant because no one would talk about it.
Stevie Nicks' "Planets of the Universe," in a moving, quiet duet with the guitarist, was followed by Judy Collins inspired  Crosby, Stills, and Nash's "Judy Blue Eyes". Mx Bond reflected "You don't have to like everything that you do, but sometimes  its beneficial to be good at it",
Ronee Blakley's "She Lays It on the Line" ("She sees me through with those special words we all need to hear: I believe in you") prompted…"even if sometimes you can't believe in yourself".
Aluminum's song about a break up "Tripping over Boxes" ("I don't wanna see you as you're leaving") triggered additional remarks.
Mx Bond boldly stated that "I've had sex with every gender, some who I didn't know what gender they are" and a possible Tran's anthem: "I am yours, you are mine, no matter what you are"
V concluded the show saying "I keep coming back because I love you" to the delight of the4 crowd.
Two encores: Crosby, Stills, & Nash's "I Used to Be a King" and a song about murder, "Pretty Polly", added little to the program except emphasizing V's decidedly iconoclastic persona.
Newlyweds Steven Evans and David Klonkowski, who traveled from Texas to be married on the beach at Cherry Grove, that morning, backstage with performer Justin Vivian Bond,                      photo by James Bowman