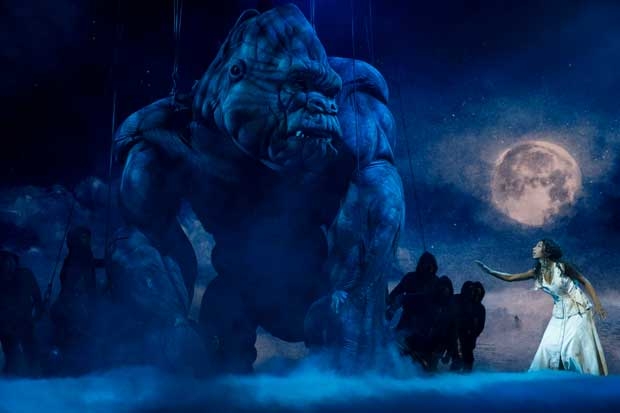 Christiani Pitts stars as Ann Darrow in King Kong, directed by Drew McOnie, at the Broadway Theatre. (© Joan Marcus)
By Eugene Paul
Though naïveté is hardly a New York Broadway thing, get ready to be naively amazed, enthralled, delighted, and even a bit frightened because King Kong is in town, the way he was supposed to be way back in 1931. Stolen away from his domain on Skull Island, just like in the Lew Wallace novel, just like in the first  never to be forgotten filming, only he is actually here! All colossal two thousand pounds of him! Twenty feet high! And roars that shake your theatre seat!  As well as your booty.
He is without question the biggest thing on Broadway, visually, physically, and sometimes even emotionally.  When he picks up Ann Darrow (exciting Christiani Pitts) in his great hand it's – it's the way it should be, right out of the story, out of the film, in front of us, here, on the huge Broadway Theatre stage. And those lucky people in the front row when he suddenly realizes that there is a whole huge audience of people looking at him and he stomps to the front of the stage, close enough to touch!  Yes, there are screams and why wouldn't there be? We are suddenly living the story! And, yes, it's a story we know so well it shouldn't hold any surprises at all yet here he is! For sheer spectacle alone, everybody is going to want to be near him, let alone see him.
Oh, the story, even with the changes playwright Jack Thorne – he's got that other show of his in town, Harry Potter and the Cursed Child – it's still basically the same. Sneaky, secretive con man producer  - sorry, bit of redundancy there - Carl Denham (Eric William Morris) knows about Kong, wants to make a movie of Kong, needs a girl to be captured by the great creature so he can film her rescue. He finds her, this starving  young actress,  Ann Darrow (Christiani Pitts).But then, he has a better idea:  he's got a crew of toughs, he's got this big empty tub of a ship, he'll take along enough cans of gas to knock out Kong and capture him, bring him back to New York and display him.  Ten times better than a film.  A hundred times better.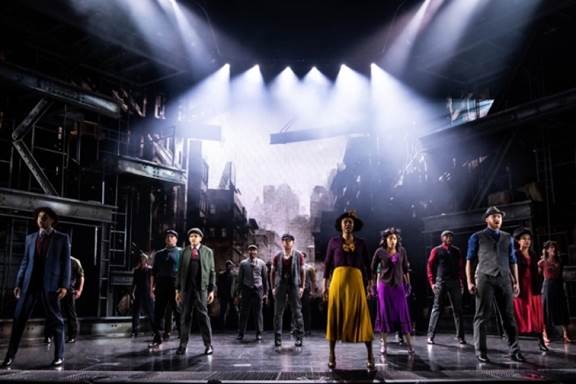 We are vaulted into the most dynamically integrated combination of stagecraft elements you've ever seen all at once, swept along by Marius de Vries's score, pitting us against 1931 New York City by marvelous director/choreographer Drew McOnie in extraordinary scenic designer Peter England's swooping sepia projections as backdrop for the great ongoing construction of immense iron elements of the inspiring Empire State building being erected, iron workers lucky to be working here in the depth of the Depression with  out of work throngs milling in superb McOnie's choreography, at once athletic  and balletic, some of the best dancing in town.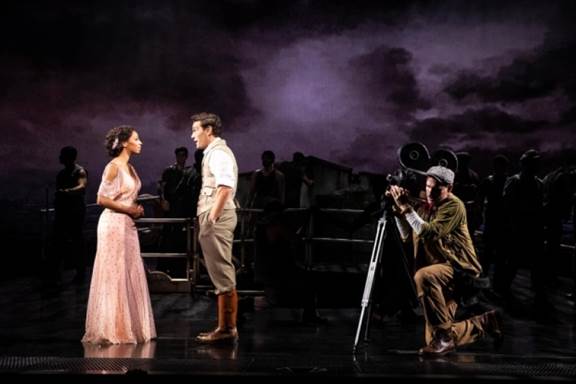 Christiani Pitts, Eric William Morris
  And into this maelstrom of activity comes lithe, hopeful country girl Ann Darrow confident she's going to get an immediate job in show business acting and dancing. Beaten down by rejection after rejection until she's penniless and starving, she meets Carl Denham who feeds her a sandwich as he feeds her a line: he promises to make her a star, if she'll go on a mysterious boat trip to meet her co-star. Irresistible.   We all know the story and we know what's going to happen so it's kind of smarmy fun to see how in the world all this is going to take place before our eyes, alternately tickled or thrilled by what's happening, not sparing a moment to think about how we've accepted completely not only the story but the way it's being told, with a totally racially integrated company so completely comfortable we don't blink.  Of course, in 1931, it's more unbelievable than the idea of a twenty foot high gorilla.
Whose humongous roar we meet first, when we get to ominous Skull Island, then his eyes peering out of the blackness, then his huge, flashing teeth, and then a great hand which scoops up Ann and pulls her into the blackness.  Carl's got his movie, right off the bat.
Remember in the old movie terrified Fay Wray?  Not this time.  Our Ann is not only not white, she's not scared.  She tries to stand up to the great ape.  We see his puzzlement, his growing affection, and when he rescues her from a monstrous, prehistoric serpent, it's just like us being in a giant comic book going with the flow. We don't feel so good when she actually helps Carl capture Kong, not only because it's not what we remember from the original story but because it seems wrong, immoral, a betrayal. And music? It seems incidental. Christiani Pitts sings her heart out in additional songs by famed Australian composer Eddie Perfect but our focus stays Kong.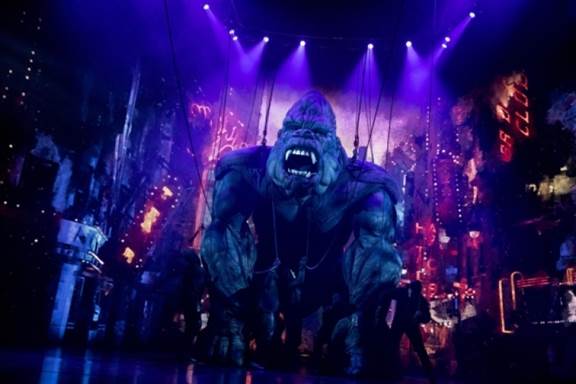 Seeing the captured Kong in bondage right in front of us instead of in a movie is downright hurtful.  Because by now, we've accepted all those marvelous puppeteers whose precision and daring flying are the life giving force to the immense figure, created by Sonny Tilders.  He's our Kong. We know what awaits him.  We don't want it to happen, even as we do want it to happen. We are children again, captured by spectacle, captured by story. If that isn't theater what is…?
King Kong. At the Broadway Theatre, 1681 Broadway at 53rd Street.  Tickets:$49-$399. 212-239-6200. 2hrs 15 min. Thru Apr19, 2019.