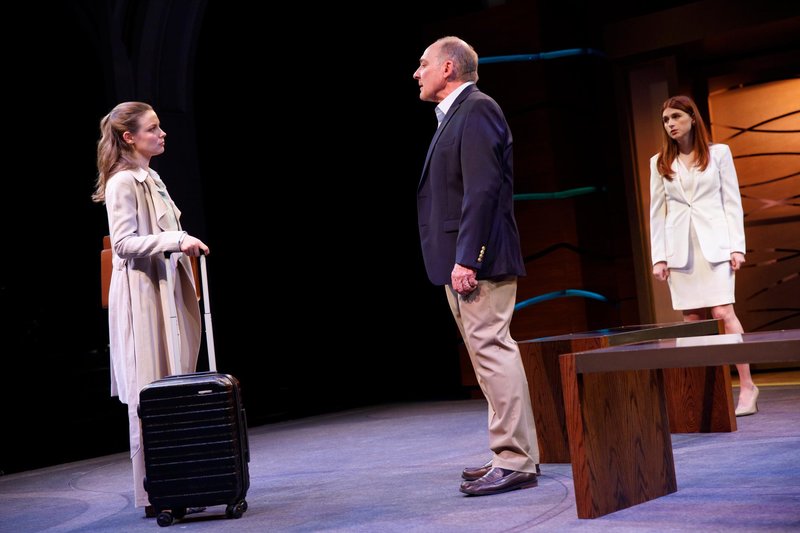 Eisna Davis,Zach Grenier, Aya Cash
                                    by Deirdre Donovan
An idealistic freshman congresswoman attempts to clean-up what's wrong in Washington.
It's time for Sydney Millsap (Eisna Davis) to press the flesh at her fundraiser at the swanky Four Seasons resort in Vail, Colorado.  But the neophyte congresswoman from Dallas hasn't left her hotel room since she arrived at the ski resort yesterday.  The crackerjack lobbyist Kate (Gillian Jackobs), who gave thousands of dollars to Millsap's campaign committee to fly the congresswoman and her son to Vail, is getting edgier by the moment.  She wonders--as many others do—just who is this Millsap?.
Sarah Burgess' new play is all about the political wheeling-and-dealing that goes on in Washington—and beyond.  It has an intriguing character in Millsap (Eisna Davis), an admirable dramatic style, and hot button-issues like opioid and healthcare.  But if its fictive world is up-to-date, its historical scope seems strangely limited.
Millsap is a bit of a dark horse here.  A war widow, she has skyrocketed into politics like a star.  Having impressively won a special election to fill the empty House seat in her Dallas district, Millsap is now the buzz in political circles around the Washington beltway.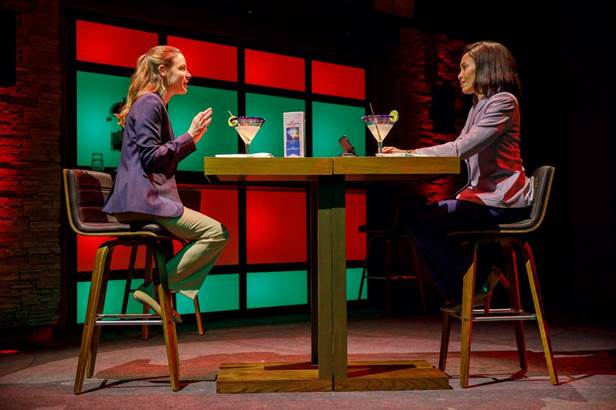 Eisna Davis, Gillian Jackobs
That said, Millsap has a blind-spot when it comes to dealing with the Washington moguls and sitting down at the table with them.  She totally lacks political diplomacy.  She is bent on making Washington honest and extinguishing the "carried interest" loophole.  But, unfortunately, she comes across as holier-than-thou, self-righteous, and terribly naïve for a 40-year-old black woman.  Add to this that she doesn't particularly like fundraising (and arrives late to her own fundraiser), and you can see that she has chinks in her gleaming armor.
Things politically heat up in this play when Millsap refuses to cooperate with the politicos.  She first refuses to get on board with a podiatrist bill that the lobbyist Kate presents to her at the fundraiser.  She next ruffles the feathers of Senator John McDowell (Zach Grenier), a fellow Texan and one of the "old boys" on Capitol Hill.  She doesn't like what she feels is his insincerity and how he wants her "to read the room" whenever she is meeting and greeting her constituents.  Her curt reply to him, in so many words, is that she doesn't change herself like a chameleon in her public life.  She wants to be taken at face value--or nothing.
It's unnecessary to relate all the minutiae about the special interest groups mentioned in this story but passion undoubtedly spins the plot.  While Millsap on the surface seems remarkably reserved and in control of her emotions, she too can be passionate and speak her mind when necessary.  Nobody but nobody understands taxes like her and she's determined to pass new legislation that would close the tax loopholes that she thinks are undermining the social and economic fabric of the country.
The real zinger in the play, however, is when the ambitious Millsap decides to run against McDowell when he's running for re-election to the Senate.   Without spoiling who wins the contest, the true colors of each candidate are revealed during the contest.
When it comes to the ensemble acting, the four-member cast-- Eisna Davis/Sidney Millsap, Aya Cash/Lauren, Zach Grenier/Senator John McDowell, and Gillian Jackobs/Kate--are serviceable but no standouts.  Perhaps it's all the political fol-de-rol in the dialogue, but it's sometimes difficult to see these characters, except for Millsap, as anything more than Washington manipulators.
The creators do a fine job at conjuring up the play's various settings, which zigzag from Vail . . . to the Washington area . . . to Dallas.  Anna Louizos' minimalist set design and Jason Lyons' even-toned lighting bring a realistic atmosphere to the stage.  And Paul Tazewell's crisp costumes are apropos for these image-conscious public figures.
As directed by Thomas Kail, the production never really catches fire.  Even Millsap fails to keep one's interest as the plot unfolds—she's glamorous but it's difficult to discern a beating human pulse beneath her manicured exterior.
Through April 1st.
At the Pubic Theater, 425 Lafayette Street, Manhattan.
For tickets and more information, phone (212) 967-7555 or www.publictheater.org
Running time:  1 hour; 40 minutes with no intermission.