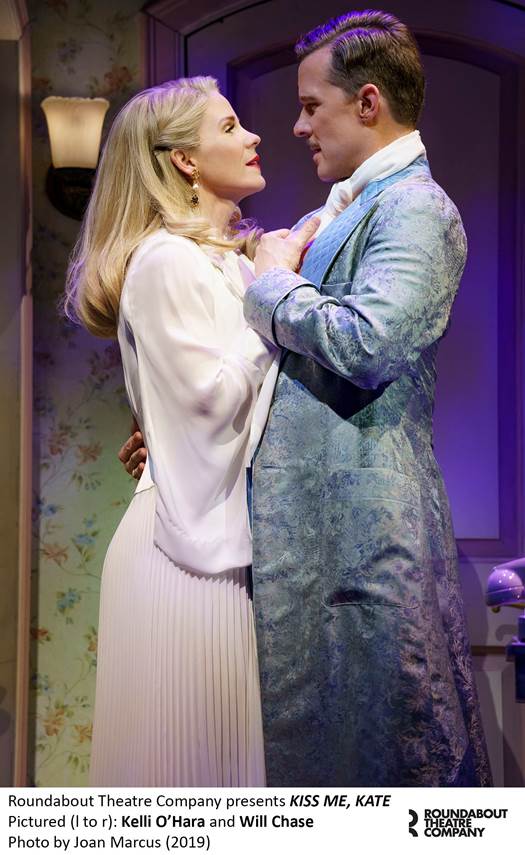 Kiss Me, Kate
                  by Deirdre Donovan
If you think that Cole Porter's 1948 musical comedy Kiss Me, Kate is an entertainment for yesteryear, then hie you to Studio 54 where Scott Ellis' crackling revival of the classic will make you change your mind in a New York minute.  Starring Kelli O'Hara, Will Chase, and a terrific ensemble, you're sure to get a fresh perspective on this work that is a magical blending of onstage romance, backstage catfights, and a soupcon of Shakespeare's Taming of the Shrew.
For those of you who need a refresher, Kiss Me, Kate is Cole Porter's late-career masterpiece.  Porter had suffered a number of flops and bad reviews in the mid 40s (any one remember his 1946 musical Around the World based on the Jules Verne novel?)  and was considered washed up and written out.  But the famous songwriter surprised the musical theater world when he, not only took on a new ambitious project (with help from book-writers Sam and Bella Spewack) in 1947, but delivered a smash hit the following year.  Like the mythic Phoenix, Porter rose out of his own ashes.  And the rest is history.
Kiss Me, Kate is about a theater company putting on William Shakespeare's play The Taming of the Shrew. Fred Graham is the producer, director, and leading man Petruchio. His ex-wife, Lilli Vanessi, is his co-star playing Katherine (nicknamed Kate) the shrew.  It begins with everyone arriving at the theater for a dance rehearsal, all ready to breathe life into a new production of the Bard's comedy. . .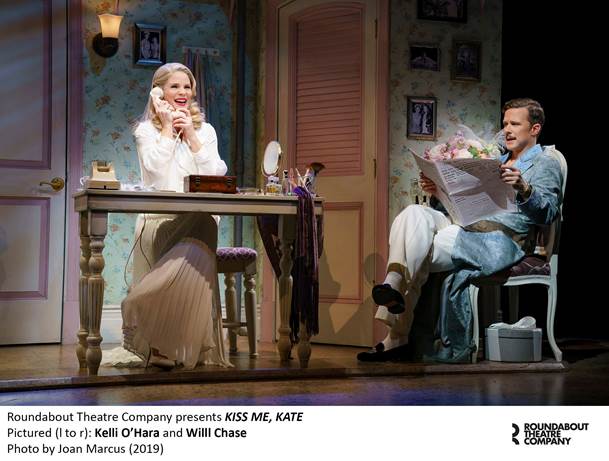 Musical theater buffs, of course, know that it also is based on the on-stage/off-stage sparring of husband-and-wife actors Alfred Lunt and Lynn Fontanne during their 1935 production of Shrew.  Little wonder that Porter's work has fascinated people over the years.  It's an instance of life and art curiously feeding on each other.
If you're worried that Kiss Me, Kate might not fly in the new millennial with all the Me,Too issues afoot, take heart.  According to a recent Playbill article online, writer Amanda Green (yes, she's the daughter of Adolf Green) has done "delicate surgery" on the text that makes it more accessible for an audience today.  And, judging by the audience reaction at the Thursday evening performance I attended, Green seems to be right on the money.
 Unlike traditional productions, this current revival isn't only about the taming of Kate but Petruchio as well.  So keep your eye on the power relationships here, and note that the lead principals are evenly matched.  Kate (superbly performed by O'Hara) gives as good as she gets here.  And Petruchio soon learns that if he's to "wive wealthily in Padua," he must first see Kate as his equal.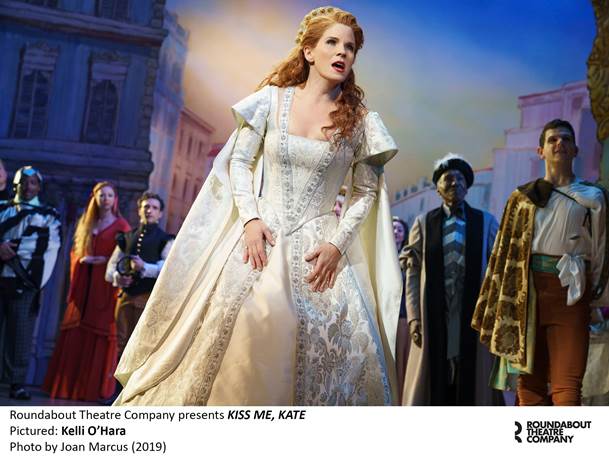 This musical calls for actors who have strong chops and are natural comedians.  And O'Hara fits the bill in her double-act as Lilli Vanessi/Kate.  She's a true triple-threat exhibiting her operatic skills as never before, and fireball of a character, whether she's wearing the persona of Lilli or Kate.  Playing opposite her is Will Chase as the commanding Fred Graham/Petruchio.  Although Chase never achieves the same stage voltage as O'Hara, he certainly gets the job done.  Corbin Bleu, playing the intrepid Lucentio and the ne'er-do-well Bill Calhoun, is well-cast.  And nobody on stage can hold a candle to his dancing.
There are some supporting actors to applaud here as well.  Stephanie Styles turns in a fine performance as the sweet-tempered Bianca and charismatic Lois Lane.  Mel Johnson, Jr., inhabits the wealthy paterfamilias Baptista with an aristocratic air.  The rest of the ensemble support the principals with gusto, stepping in and out of scenes with vigor.
Porter's songs are scrumptious!  Although not all are executed with equal finesse, there's no doubt that they are taken from the artist's top drawer.  Between Acts 1 and 2 there are some mighty fine numbers.  Take "Another Op'nin', Another Show." What musical theater lover can resist the adrenaline building on stage as the company literally say "hello" to each other and gets down to the business of putting on a show?  Then there's the duet, "Wunderbar," delivered with a bit of schmaltz and continental fun by Fred and Lilli.  And let's not forget Lilli's solo "I Hate Men" that is rendered with such passion that it makes one think of all the transgressions, large and small, that men have committed against women dating back to Eve.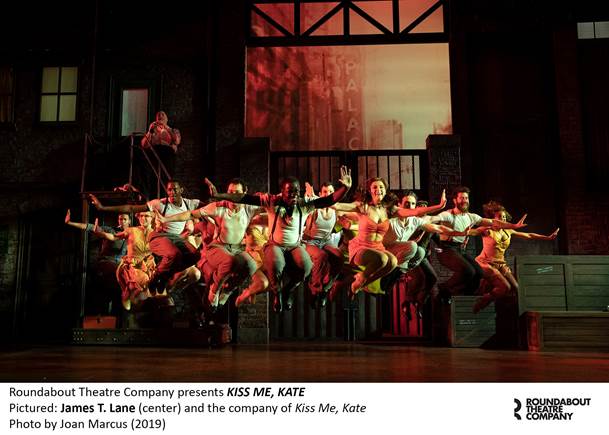 In Act 2, be prepared for the sultry show-stopper "Too Darn Hot," which has the ensemble in perfect synch and harmony on a sizzling hot day in the city.  James T. Lane is spectacular as he turns up the heat with his dazzling delivery in a number which eclipses any gym cardio workout.
And then lend your ears to Lilli's solo "I Am Ashamed That Women Are So Simple," which O'Hara gives such lovely musical definition to that anyone sitting in the second balcony would hear each heart-felt word and soaring note perfectly.
Less effective is "Always True to You in my Fashion" (Porter based it on Ernest Dowson 's poem).  Although beautifully sung by Bianca (Stephanie Styles), it gets lost in the shuffle of the stage business.  And that crowd-pleaser "Brush Up Your Shakespeare," crooned by the First Man (John Pankow) and Second Man (Lance Coadie Williams), is witty as ever but some of its lines, with their marvelous and unpredictable rhymes, get swallowed up in the delivery. 
David Rockwell's "stagey" set design, lit by Donald Holder, suits this musical comedy that employs the play-within-a-play device.  Jeff Mahshie's costumes are in keeping with each characters' bent. Warren Carlyle's dynamic choreography is at its snappiest when—hold on to your hats--Corbin Bleu in Act 2 tap dances upside down on a stairwell.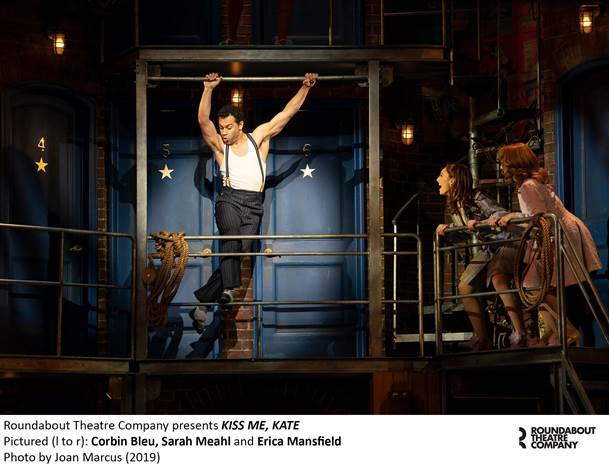 The poet W. H. Auden once called Kiss Me, Kate a greater work than The Taming of the Shrew.  Whether one agrees or not with his opinion, one must admit that this current revival of Kiss Me, Kate is something Cole Porter, and even Me,too-ers, would approve.
Through June 2nd.
At Studio 54, 254 West 54th Street, Manhattan
For tickets and more information, phone 212-719-1300 or visit roundabouttheatre.org.
Running time:  2 hours; 35 minutes with one intermission.