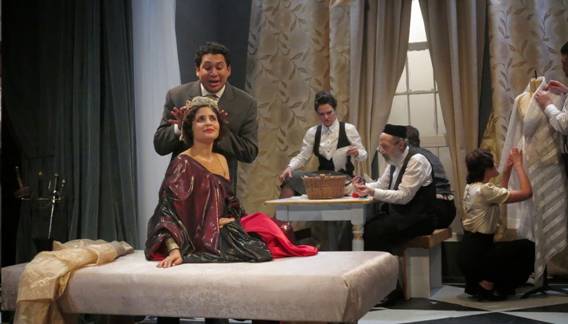 Ivette Dumeng and Sergio Castillo photos by Rosalie Baijer.
by Deirdre Donovan
Theater historians tend to extol the dramatic virtues of August Strindberg's Miss Julie, The Creditors, The Dance of Death, The Father, and A Dream Play. But Kristina? Hardly. This historical drama, in fact, seems to be more Strindberg's step-child than one of his full-blooded plays.
To correct this, the August Strindberg Repertory Theatre has taken the play from the page to the stage at the downtown Gene Frankel Theatre. Whitney Gail Aronson, the company's associate artistic director, takes a stab at this rarely staged work and makes it accessible to the audience. With no fuss or frills, Aronson brings to life the vibrant personality of Kristina—and one can't help but feel this 16th century figure become palpable in the flesh and blood.
Written in 1903, around that period of time when Harriet Bosse had left Strindberg and ended their three-year marriage. Indeed the playwright was going through a major emotional crisis, with his personal life radically changed forever. And there's no doubt that his play Kristina reflects the extreme tension and raw pain that he was experiencing as he began to adapt to the harsh realities of life without his muse.
While his other plays may be more celebrated by scholars and critics, this overlooked piece does have significant merits. First, its protagonist Kristina is right out of history. Born in 1626, the daughter of Gustav II Adolf the Great, she became his successor when he died in 1632. Although only a child, she was the monarch. No frou-frous or petticoats for her. She was forced to leave her mother and raised as a boy. Then in 1650, almost two decades since her father's death, she became "King of Sweden." And that's only the tip of the historical iceberg that is her story.
Naturally, Strindberg plucks the story from history's pages and makes it his own. In his play, Kristina is battling, not only politically but also socially, religiously, and sexually. Having had kingship foisted upon her at a tender age, she was bent on being her own person—and making her own choices. Strindberg, of course, dramatizes her larger-than-life qualities and quirks. He alternately portrays her as angel, lesbian, whore, and altogether a mystery to behold.
She was no political or military genius, however. Truth be told, many accused her of bankrupting the treasury, and negotiating for peace when war might have been the stronger move. In any case, Strindberg dramatizes her through his own lens with no apologies. (In fact, she abdicated her crown in 1654. And instead of following in her father's faithful footsteps as a Lutheran, she converted to Catholicism and eventually transplanted herself to Rome, where five Popes welcomed this woman-who-once–was-king.
What a treat to see this historical drama! True, wrapping one's mind around the world of Kristina is a tall order. She was physically diminutive but everything else about her was colossal.
If the story of Kristina sounds vaguely familiar, it's no accident. The Hollywood film Queen Christina starring Greta Garbo, is based on the same historical material. What's more, many believe that Hollywood borrowed from Strindberg's play, even if the film pundits in tinsel town are tight-lipped about their source.
Fortunately, Ivette Dumeng inhabits the heroine Kristina with aplomb. Dumeng undertakes this demanding role, and without overplaying it, exudes zest and intelligence. She portrays the historical figure's confidence and misgivings alike. In short, she makes her very, very human.

Ivette Dumeng and and Claes Tott
The rest of the cast is competent but no real standouts. It's an ensemble, 13 members strong, which appear to realize the value of not upstaging the titular character.
That said, the creative team does a lot with a little. Kate Noll's minimalist set design relies more on imagination than finery or special effects. Miriam Crowe collaborates with even lighting, and Andy Evan Cohen delivers subtle sound design. Jessa-Raye Court stylishly outfits all, from the regal Kristina to the lowly farmer.
The real star of the production, however, is the controversial playwright Strindberg. His Kristina may never enjoy the laurels of Miss Julie. But it will always stand in bold relief in his canon. And attention must be paid.
Through March 29th.
Kristina
At the Gene Frankel Theatre, at 24 Bond Street, Manhattan
For tickets and more information, phone SMARTTIX, 212-868-4444; www.smarttix.com
Running Time: approximately 2 hours with one intermission.