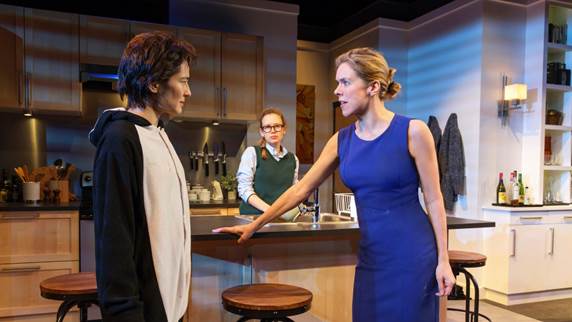 Jennifer Ikeda, Molly Ranson, and Janie Dee                             photo by Joan Marcus
                                    by Eugene Paul
British star Janie Dee is Linda, stunning, successful, now 55.  She  wants it to mean something.
Right off the bat, capturing the whirlwind success that Linda is and has become is the whirlwind setting by Walt Spangler, which whirls so actively during the presentation of the play from posh, purple offices to stark, glaring bathroom and several points between at home and at work that you feel the heightened tempo and anxiety of Linda, center of her world.   Every molecule as sensitive are the site specific, person specific costumes by Jennifer von Mayrhauser. And yet, a puzzlement.
For, buried in Linda, the play, is what could be a far more interesting play about her daughter, Alice (Jennifer Ikeda) but Linda is, from the very top, about Linda (stunning Janie Dee), a beautiful, successful, self made woman, which means that she has scaled the heights in the business world and still has a husband and two children, a loving home, and the best office next to lord of it all Dave (John C. Vennema) the president of the company whose anti-aging cream she has been huckstering to much satisfying acclaim. And sales. Linda now feels it's time for her own, compelling idea, that being: a woman of a "certain age" needs to be seen on her own, for herself, not just striving to hang on to her disappearing youth.  And disappearing as a desirable sexual partner, a desirable business partner, a desirable human being, goddamit. She's alive, she's vital, she's all these things.  Let's really look at her and celebrate her, the grown up woman.
But a success like Linda's also attracts a younger woman, a whole generation younger, like Amy (quite as gorgeous Molly Griggs) who as yet does not use the anti-aging cream they are selling – no need, for heaven's sake --who wants all the goodies Linda has scrupulously worked for and obtained and is absent those scruples.  Amy is going to get them goodies, especially, that office.  Next to the president of the company.
Linda has thoughtfully put her reclusive daughter, Alice, now 25, to work in the company just to get Alice out of the house and back into the land of the living.  Ten years ago, Alice butchered off her beautiful hair, put on a complete, baggy body suit with hood and tail – it looks sort of like a skunk --and never takes it off. She's invisible in it, she feels, and that's what she wants to be.  The suit also hides what she's done to herself. Something happened ten years ago at school,   when she was outstandingly beautiful, desirable, witty, and delightful. She left school, never finished, crushed. In Linda's office, ordinary clothes atop her hiding suit, she encounters Amy and coolly braces her.  She had been in school with Amy.  Amy is stunned, does not recognize Alice, and then it trickles back.  It was Amy that drove Alice into oblivion. Alice has never told her mother how or why.  Or father, Neil (Donald Sage Mackay) for that matter.  He's always so preoccupied.
How preoccupied, Linda finds out after a tough day trying to convince Dave of this new campaign, Dave who much prefers young  Amy's gung-ho explosion of studio art all about being young and beautiful, the way you really sell anti-aging cream. Linda, frustrated, goes home early. And is rocked back on her heels when she's confronted by an embarrassed young girl in bare legs and feet and Linda's husband's tee shirt just covering the rest of bare her.
If this is sounding like a soap opera, it is, well, sort of an anti-aging cream opera, and all too common as midday television. Yes, there's the big split-up, yes, her husband really loves this was just a- a- nothing, well not quite a nothing. The embarrassed young girl, Stevie (very good Meghan Fahy) tries to make it all better, to take all the blame.  And Linda has still to make her big pitch for her campaign.
  Yes, it all goes to hell, breakdown and all. Meaning that in her   turmoil she succumbs to the blandishments of hunky Luke (Maurice Jones) and guess who gets it all on her cell phone. Amy, triumphant, outlining just exactly what she wants, two children, her own house, her own husband, and that office and no Linda. Topping it all off with no reaction on anybody's part except Bridget's (Molly Ranson) their other much younger daughter who has shared her bedroom with Alice all these hidden years, is Alice's departure.  She is going to live on her own, face the world, accept that wrongs will never be righted and that's the way it is. She walks out of her home. Linda never says boo. Neill is gone. Linda is much too preoccupied with her own fate, her own future.
And playwright Penelope Skinner isn't giving an inch.  In fact, she rubs it in. Dramatic successes of women's status versus men? Balderdash. Of course, you see that Amy is on exactly the same track that Linda has traveled.  Alice is just another of those many women's tragedies, not even a tragedy, an incident.  Little Bridget? Her strivings in her school play are achingly, funny-sad. She'll come to nothing. Because that's what's become of Linda's lifelong dream.  It's still a man's world.
Director Lynne Meadow, ironically, puts the lie to the whole premise by directing this show as deftly as ever in her long, successful career as artistic director of the Manhattan Theatre Club which is presenting Skinner's play.   Then again, executive producer Barry Grove might have something to do with all that. They've both been at the helm from the beginning so maybe all's right with the world, at least is some parts of it, anyway.
Linda. At City Center Stage 1, 131 West 55th Street.  Tickets: $90 212-581-1212 2hrs 15 min. Thru April 2.