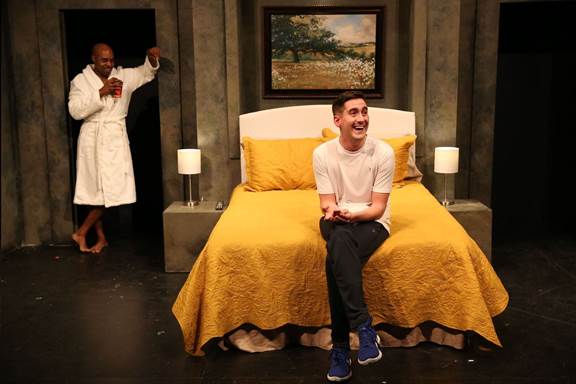 Chauncy Thomas and Spencer Sickmann               photos by Carol Rosegg
                   By Eugene Paul
This is a heads-up: the St. Louis Actors' Studio is presenting  one of the best evenings in New York, three smashing one act plays consummately acted;  you might have trouble getting tickets because it's a short run in 59E59's smallest theater, so be advised. Provocateur playwright Neil LaBute's  annual programs of one acts are always worth seeing but this year's offerings are significantly outstanding, combined as they are, enough to make you argue with yourself as well as anybody else.
Take the first play, for instance, written by LaBute, Hate Crime, poisonously double edged from the title on. From the moment he appears in his aggressively white terry cloth hotel bathrobe you know that Man 2 (striking Chauncy Thomas) confidently awaits developments in a plot he's engineered. And from the moment you meet Man 1 (superb Spencer Sickmann) ineffably nebbish perfect victim madly infatuated with Man 2, you know that the plot, whatever it is, is already in place.  Man 1, very much a Boy Toy, is married to his sugar daddy at last, which makes him just perfect for hunky terry clothed Man 2 to manipulate, if you'll pardon the expression. But Boy Toy Man 1, intoxicating as that may be, feels it more appropriate to postpone such delights until after they've accomplished their mission.
Which is, to kill Sugar Daddy.
 And then, newly wealthied Boy Toy widower can marry hunky terry clothed lover and live happily ever after. It sure is great that man can marry man now. And if we start to wonder who is manipulating whom, we also start to ponder: gays really are just like everybody else. Director John Pierson – he directs all three plays – masterfully presents his case.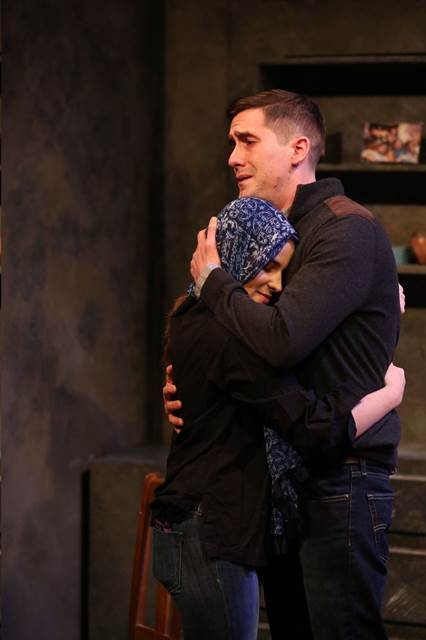 Kelly Schaschl and Spencer Sickmannin
His case in the second of the three plays, Winter Break, by James Haigney, is totally, heartbreakingly different. Excited, on edge Joanna (extraordinary Kelly Schaschl) is methodically packing when her mother, Kitty (splendid Autumn Dornfeld) enters her room, visibly upset. This is not like other school breaks.  Joanna has been studying the Koran with a very charismatic teacher.  She has adopted Islam.  She is no longer Joanna, she says, she is Aisha. She is blissfully happy in a world of true peace and true love, not based on Western material things but on true values. Every argument her mother makes is countered by her new found bliss.  Her mother does not understand, will not ever understand. Can't she see? She is happy.
Her brother Bailey ( again superb Spencer Sickmann), furious, frightened, has learned other visions of Islam in school, of terrorists, of beheadings, of bombings, of all sorts of brutalities. He tears off the scarf Joanna/Aisha is wearing. She's throwing away her very rights.  She's being used. They'll even use her as a suicide bomber. They don't care about her, we're her family, we love her. She cannot, she must not go, we'll never see her again. But Joanna/Aisha is adamant.  It's only for a couple of weeks, a school break. She is going. It's her mother that gives her her passport which her brother has taken away.
Autumn Dornfeld and Chauncy Thomas
Play three, Percentage America, by Carter W. Lewis,  paints a savagely funny picture of  the current stage of us when struggling Arial (Autumn Dornfeld) and struggling Andrew (Chauncy Thomas), having met through one of those dating sites, each confess to the other that perhaps the "facts" they proffered were not exactly accurate. Which gives them enough of something common to have a face to face. And since they like what they see, they dare to divulge their true facts regarding at least one topic: their actual ages.  Which leads to a pact:  they will attempt  -- together – to find the true facts regarding one story in the presses, and if they can,  they think they might possibly be able to commit to each other, to allow themselves to fall in love with someone real.
They choose  a story about a girl discovered in the Rose Garden of the White House. The hunt is on. And while we laugh  as we watch the discoveries by  Arial and Andrew  about the girl in the garden (Kelly Schaschl)  we also rue.
Funny. Biting. Sad.
LaBute New Theater Festival, 59E59 Theaters, 59 East 59th Street, near Park Avenue. Tickets:  $25-$35. 212-279-4200. 1 hr, 40 min. Thru Feb 4.