Chauncy Thomas
              By David Schultz
Disappointing trio of new one acts fail to catch fire
The new trio of one acts, except Hate Crime (American Premiere), received their world premieres as part of St. Louis Actors Studio's LaBute New Theater Festival at the Gaslight Theater St. Louis, Missouri. Staged in the 59East59th smallest stage C, (50) seats, this new batch unsteadily directed by John Pierson arrives DOA. There is potential in each piece, but sadly each play falls flat.  
Hate Crime penned by Mr. LaBute is the first, followed by Winter Break written by James Haigney, rounded out by Percentage America written by Carter W. Lewis.
A hotel room is the setting for Hate Crime. A large bed sits in the center of the stage. It concerns two men…unnamed in the program, simply Man 1, and Man 2. Man 2 (Chauncy Thomas) enters, swathed in a white plush bathrobe, as he awaits to see his male lover Man 1 (Spencer Sickmann) get back to the hotel room. There is a nefarious plot afoot. Man 1 is on the threshold of getting married to his much older paramour. Man 2 has agreed to murder the older gent…a few weeks after the ceremony. Since there will be life insurance policies set up before the wedding, there will be a nice payoff for the two men so they can sail off into the sunset together. An update on the film Double Indemnity seems to be at hand. But since the acting by the leads is so over the top, you can't tell if LaBute is aiming for tongue in cheek humor, or cliché or both. The 20-minute skit runs repeatedly over the same scenario with the hope that maybe there is a twist waiting to close the piece. The work just ends and there is no insight or shocking revelation to disclose.
Kelly Schaschl and Autumn Dornfeld                               photos by Carol Rosegg
The scene goes dark. Stagehands work fast to rearrange the curtain less stage for the next play.  Winter Break has an intriguing premise that also manages to careen off course. We now are situated in a young woman's bedroom. Joanna (Kelly Schaschl) is hurriedly packing her suitcase for a trip. It seems that this young teenager, from an Episcopalian household, has converted to an outlying branch of Islam. She now insists that her family call her by her newfound name of Aisha. Needless to say her mother Kitty (Autumn Dornfeld) is shocked and dismayed. Joanna/Aisha cannot and will not change her mind, as she argues her case with her mother. Midway through the angry confrontations with mother and daughter, Kitty's older son Bailey (Spencer Sickmann) pops into the bedroom to add even more fuel to the fire that has enveloped their family. The underlying reasons of this young girl's radicalization are never fully addressed. So in effect, this stilted treatment never achieves whatever it might be attempting to say. The audience is clearly on the side of the mother and son attempting to change the young girl's potential transformation to become a jihadist. The play could have been so much more provocative and daring.   The longer segment just rolls onward until the inevitable exit of our young protagonist to the Middle East. No new insights have been gained, on either side…. zip. Then the scene goes black.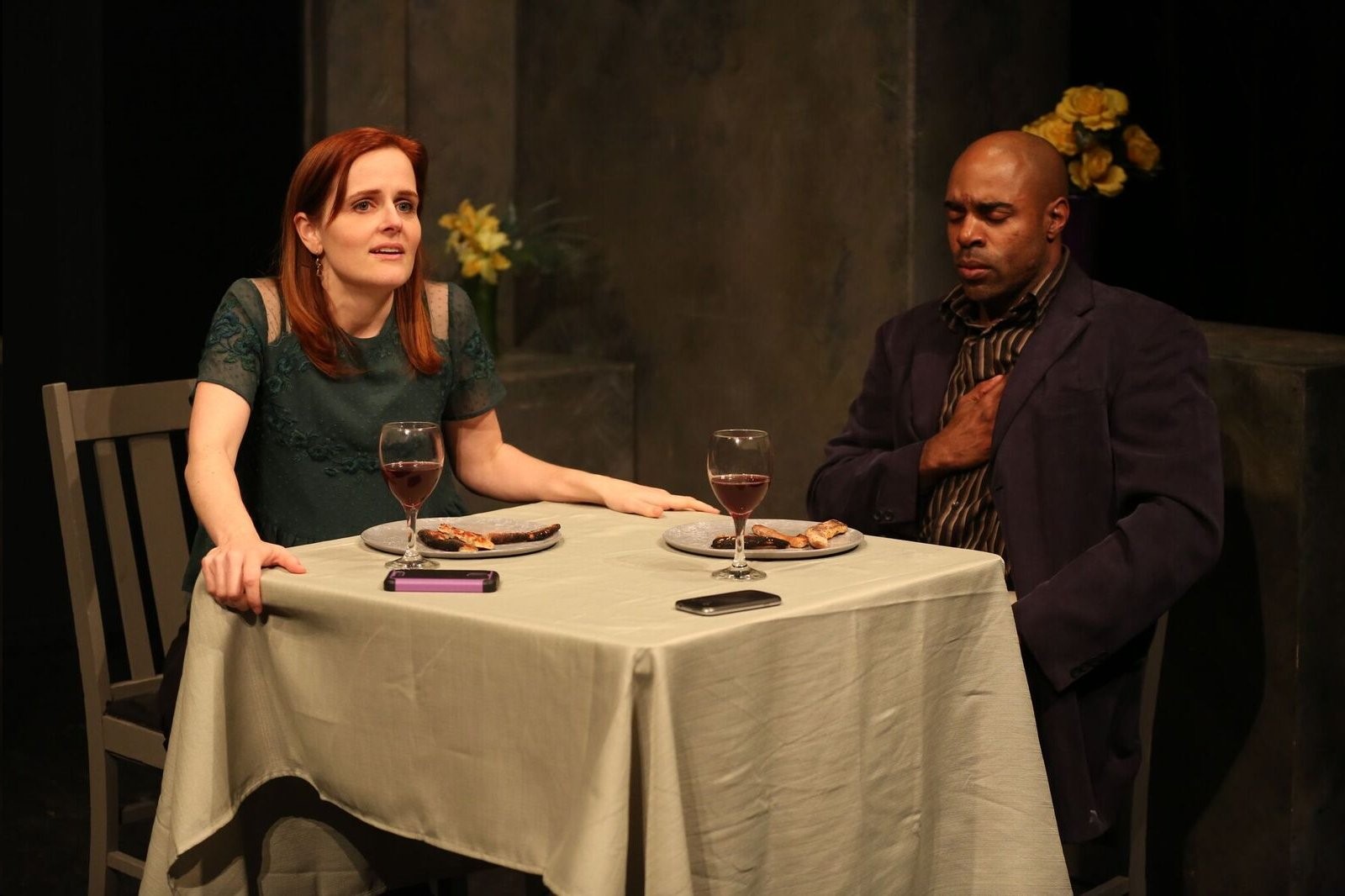 Autumn Dornfeld and Chauncy Thomas
A short ten-minute intermission ends as the final play Percentage America ends the evening. The small set has been reconfigured to an apartment in Washington D.C. An Internet app match date is revealed as a dinner date between Arial (Autumn Dornfeld) and Andrew (Chauncy Thomas) commences. The fact that this date is occurring in Arial's apartment and not outside in a coffee shop or restaurant seems odd, but it sets up an interesting scenario for the events that will take place. After the light chatter and cute flirtations have occurred, with some truth telling revelations on each end, these two impetuous almost/maybe lovers want to take this virginal date to a higher level. The couple divulges alternate facts from their social media profiles. This propels them to seek a new challenge: both of them take the bold step of dismantling and deciphering the percentage of truth in TV news reporting. This, the play seems to posit, is a form of truth telling that can raise their libidos. Huh? Strange thought. They grab their cell phones and lap tops and eagerly dive into a wide variety of potential headline grabbing stories. Discarding this one, then the next with wild abandon they finally settle on a story involving a young girl that has wandered onto the White House lawn, as she mutters indecipherable things to President Trump. Working with a plethora of media to hear and discern all the various stories relayed by network news, CNN, Fox News, MSNBC proves problematic as the stations provide all manner of scenarios.  Off to stage right: The Girl (Kelly Schaschl) portrays all the bombastic newscasters stating their versions of the story. Playwright Lewis seems to be putting the viewer into a pinball machine as he ricochets the play into a thought-provoking finale. The gate crashing girl finally does get to come up to bat, and we hear…. or think we hear, what she has actually said on the White House lawn. Has she been misunderstood? Is she a pawn? Is the American public picking out only what it wants to hear…and applaud it loudly or get riled up in anger? In this last one-act there are various ways of interpretation. Which finally at last gives one a glimmer of the missed opportunity's of this lopsided evening. 
LaBute New Theater Festival
59 E. 59 Theaters
59 E. 59th St. NYC
Runs through February 4th