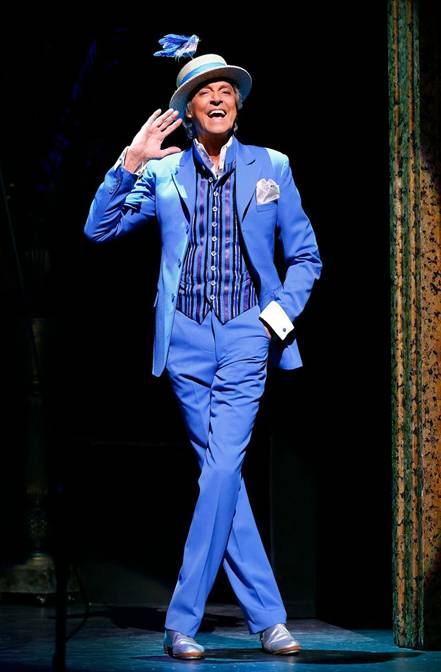 Tommy Tune
by Joel Benjamin
The New York City Center Encores! latest production, the 1924 lighthearted musical Lady, Be Good! has been staged with its usual panache, probably treating this frothy, silly show with more respect than is warranted by the very thin material. Every element, from the casting—some inspired—to the resurrection of the original arrangements to the spiffy, period perfect choreography served to turn thisLady, Be Good! into a sweet bon-bon with just enough nutrition to keep it from being cloying.
Originally a vehicle for Adele and Fred Astaire, the show was the first major hit for George and Ira Gershwin and very much in synch with the feather-weight entertainments of its period which were to be given tough competition by Show Boat two years later. The ridiculously convoluted libretto by Guy Bolton and Fred Thompson includes a brother and sister evicted from their apartment, engagements designed for financial gain, a hobo who, unknown to himself, is the heir to a fortune and a wily musical comedy lawyer who tries to take advantage of the above-mentioned sister and hobo.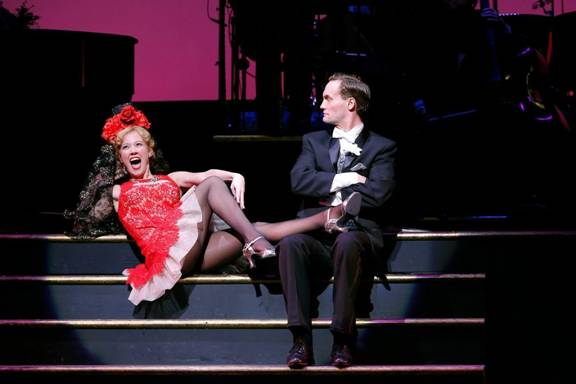 Pattie Murin & Danny Gardner photos by Carol Rosegg
Dick and Susie Trevor (Danny Gardner & Pattie Murin, both delightful) have been prettily evicted from their apartment, leaving Dick to pursue marriage with rich socialite Josephine Vanderwater (Jennifer Laura Thompson, properly stuffy yet loveable) even though he really loves Shirley Vernon (Erin Mackey who makes a lovely impression in a tiny part).

Richard Poe & Douglas SIlls
Meanwhile the shady shyster, J. Watterson Watkins (a brilliantly seamy Douglas Sills) hatches a plan to get money from the estate of Jack Robinson (Colin Donnell, smooth and totally ingratiating) who supposedly died in Mexico. Unknown to Watkins, Robinson is quite alive and is, for some reason, impersonating a hobo who has accidentally met and fallen in love with Susie who Watkins enlists to pretend to be Robinson's Mexican spitfire widow and…whew! Enough of the plot!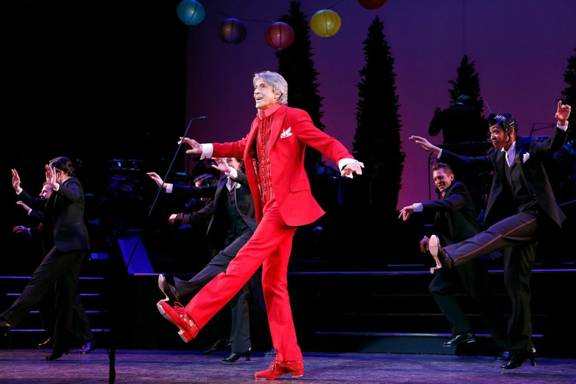 Tommy Tune & cast
Tommy Tune has two specialty numbers which have, thank God, have nothing to do with advancing the plot (plot!?). He sings and dances to one of the three hit songs from the show, "Fascinating Rhythm" and returns in Act Two for a wonderful group tap number to "Little Jazz Bird," a song known mostly to jazz aficionados who also have elevated "The Half of it, Dearie Blues" to standard status. The latter is sung by Mr. Gardner and Ms. Mackey as they contemplate their future without each other. Mr. Tune, an affable theater veteran, steals the show from the youngsters with a smooth charm and an easygoing technique.
The title song is sung with an easygoing flair by Mr. Sills to persuade Susie to take part in his plot to defraud the Robinson estate. It is reprised several times as is "Fascinating Rhythm" which is repurposed as a finale filled to the brim with multiple weddings. Everyone gets who they deserve.
Former music director, Rob Fisher returned to conduct the Encores! Orchestra which sounded particularly lush. The arrangements are rich, often quoting "Rhapsody In Blue"-like riffs . Chris Fenwick and Greg Anthony stood out in a two-piano bit at the opening of Act Two.
Although this Lady, Be Good! was a noble effort it was difficult to extract the golden nuggets from all the nonsense. The first rate production, fine performances, great costumes and spiffy choreography gave weight to the lightweight.
Lady, Be Good! – February 4-8, 2015
New York City Center Encores!
131 West 55th St., between 6th and 7th Avenues
New York, NY
Tickets and Information: 212-581-1212 or www.nycitycenter.org
Running time: 2 hours, one intermission