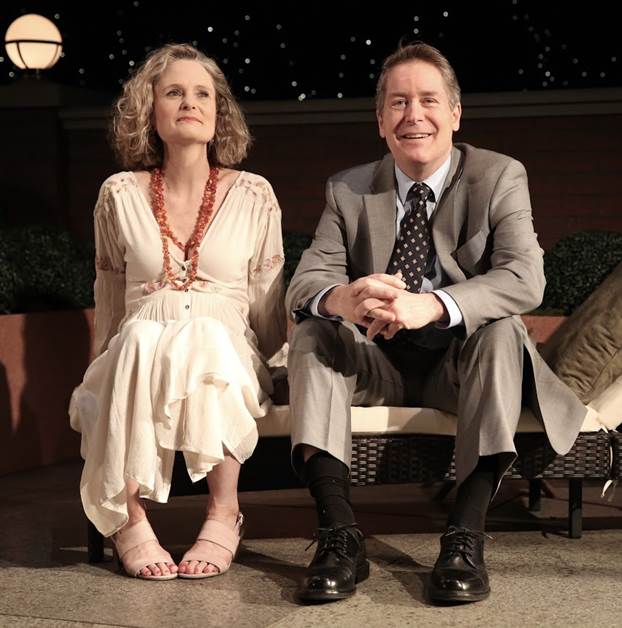 Barbara Garrick and Laurence Lau
                            By Ron Cohen
"The world I came from. It was a totally different culture," declares the Boston banker Austin toward the end of A.R. Gurney's Later Life. "All those…surrogates…breathing down your neck. Nurses. Cooks. Maids. Gardeners. Aunts and uncles. Parents, too, of course. And Godparents. Grandparents. Great-grandparents, for Christ sake. All this pressure."
Austin's words smartly epitomize much of Gurney's work. The prolific and esteemed playwright, who died in 2017, is known for his analysis of and sympathy for -- and sometimes disparagement of -- the American WASP, facing diminishing stature in an increasingly multi-cultural and multi-ethnic America. And in his affable but uptight banker Austin, Gurney has created a sympathetic and entertaining embodiment of the breed.
The play's punch is lessened, however, by some stretches of glib dramaturgy, made all too evident in this appreciative but uneven revival by the Keen Company,
directed by artistic director Johnathan Silverstein. (The play premiered
Off-Broadway at Playwrights Horizons in 1993.)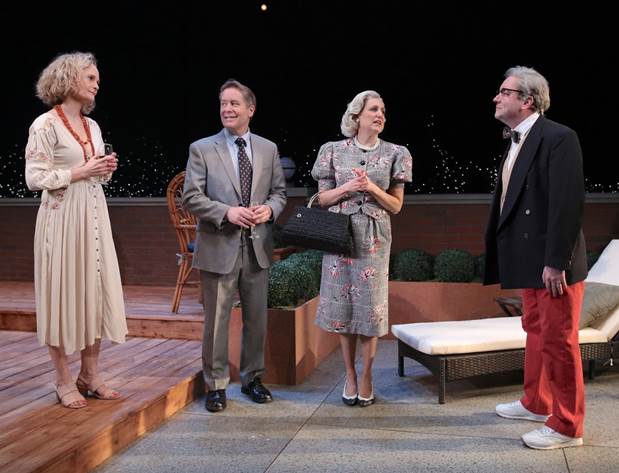 Barbara Garrick, Laurence Lau, Jodie Markell, and Liam Craig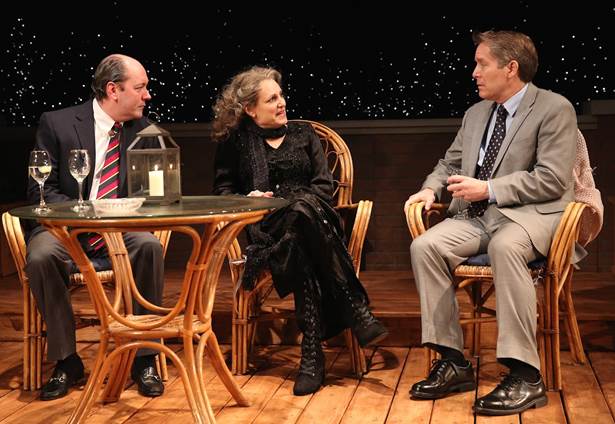 Photo Credit: Carol Rosegg
As for the dialogue quoted above, Austin uncharacteristically is spilling out his usually entombed soul to a woman named Ruth. They have just been reacquainted on the terrace of a swanky apartment overlooking Boston Harbor, where both are attending a party being thrown by a mutual acquaintance.
It seems that years ago Austin and Ruth met -- where else? -- but on the isle of Capri. He was a junior naval officer, and she was on a student tour. Sparks flew but never caught flame. Ruth was willing, but Austin reneged, confessing that all his life he has felt some cataclysmic event awaited him in the future, and since he cared for Ruth, he didn't want to get her involved. It's an incident that has stayed with Ruth through the years. 
As Ruth and Austin sort of reconnect, their conversation is constantly being interrupted by other partygoers making their way onto the terrace. The interlopers are a diverse bunch. For example, there's a retired philosophy professor trying to give up smoking, a couple who have come up for a quick visit to their hometown of Boston from their retirement digs in Florida, and a brusque lady who laments the fact that she has lost track of another lady at the party who seemed like a potential partner. Austin's best pal, Walt, makes an appearance to tell us what a great squash player Austin is, and then there's the party hostess, Sally, a gushy cupid wannabe. 
Some of these interrupting folks seem pertinent. Others seem more like comic filler, and the fact that they are all played by the same pair of actors lends the device the air of a theatrical stunt. Still, the actors, Liam Craig and Jodie Markell, fitted out in an admirable assortment of costumes (by Jennifer Paar) and wigs, hair and makeup design (by Dave Bova and J. Jared Janas) are commendable in their quick switches of character, even if some of their characters, as both portrayed and written, seem like rejects from Saturday Night Live.
(Gurney has stated that the device of having the same actors play all these roles underscores one of the play's themes: people are capable of taking on changing personas, while the life choices of Austin and Ruth seem "achingly inhibited.")
And what are those life choices? Austin, we learn, although divorced has had what on the surface appears to be a placid life. As he says, he believes "in civility."
Ruth, in contrast, has had four marriages. One husband died in an accident shortly after the wedding. She had a child with her second husband, but the child died of leukemia. She then went on to marry her third husband, her current spouse, twice. He has hit her and squanders her money, and Ruth has left him in Las Vegas to visit a Boston chum and contemplate her future. The problem is he loves her madly and also looks like the Marlboro Man.
Now, that she has reconnected with Austin, will she nevertheless feel compelled to return to her husband, who has followed her to Boston, awaits her at the Boston airport with a bottle of champagne and a first-class flight back to Las Vegas?
The suspense in this production is never terribly enthralling. In part, this is due to the smooth, on-the-surface portrayal of Ruth by Barbara Garrick. It's not quite deadpan and there are flashes of emotion, but it never digs very deeply into the character's underlying pain. It doesn't help that Gurney has her reveal her life's tragedies rather matter-of-factly to a pair of bumptious interloping partygoers, who are simply taking a breather from the party, rather than to Austin, who has left the terrace to get some drinks.
On the other hand, Laurence Lau as Austin gives a finely etched rendering of a polite, chronically reserved fellow simmering with a sense of unfulfillment and foreboding deep, deep inside. But without a fully realized Ruth, the poignancy of the evening's encounter is substantially diminished.
Also on the plus side, however, is the luxurious terrace, with Boston's night skyline glittering abstractedly in the background. The set design is by Steven Kemp, and with a little reworking might well inspire Keen Company to try its hand at Noel Coward with his play about two people who reconnect on a terrace.
Coincidental footnote: Later Life's plot device of a hero who has a foreboding of future doom is lifted from the acclaimed 1903 novella by Henry James entitled The Beast in the Jungle. Gurney gives full credit to James in the introduction to the published version of Later Life. Now, if your Beast of the Jungle interest has been at all piqued, there's a dance-drama adaptation of the novella coming our way. With music by the legendary John Kander, a book by David Thompson, and direction and choreography by Susan Stroman, it will open Off-Broadway at the Vineyard Theatre in May.
Off-Broadway play
Playing at The Clurman Theatre at Theatre Row
410 West 42nd Street
212-239-6200
Telecharge.com
Playing until April 14