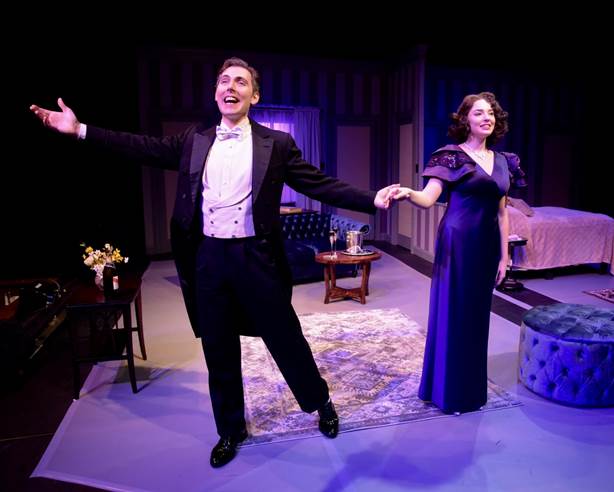 1. J.D. Daw (as Max) and Molly McCaskill (as Maggie).                               photos by John Vecchiola
Lend Me A Tenor At the Westchester Broadway Theatre
                                           By Eugene Paul
For their 215th production – 215! –Executive producers Bill Stutler and Bob Funking  launch Ken Ludwig's hilarious, raucous  1989 Tony winning farce, Lend Me A Tenor, all freshened up with all six swinging doors swinging and slamming, and, miracle of miracles, with genuinely operatic voices, thanks to remarkable Joey Sorge and J,D, Daw, the tenors of the craziness that fills the stage. You could hear the opening night audience laughing all the way to Yonkers. Ken Ludwig's outrageous farce  has been generating fans and laughter in sixteen languages and twenty-five countries since it first opened in London in 1986, winning awards and audiences and don't we need a laugh or two these days more than ever. Director Harry Bouvy rightly underscores  his  not exactly light handed approach  with a brightly willing company.
You really have to appreciate the Westchester Broadway Theatre program cover: it's a sly homage to the original London program design and worth a giggle or two.  Next appreciation: the references in the title joke: "Lend me a tenner" was a common enough request back in 1934, the year Ludwig sets his hijinks going, meaning, "Lend me a ten shilling note". Or half an English pound note.  About $2.50.  Which could buy you a very nice theatre seat back then. Today, add zeros. Not here, in Westchester, of course, where you get the whole package, free parking, updated dinner service, updated menus – we are after all, the Westchester Broadway DINNER Theatre.
Tregoney Shepherd (as Julia), Sam Seferian (as the Bellhop), Philip Hoffman (as Saunders), and Molly McCaskill (as Maggie).
On to Cleveland, Ohio, in 1934, where the Cleveland Grand Opera Company  has managed to corral Tito Merelli (wonderful Joey Sorge)  "Il Stupendo", the hottest, sexiest tenor in the world, for a single performance of his famous "Pagliacci", tragic, comic clown. For general manager Saunders, (wildly excited Philip Hoffman) it's his greatest coup,  and the house is sold out. Saunders paces the hotel suite , the posh sitting room, the plumped up bedroom, trailed by his assistant,  shy, frustrated singer Max (splendid J. D. Daw) and his daughter, Maggie (lovely Molly McCaskill) who are as excited and dithery as he. Maybe more.  Everything must be perfect for Signor
Merelli and his wife, Maria (combatively good Kathy Voytko).
Daw (as Max) and Joey Sorge (as Tito).
Who explodes, when she finds Maggie hiding in the bedroom coat closet.  Tito is a notorious womanizer. Maria is a notorious screamer. Maggie is an overwhelmed fan. And beautiful.  And young. Never mind that her boyfriend, Max, and her father, Mr. Saunders, are in the other room, she wants – an autograph? Maria knows what kind of autograph she wants. She knows what kind of autographs Tito loves to offer.
Things do not get simpler.  Diana (slinky Hannah Jane McMurray), soprano on the make, wants Tito's ministrations preparing for the performance. Julia (fine Tregoney Sheperd) Chairman of the Opera Guild , wants Tito's attentions to some further details.  Even the Bellman (neat Sam Seferian) is  a Tito fan. And General Manager of the Cleveland Opera Company Saunders would be tearing his hair out if he had any. Oh, yes,  the doors are slamming. Which is not an appropriate time for Tito to give Max a lesson in how to relax your voice in preparation for performance. (Hilarious.)
But a shouting match between Tito and his Maria leads to  her leaving him.  For good. Including a goodbye note which can be and is mistaken for a suicide note. Coupled with Tito's melodramatic despondency, and sleeping pills lead to zonking out.  Which leads to Max finding him, totally plotzed dead? Dead?  He can't be. They have a sold out audience.  This is the peak of Mr. Saunders' career. What to do?  Desperation!  Saunders inveigles terrified Max into the Pagliacci clown outfit.  Max is going to go on .  No one will ever know! Nobody is allowed into the bedroom where the dead Tito still lies.  Max gets into the clown outfit, clown hair, clown whiteface, clown grimace. And goes to perform.  And Tito sits up. Blackout, Act One.
Of course, there's Act Two.  Of course there are two Pagliaccis.  Of course, there's mistaken identities.  And -- slamming doors. But it's the double seduction scene in which two Pagliaccis get it on with two delighted beauties that gilds the lily you might say. The funniest moment in the whole show  is two Pagliaccis hoisting up their post coitus britches simultaneously, one in the sitting room, one in the bedroom. Bravo, director Bouvy! And congratulations to  costume designer Keith Nielsen for the dashing costuming and certainly to set designer to Steve Loftus for them sturdy slamming doors.
Lend Me a Tenor. At the Westchester Broadway Theatre. Tickets: Dinner and show: $71-$91. 914-592-2222. Thru Jan 26.