Amanda Green
                             by Deirdre Donovan
 A celebration the 100th anniversary of Leonard Bernstein birth with a musical montage of his beloved theater works.
It's a shame that Leonard Bernstein wasn't in the audience listening to "Lenny's Lyricists," the latest offering of the 92nd Street Y's "Lyrics and Lyricists" series.  It was an exuberant portrait of the great American musician that showcased his beloved songs.  Narrated by Amanda Green (yes, she's the daughter of Adolph Green), and directed by Gary Griffin, they were accompanied on stage by vocalists Mikaela Bennett (The Golden Apple), Andréa Burns (On Your Feet), In the Heights), Darius de Haas (Shuffle Along), Howard McGillin (Gigi), Cree Carrico, and Tony Award nominee Tony Yazbeck (On the Town).  Rob Fisher, the artistic director of "Lyrics and Lyricists," also joined them on stage, alternately wearing the hat of host, commentator, and pianist par excellence.
Just in case you haven't heard the buzz, this year marks the centennial of Bernstein's birth.  And the two-hour concert at Kaufmann Hall was a heart-felt homage to this central figure in twentieth century music.  It leapfrogged across decades, offering a smattering of his early-, mid-, and late-career works.  Not only did the audience get treated to the crème de la crème of Bernstein's songs, but also had them contextualized with their genesis, pertinent anecdotes, and back stage stories, affectionately recounted by Green.
The program began with an instrumental musical collage that segued into selections from his 1944 Broadway musical On the Town (lyrics by Betty Comden & Adolph Green):  "New York, New York," "Lucky to Be Me," and "Lonely Town." Sung by various artists against a backdrop of iconic images from the show (remember that one with the trio of sailors Chip, Ozzie, and Gabey caught in a gravity-defying leap in air?), it was an aural and visual feast for the audience.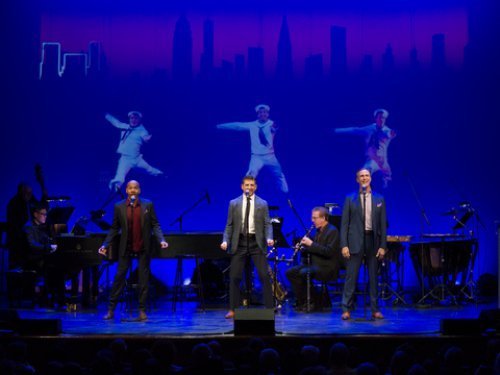 This musical was Bernstein's first valentine to New York—and his first collaboration with writers Betty Comden, Adolph Green, and choreographer Jerome Robbins.  What made it unique is that it captured the irrepressible spirit of young servicemen in New York who would soon embark for Europe, courtesy of Uncle Sam, and join the Allies to help win World War II.  Sound like a subject too serious for a musical?  Well, yes and no.  Green summed up the plot, in effect, as the adventures of three sailors on a one-day leave in the Big Apple, determined to find a sweetheart and have a helluva time painting the town.
The tempo and rhythms shifted as "What a Movie" (sung by Cree Carrico) wafted across the stage, the only song represented from Bernstein's one-act opera Trouble in Tahiti.  A dark critique of life in the American suburbs, it tells the story of a day in the life of a couple living in their manicured home outside of the city.  Consumerism, conformity, feminism, all thread through this opera-musical.  It premiered on June 12,1952 at Bernstein's Festival of the Creative Arts at Brandeis University in Waltham, Massachusetts.  And it would later land on Broadway in 1955 as part of a triple-bill All in One shared with Tennessee Williams' one-acter 27 Wagons Full of Cotton and a dance sequence by hoofer Paul Draper.  Green, with a mischievous smile curling the corners of her mouth, told the audience that Bernstein worked on this opera about emotional isolation during his honeymoon with his bride Felicia Monealegre in 1951.
A sextet of musical numbers from the 1953 Wonderful Town ushered us back to a New York City milieu: "A Little Bit in Love," "One Hundred Easy Ways," "Ohio," "What a Waste," "Pass the Football," and "Conga."  Those who recall the recent 2003 Broadway revival could once again listen to the delightful music and remember the story of the two sisters, Ruth and Eileen, who migrate from Ohio to Greenwich Village in hopes of making a name for themselves in the big city.  Comden, Green, and Abbot on the creative team mustered their talents with Bernstein again, and made theatrical magic come alive. All the musical numbers hummed along just fine. But it was "Pass the Football" that really scored as Yazbeck morphed into a pseudo-quarterback and playfully tossed a real football to his stage-mates in perfect synch to the lyrics.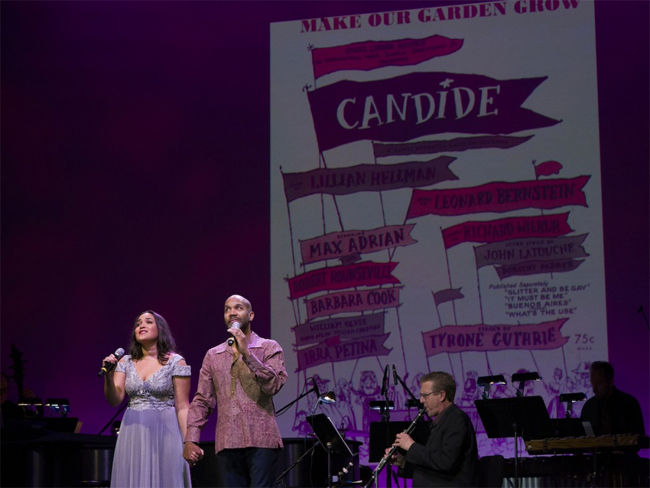 Darius Haas, Tony Yazbeck and Howard McGillin as they sang "New York, New York" from "On the Town" in 92Y's Lyrics & Lyricists Series: "Lenny's Lyricists" (Photo credit: Richard Termine)
There was a return to the opera world in Act 2, with Bernstein's 1956 operetta Candide.  From its over 30 numbers, the audience were treated to the swelling notes of "Ringaroundarosy,""Oh, Happy We," "A Valentine for Jamie and Alexander," and "Make our Garden Grow."  Green shared that this work, based on Voltaire's classic satire, turned into a bumpy artistic ride for Bernstein and received a mixed reception from the critics.  At its Broadway premiere at the Martin Beck Theatre on December 1, 1956, the critic Brooks Atkinson extolled its virtues, writing that "since Voltaire was a brilliant writer Bernstein's Candide should turn out to be a brilliant musical satire."  Walter Kerr, in sharp contrast, took a brickbat to the newly-hatched work and called it "a really spectacular disaster."  Written during the Eisenhower era, it was meant to be a satire on the House of the Un-American Activities Committee but many missed the political undercurrent and weren't up to speed on Voltaire's original story.  But times change, as do audiences, and those listening to the selections from Candide at the Kaufmann Auditorium, especially the optimistic "Make our Garden Grow" (sung by Mikaela Bennett and Darius de Haas) seemed to surrender to the operetta's charm.
The secular moved into sacred territory with a singular song culled from Bernstein's Mass, "A Simple Song."  Commissioned by Jacqueline Kennedy Onassis, the musical's first performance coincided with the opening of the John F. Kennedy Center for the Performing Arts on September 8, 1981.  Bernstein and Stephen Schwartz (of Godspell fame) penned the lyrics for this eclectic work that uses the liturgical mass as its spine.  Although few critics enthusiastically blessed the work at its premiere, over the years it has found a following as a highly-original work in Bernstein's oeuvre.   Right before de Haas launched into a fresh rendering of the hymn "A Simple Song," Green looked the audience in their collective eye and winkingly noted that only a great personality like Bernstein could create a "Jewish mass."
Next up was West Side Story.  And, unsurprisingly, it ratcheted up the emotional temperature of the program and quickened everybody's pulse in the auditorium.  How can you beat numbers like "One Hand, One Heart," "Something's Coming," "Prologue," and "Cool"?  In two words, you can't.  Yes, Bernstein reached the acme of his career as a musical theater artist with this work, which premiered on Broadway on September 26, 1957.  This landmark musical, set in a New York City ghetto centers on youth, gang warfare, and race relations--and has gained a permanent place in musical theater history.  To single out any song and performer seems unfair, but Yazbeck's delivery of "Something's Coming" captured the intense sense of anticipation that the song so relentlessly suggests.
Bernstein's 1600 Pennsylvania Avenue might not ring down the ages like West Side Story, but the song "Take Care of This House" can still bring out one's inner patriot.  This musical about the White House debuted in 1976 and shuttered after only 7 performances.  Although Green didn't go on at length about why this presidential pageant fizzled out on the Great White Way, she did share Jerome Robbins' memorable line about the show:  "Only 2 titans (Bernstein and book-writer and lyricist Alan Jay Lerner) could have a failure like this."  No question that this anthem takes on a different coloring, all depending on who happens to be the current occupant (like you-know-who) of the iconic house.  But it also implicitly reminds each American that it's his, or her, responsibility to vote, raise their social consciousness, and vigilantly speak up for justice.   But politics aside, the cast managed to pull off a mini-miracle on stage by infusing new life and genuine feeling into "Take Care of This House," with a luminous image of the White House in the background (lighting design by John Kelly).
The concert came full circle with the finale "Some Other Time" from Bernstein's first splash onto Broadway, On the Town.  Sung by the cast, it seemed like the perfect way to wrap up the jubilee.
 "Just when the fun is starting,
Comes the time for parting,
But let's be glad for what we've had
And what's to come."
Bernstein and Song
What could be better than catching "Lenny's Lyricists"?  Naturally, catching its partnering class "Bernstein and Song."  On February 18th, Bernstein expert Louis Rosen spoke at length at the 92nd Street Y about the great musician and the many hats the luminary had worn over the years:  pianist, conductor, lecturer, composer, television personality, and songwriter.
Rosen began his talk by writing the names of two legendary musicians on the chalkboard in the room:  Aaron Copland and George Gershwin.  Rosen then elucidated how Bernstein was a curious hybrid of both artists.  In his symphonic sophistication, Bernstein resembled Copland.  And in his propensity for jazzy rhythms, he echoed Gershwin.  But what made Bernstein a true original, Rosen remarked, was that Bernstein was equally at home in both the classical and popular music world.
Rosen then invited the group to open their ears to the rich instrumental music that often played in counterpoint to Bernstein's main melody.  Illustrating his points by playing the appropriate recording of a sequence or song--or occasionally performing it on the piano in the room--he walked us through the syncopated rhythms of the Prologue to West Side Story, commented on the building urgency and intentionally dizzying effect in "Something's Coming," or parsed the less-familiar verses of "Glitter ad Be Gay" from Candide.
This was no dry lecture!  Rosen shared anecdotes about Bernstein's life and art, and added some personal reflections on the master's songs that wonderfully illuminated their unique magic.  Rosen has a remarkable feeling for Bernstein's music, and though he aptly uses the composer's vocabulary, he never became precious or spoke over anybody's head during the talk.
Rosen summed up his talk by citing that Bernstein was a multi-faceted artist who would approach each of his creations—classical or popular--with his whole artistic arsenal at the fore.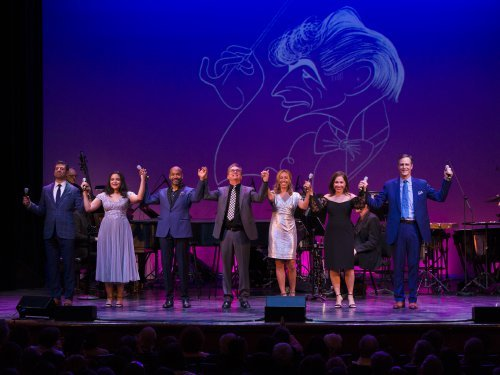 Tony Yazbeck, Mikaela Bennett, Darius de Haas, Rob Fisher, Amanda Green. Andrea Burns and Howard McGillin as they appeared in 92Y's Lyrics & Lyricists Series: "Lenny's Lyricists" (Photo credit: Richard Termine)
If you missed this seminar on "Bernstein and Song," don't despair.  Rosen has planned more talks on the iconic musician in coming months to celebrate Bernstein's centennial. 
"Lenny's Lyricists" - five performances only, February 24th through February 26th.
At the 92nd Street Y, 1395 Lexington Avenue at 92nd Street
For more information on upcoming concerts for "Lyrics & Lyricists" and classes at the 92nd Street Y, visit www.92y.org,
Running Time of "Lenny's Lyricists:" approximately 2 hours with one intermission.