Review by Julia Polinsky
Tom Stoppard's Leopoldstadt weaves a tale of family, place, time, and identity. The family is Jewish, the place Vienna, the time surrounds the Holocaust, and the question of identity is answered with a very hard kick.  
Leopoldstadt's five acts, which occur in 1899, 1900, 1924, 1938 and 1955, take place in the drawing room of an elegant Viennese apartment. We encounter a group of what seems like dozens of cultured, wealthy, intellectual, mostly affectionate, and highly assimilated Jews – some have converted to Catholicism. We end with three survivors. This is not news; it happened to thousands of Viennese Jewish families, but in this case, one of the survivors had no idea he was Jewish until well after WWII.
The Broadway Company of Leopoldstadt.  Photo by Joan Marcus
In 1899, the huge family gathers for Christmas, giving presents, decorating a Christmas tree, having cake, identifying photos in a family album, talking about art, music and politics, and gossiping about affairs of the heart. In 1900, those affairs of the heart include an actual affair between an Austrian officer and the wife of the family's patriarch, and the holiday is Passover. The third act, in 1924, finds the family subdued but still mostly together after the horrors of WWI. The family gathers for a bris as the modernity of jazz, the Charleston, and Bolshevism collide with the family's desire for tradition.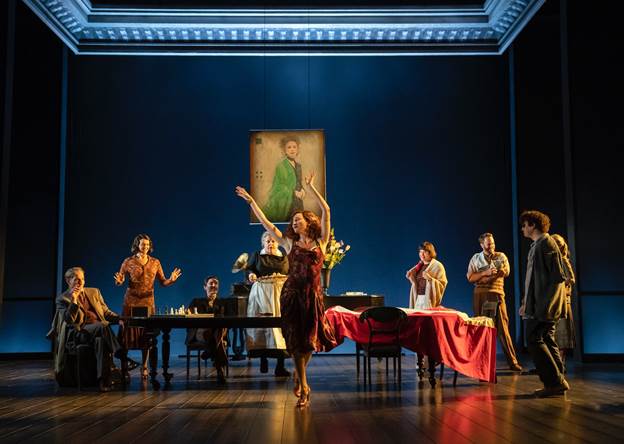 The Broadway Company of Leopoldstadt.  Photo by Joan Marcus
In 1938, however, the year that Germany annexed Austria, that drawing room holds what looks like refugees, rather than fashion plates (kudos to Brigitte Rieffenstuel's spot-on costume design). The family are gathered here, ignoring the warnings of a British journalist who persuades one widowed cousin with a small boy to marry him; as his wife, she can join him in England. Other family members finally realize they need to escape, but it is Kristallnacht, and too late for them, as the Nazis pound on the door and send them to the camps.
Tedra Millan (Nellie) and Seth Numrich (Percy). Photo by Joan Marcus


In 1955, we meet the three survivors of the sprawling family: Rosa, who had moved to New York before the war; Nathan, who survived Auschwitz, and Leo, the perfectly British adopted son of the journalist from the previous act. Leo is so perfectly British, that he cannot remember his Viennese life, that he is a Jew, or any family members.
Nathan's survivor anguish is palpable; he knows who he is. Rosa cynically describes herself as a "Freudian analyst on the Upper East Side;" she knows who she is. Leo, whose British name is Leonard Chamberlain, had no clue that he is Leopold, and Jewish.
Brandon Uranowitz (Nathan) and Arty Froushan (Leo). Photo by Joan Marcus
At the end of the 5th act, Rosa has given Leo a handwritten family tree. As he reads it aloud, he asks what happened to everyone. Name by name comes the litany of death: suicide; brain tumor; on the transport. As the list continues, the source of deaths are concentration camps whose names will stink in human history forever. Leo reads the list; Nathan and Rosa answer. Name: camp. Name: camp. Leo understands who he is, where he comes from, at last.
The author, Tom Stoppard, was born in Czechoslovakia to a Jewish family, but got out before the Holocaust. He was also adopted by an English father, and took his last name, and did not know until later in life that he was Jewish or that his family were murdered in the camps. Leopoldstadt is, in many ways, his own story.
Where the first 3 acts feel like a Chekhovian family drama, the 4th and 5th change focus, and feel more important. As always with Stoppard's work, the erudite, clever, sometimes funny, sometimes devastating writing delights and infuriates – is he too clever, maybe? He tosses in esoteric references, makes much of a family photo album, uses the game of Cat's Cradle to point out that we are tied to one another and every change flows from something structural that underlies everything. In Leopoldstadt, that structure is the family, and the catharsis at the end pulls the threads together.
It's possible to quibble with Patrick Marber's excellent direction, although it feels petty when 99% of the direction is so good – he seamlessly manipulates his ensemble of dozens of actors, some playing multiple roles, all of them superb. However, the final scene feels incomplete, as if a visual cue to emphasize the roll of death were missing.
Richard Hudson's scenic design creates a superb frame for the family's story over these decades; literally, the space above the stage is outlined with what could be either the elaborate crown molding of an elegant Viennese apartment, or the fancy frame of fine art. Neil Austin's lighting design honors the darkness of the world these Jews live in by making beautiful chiaroscuro settings that hint at what is to come.
In Leopoldstadt, Stoppard blends cleverness and language, story and heartache; history and family, time and identity. It's a hugely enjoyable, deeply affecting night of theater, not to be missed.
Leopoldstadt
At the Longacre Theater
220 W. 48th Street
New York, NY 10036
Tickets $74-368 at Telecharge: www.telecharge.com
Please note: no intermission, 2.5 hours
Tuesdays, Wednesdays, Thursdays, Fridays at 7pm
Wednesdays at 1pm
Saturdays at 2pm and 8pm
Sundays at 3pm
Through March 12, 2023