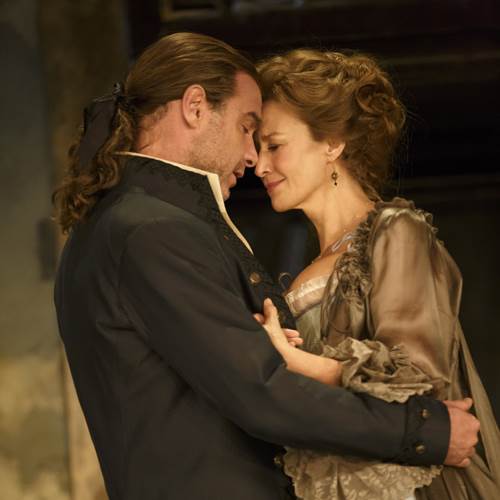 Liev Schreiber and Janet McTeer
                              by Julia Polinsky
Adapted from a French novel published in 1782, Hampton's Les Liaisons Dangereuses sets the scene in France, in the 1780s. A pair of bored and jaded Parisian aristocrats, former lovers Marquise de Merteuil (Janet McTeer) and Vicomte de Valmont (Liev Schreiber), decide to entertain themselves with a game of revenge, betrayal, destruction – just another day in the life for them.
Liev Scheiber with Birgitte Hjort Sorensen            photos by Joan Marcus
They sweeten the deal by adding a wager: if Valmont can seduce Madame de Tourvel, (Birgitte Hjort Sorensen), a young wife famous for her purity and piety, and provide written proof, the Marquise will yield herself to Valmont for a night of passion. De Merteuil adds in one "little favor," and asks Valmont to seduce Celine (Elena Kampouris), the convent-raised daughter of a friend – ruining the girl will be revenge against her fiancé, one of Merteuil's former lovers.
Liev Schreiber with Elena Kampouris
Valmont seduces the virtuous wife, debauches the 15-year old girl, and piles lie upon lie, betrayal on betrayal.  De Merteuil encourages Celine to accept Valmont as a teacher in the sexual arts, while herself seducing Celine's beloved, the woodenheaded young Chevalier Danceny (Raffi Barsoumian).
By the end of the play, we've seen rape, ruin, revenge, and a rapier-duel. Yet, brittle sophistication glosses over the disastrous results of the malicious games these people played. Plus ca change, plus c'est la meme chose, going into the future.
The evil games we watch play out against scenic and costume designer Tom Scutt's magnificent set, which tells a story all by itself. On the stage: an 18th century salon after a couple of hundred years without maintenance have done their work.
Cracked plaster, faded paint, and peeling wallcoverings appear in lighting designer Mark Henderson's atmospheric gloom. Flourescent fixtures -- the harsh light of modernity -- hover over this scene, with a soundscape of footsteps and slow wind behind it – Carolyn Downing's sound design is a knockout. This decrepit room is clearly set in Today, in effect, the modern-day ghost of what might have been: magnificence manqué.
Then the fluorescent light fixtures ascend to the flyspace, as chandeliers – real ones, with lit candles – descend. A woman in late 18th century dress walks through the doorway upstage left, shrouded by plastic sheeting, and she brings the past with her. The layers of time peel like the wallcovering.
She is La Marquise de Merteuil. She is also Janet McTeer, giving a performance so embodied, so layered, and so profoundly modern that she can only fully interact with her counterpart – the remarkable Liev Schreiber as Le Vicomte de Valmont, who wastes no time even bothering to try to imitate an 18th century nobleman, but is as modern as McTeer.
She and he have such an accomplished interaction with each other, it's like watching a master class in How To Act With Someone Really Good. And yet, they are oddly detached; for a couple who spend a lot of time talking about seduction, they hardly seem sexually interested in each other at all. Even when he has his hand up her skirt – way, way up her skirt -- it seems perfunctory, rather than passionate.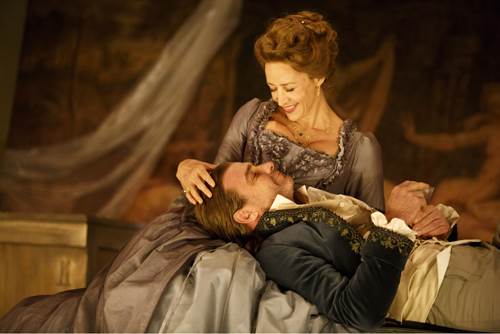 Yet the intimacy between them can be extreme, as if McTeer and Schreiber are in one play by themselves, with all the other actors in another. Fascinating to watch, but not engaging, and not helped by some issues with projecting. Neither their voices nor energies reach out to the audience; it's all interior. Beautifully interior, though. But killer stage performances should suck the audience in, not just be between actors. 
Josie Rourke's direction preserves the epistolary character of the novel; scene after scene involves pairs of people, as if they were writing letters to each other. It also makes for superb performances; when actors can dig into each other in such depth, it has real impact.
Rourke makes the most of cast and set, even the stunning scene changes as the actors sing as they move furniture to make one salon in Paris, one in the countryside. Their voices take us from place to place as beautifully as the set and lighting, and oh, that lighting! Those candles, dripping wax and reflecting in pendant prisms: it's as if they provided the only light on the stage.
The director uses those candles like a weapon, at the end of act two, when all the games have played out. After the chandeliers are lowered almost to waist height, one by one, the women of the cast pinch them out, excepting the last candle, which the Marquise uses to prove a point. She holds her hand over the flame, keeps it there longer than can be imagined, and then flattens the light into darkness.
If you've seen Les Liaisons Dangereuses before, either on stage or screen, do yourself a favor and forget it, then go see this perfectly postmodern production. If you haven't seen it before, you're in for a rare treat. Don't miss it.
Les Liaisons Dangereuses, at the Booth Theater, 222 W. 45th St,
Through January 22, 2017
Tickets: $42-159; Telecharge.com or 212-239-6200
or at the Booth box office, open Monday-Saturday, 10am-8pm