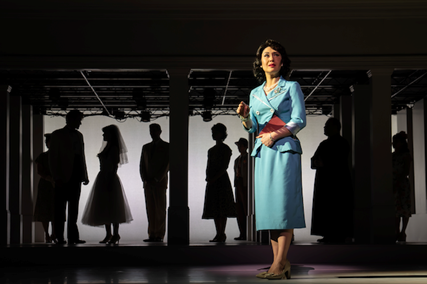 Ruthie Anne Miles (Photo: Joan Marcus)
Light in the Piazza
By Deirdre Donovan
The new Encores! concert staging of the 2005 musical The Light in the Piazza breezed in and out of New York City Center in June, leaving audiences enchanted.  Directed by Chay Yew, and starring the incomparable Ruthie Ann Miles as Margaret Johnson, this production invited audiences to view the romance musical (music and lyrics by Adam Guettel; book by Craig Lucas) through an Asian-American lens.
The story revolves around an American mother (Miles) on vacation in 1950s Florence with her 26-year-old daughter Clara (Anna Zavelson), each encountering Florence on her own terms. Margaret wistfully reflects on her honeymoon in Florence many years ago;  Clara sees Florence as a city of many surprises.  As the mother and daughter discover great pieces of art together, a young and handsome Italian named Fabrizio (James D. Gish) crosses their path and becomes smitten with Clara.  Although Clara is immediately ready to reciprocate his affection, her overly protective mother is dead set on keeping them apart. 
Margaret's argument for preventing a relationship between Clara and Fabrizio, of course, is that Clara is "special."  Or as she confides to the audience: Clara is "very young for her age," her cognitive skills impaired by a childhood accident.
Indeed, what makes The Light in the Piazza so dramatically rich is that it involves a power struggle between Margaret and her daughter that manifests itself in a myriad ways during the show. In this two-act musical, Margaret gradually learns that loving one's daughter can also mean "letting go"; and Clara slowly learns what it is to trust her heart—and seize an opportunity for true love.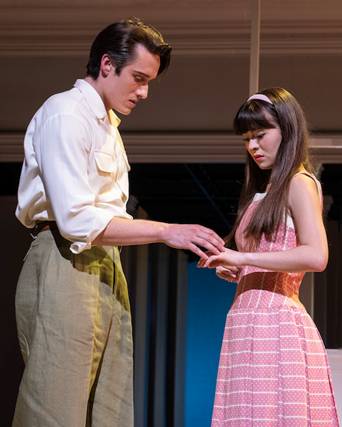 James D. Gish and Anna Zavelson (Photo: Joan Marcus)
Although Lucas's script (adapted from the novella by Elizabeth Spencer) is often commended for its economy, it also presents a problem by incorporating whole swaths of Italian into its dialogue.  For example, at the Naccarelli home in Act 2, when Fabrizio is in despair when he believes that he will never see Clara again, his whole family attempts to console him—in Italian. And it's only by Signora Naccarelli (Andréa Burns) stepping outside of the action and informing the audience what's going on that the episode can be clarified.  Or as Signora Naccarelli succinctly puts it: "Aiutami means 'help me' in Italian.  I don't speak English, but I have to tell you what's going on."  This got a big laugh from viewers—but it doesn't really resolve the textual problem of how to keep Guettel's dialogue authentic-sounding and yet comprehensible to an English-speaking audience.
But, then again, The Light in the Piazza reminds one that spoken language, though an essential strand of a musical, is but a part of a larger artistic tapestry.  In fact, one of the more memorable –and funny--moments in the production was when Clara, strategically whisked off to Rome by her mother, showed her rebellion by repeatedly kicking her foot against a pedestal.  Indeed, this bit of stage business lacked poetic grandeur but it certainly spoke volumes about Clara's interior life.
No question that the star-turn belonged to Miles, whose mezzo-soprano voice caressed the nuances of Guettel's music and lyrics with profound feeling.  Naturally, it was impossible to watch Miles's transcendent performance of a mother dealing with a family tragedy without remembering Miles' own real-life tragedy of losing her 5-year-old daughter, Abigail, when they were struck by a car in 2018.  Miles was pregnant at the time, and two months later, as her due date approached, she lost the baby.
The rest of the cast, though not approaching Miles' towering performance, each made an impression.  Zavelson, a 19-year-old college freshman, infused her Clara with equal parts innocence and vitality. Gish was well-cast as Fabrizio, although he wasn't altogether convincing when he spoke Italian.  Ivan Hernandez' Signor Naccarelli was the personification of an elegant and stylish Italian gentleman.  Andréa Burns' Signora Naccarelli was a feminine mirror to her husband's impeccable manners.  Rodd Cyrus, inhabited Fabrizio's philandering brother Giuseppe like a latter-day Don Juan.  Shereen Ahmed, as Giuseppe's hot-blooded wife Franca, sizzled with passion—and jealousy. Michael Hayden, in a cameo appearance as Margaret's distant husband, Roy Johnson, did a convincing take on a spouse who has fallen out of love with his wife.
James D. Gish, Ivan Hernandez, Andréa Burns, Rodd Cyrus and Shereen Ahmed (Photo: Joan Marcus)
In keeping with the Encores! series' mission to restage hidden gems of the American musical theater in barebones, concert stagings, the production values for The Light in the Piazza were unfussy.  The 16-member orchestra could be glimpsed atop a colonnade platform that spanned the entire length of the stage.  Clint Ramos and Miguel Urbino's handsome set design, abetted by David Weiner's soft light, brought an Old World feel to the piece.  And Linda Cho's costumes were a mix of Italian couture and outfits plucked right out of the Eisenhower era.
All things considered, this revisiting of The Light in the Piazza with two Asian Americans in the cast—Miles and Zavelson- broke new and exciting theatrical ground. Will this production, which closed out the season, have a post-Encores! life?  Only time will tell.
June 21 through 25.
At New York City Center, 131 West 55th Street, midtown Manhattan.
For more information on the Encores! series, visit www.nycitycenter.org.
Running time: 2 hours; 15 minutes with an intermission.
Here's a sneak peek of the Encores! 2024 Season: Once Upon a Mattress - Jan 24 – 28, 2024; Jelly's Last Jam - Feb 21 – 25, 2024; Titanic - Jun 12 – 16, 2024