.
              By Jeannie Lieberman
From ballads to blues to bouncy pop the audience joyously rode that trip with her buoyed by a couple of musicians that jet propelled her through it all.
Many thanks must go to Daniel Nardicio for his icon series – for bringing such talent as this night afforded. With the artists he represents, most if whom either have or could have played New York's legendary  Palace theater Nardicio has transformed the Ice Palace into its mini version and offers the lucky Grove audiences the chance to see mega talents in intimate surroundings – big band accompaniment distilled down to duos, trios and quartets, how rare and wonderful!
Linda Eder, of whom I knew little except she married Frank Wildhorn  who wrote the musical "Jekyll & Hyde" as a starring vehicle for her. After that she dropped out of my world of theater. A pre show chat with our own divas Demi Tasse and Bella, who were dressed as elegantly as I have ever seen them in black and pearls in homage to the night's performer, both spoke highly of her. "She is very real and down to earth, and above all, very nice" said Bella, who has often chosen her songs to "sing". And indeed the crowd at the Ice Palace already adored her long before her delayed entrance (traffic!)
So I was curious to see what had she was all about. What indeed! Little did I know and would soon discover what a vocal phenom she is!
Eder, who apparently gives master classes in singing, served up a smorgasbord of seemingly unrelated songs and styles which had one thing in common – as vehicles to display an impressive vocal virtuosity.
Linda Eder is a larger than life persona, both in stature and in talent. Her captivating beauty queen smile (1980 Miss Minnesota Pageant) is first noticeable
The tall, long tressed blonde, was simplicity itself in an understated black jersey outfit, her only adornment the rhinestone shoulder clips. But 9t soon became apparent that whatever glitter and sparkle onstage would come from her vocal pyrotechnics as she wielded her instrument with the control and confidence of someone in charge.
Born in Tucson Arizona and raised in Brainerd Minnesota of Austrian and Norwegian parents she made her Br8adway debut in the musical Jekyll & Hyde originating the role of Lucy, for which she was received a Drama Desk Award nomination and won a Theaterworld Award for her debut. Eder has performed in concert halls across the country including Carnegie Hall and Radio City Musical Hall. She has released 15 solo albums.
Eder launched her eclectic musical journey with Marvin Hamlisch's Oscar nominated song (From Ice Castles) "Through the Eyes of Love", a beautiful love song which allowed Eder to display her multi octave range.
She countered that mood with an up tempo version of Irving Berlin's 1926 "Blue Skies" which in the hands of this talented trio -  on keyboards, - on bass- turned into a jazz fest.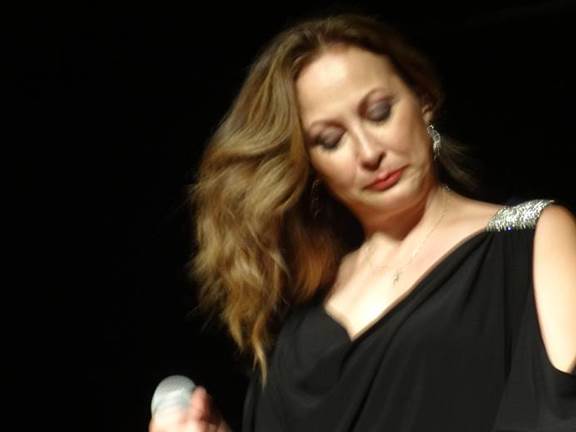 "I'm Not Lisa" one of the a saddest country songs ever, written by Jessi Colter in l975, illustrated Eder's storytelling technique as she describes the pain that comes with dating someone who has not gotten over his previous lover.
"Someone Like You… (my heart would take wing, and I'd feel so alive if someone like you loved me)" written for her as Lucy in Jeckl & Hyde. Eder infused the song with optimism and hope and it proved a vehicle for Eder's remarkable ability to sustain a high note into the atmosphere.
But she brought us all back to earth with an amusing anecdote about the next number "Sam, You Made the Pants too Long", which she first attempted when auditioning. 5 keys too high, too inexperienced to correct the pianist She "eventually sang it down" to the right key which, to the delight of all, she delivered demonstrating a bogus soft shoe ("my feet never leave the ground") "because the song seemed to call for it".
"I Dreamed a Dream" from Les Miserables, "the first musical I ever saw as a teenager in Minnesota…it impacted 0n me and I loved every song" was a study in how to build a song to a stirring conclusion.
Exhibiting her generous ability to share Eder issued forth a dramatic "Stormy Weather" in full compliance with the torchy accompaniment of bassist Conrad Korsch whose solo moments were as stirring as hers. The audience cheered with her every modulation
Prefacing her next selection with an odd caveat "I love this melody. Some like it, other do not" her rendition of "Don't Cry For Me Argentina" from Evita, was one of the evening's most impressive for me personally as once again Eder proved a great storyteller and I found myself hanging on every word of a song I merely tolerated before. And, yes, the melody was soaring. Somehow she made the lyric "I love you and hope you love me"  followed with "Just look at me and you will know every word is true" a direct plea to the audience who responded in kind.
Lest the audience get too sentimental she broke the mood with the jarring, if jazzy "The Mad Hatter's song' from Wildhorn's  musical Wonderland.
Eder re-visited her teen years as she recounted her high school musical, "Sound of Music" for which she coveted the role of Maria ("me, too" came a voice from the audience which brought the house down) but, because of her nearly seven foot tall height she was assigned the Mother Superior and replicated her anthem with a powerful "Climb Every Mountain" going for a stirring high ocatave climax.
"Charade" proved an up tempo romp but the nostalgic "Vienna" with its sad tale of lost love ("now we sit here, the best of strangers…take me back again") proved once again Eder's acting chops as she drew us into the story.
Eder spared a few moments of adulation for her music director and pianist Billy Stein, who always attracts a coterie of young female admirers.  He was quoted as saying in an interview I actually love conducting. Conducting a Broadway show is challenging and rewarding. When playing the piano and music directing with Linda, I am also conducting, but with my head!
His turn to shine came in Deer's macho rendition of  "Don Quixote," from Man of LaMancha, (the audience was invited to  join in) an appropriately bombastic finale.
"Thank you, you're an amazing audience" she purred before an encore which would melt even the hardest of hearts: an irresistible melding of "I'm Always Chasing Rainbows" with "Over the Rainbow". Although this is the third show in a row here that concluded with this song, Eder's version was ever so wistful and touching.

Daniel Nardicio's Icon series at the Ice Palace
Linda Lavin and Billy Stritch in "Possibilities" on July 27,
Mardi Gras celebration on August 2,
Jackie Hoffman on August 9,
Christine Ebersole and the Aaron Weinstein Trio in "Strings Attached,"
Save Our Community House benefit August 16,
Kathy Najimy in "Lift up Your Skirt" on August 23,
evening with choreographer Toni Basil on August 30.
Tickets are available at www.DWorld.us, at the Ice Palace/Grove Hotel office, and at Gostoso in Fire Island Pines