Jonathan Groff                      photos by Emilio Madrid-Kuser
Little Shop of Horrors
                                       By David Schultz
Returning to its roots, this joyfully demented revival thrills.
Who would have thought that a Grade B flick sci-fi comedy from 1960 directed by Roger Corman could end up as a musical? Composer Alan Menken and librettist -lyricist Howard Ashman sure did. The musical penned in 1982 was first staged downtown in the East Village, then in various incarnations, a plethora of high school theater productions in spades soon followed, then was turned into a hit film, and has been a cult favorite since its inception. It is mighty easy to see why it has gained such a rabid following. It was again revived a few years ago in a 2003 bloated Broadway production, and had an insanely popular hard to get ticket at City Center with original cast member Ellen Greene, and Jake Gyllenhaal as the nerdy Seymour.
Now at last this musical has been appropriately downsized, playing at the Westside Theater, holding a mere 270 seats, it is a perfect return to its original roots. Smaller is definitely better, the setting has an intimate spatial aspect. The setting designed by Julian Crouch (Shockheaded Peter) is pitch perfect with his typical visual flair, giving the Mushnick Florist shop small vivid touches, he perfectly encapsulates the 1960's vibe. Sliding outdoor views into the florist shop open up with cinematic finesse into the inner regions of the shop.
Jonothan Groff and Christian Borle
The production has an A list of primo Broadway performers on board. Jonathan Groff (Seymour Krelborn) the nebbish glasses wearing Skid Row florist, Tammy Blanchard (Audrey) and Christian Borle (Orin Scrivello D.D.S.) totally run with the insane manic humor with which this work is infused ….as well as the rather dark menacing undercurrent that pulses within. It is the uneasy, yet perfectly balanced commingling of horror and humor that sustains this current production. Everyone…. well almost everyone knows the plot. Our hero finds an exotic plant downtown in Chinatown, plops it in the window of the shop to drum up the forlorn rarely visited shop. His secret from afar attraction to fellow co-worker Audrey initially goes unnoticed…. she has a slightly, well,  kinky S & M relationship with her dentist boyfriend Orin.
with Tammy Blanchard
The proprietor of the shop Mr. Mushnick (Tom Allen Robbins) finds that this plant, christened with the name Audrey II, by lovelorn Seymour as a token of his admiration for Audrey is a neighborhood hit. Everyone is stopping by and in turn buying ever increasing floral arraignments, giving the shop a much-needed lift.
One problem…this oh so popular plant derives it nourishment and growth by imbibing blood. At first accidently nipping his finger the plant opens its Venus flytrap mouth and itches for a taste.  Seymour gives the plant daily blood snacks from his ever increasing sore finger tips. But as Audrey II grows, and grows larger with each feeding. The plant eventually starts to talk to our hero with an ever increasing blood lust and starts to desire way more than his initial selective liquid diet. The voice of Audrey II (Kingsley Leggs) growls and sings with ever increasing guttural deep tones…  "Git It (Feed Me)", and "Suppertime" finds a soulful devilish pitch that takes this musical to eerie levels of depravity. But the two most famous songs are no doubt are "Somewhere That's Green" sung with emotional fervor by Audrey and the classic "Suddenly Seymour". The gut-wrenching immediacy of these two songs are a perfect example of the diamond sharp precision of Alan Menken and the late Howard Ashman. The witty wordplay encased in the musical as a whole makes the damn thing float into the stratosphere. Macabre…yes, but so laugh out loud funny too.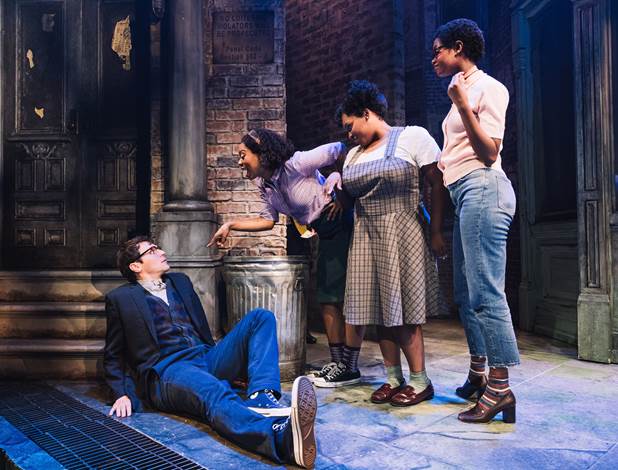 Running throughout the show are a variation of a Greek chorus, this fab trio Crystal, Ronnette, and Chiffion essayed by Salome Smith, Ari Groover, and Joy Woods comment and dance and sing DoWop ditties as the plot thickens and coagulates. The tale of this hungry plant goes down its inevitable rabbit hole taking the audience gleefully with it.
With an already twice extended run, that by all appearances is sold out, this plant-lovin' tuner is a very hot commodity. The perfect exceedingly small venue is no doubt the reason why. But it proves to be a sensational  theatrical space to experience this unusual musical…. the final scenes dazzle as Audrey II grows into its most imposing stature as it gazes at what is left of the humans on stage and then into the real audience, be afraid….be very afraid. Well as the final refrain so eloquently states…" Don't Feed the Plant"!!!        
Playing at The Westside Theater, 212 239-6200, telecharge.com
Running Through January 19th 2020.