Sorcha Fox and Donal O'Kelly                      Photos by Pat Redmond
                          by Eugene Paul
Well, now, Irish charm, famous in song and story, does it again in the persons Donal O'Kelly and Sorcha Fox, two of the most endearing, beguiling, twist-round-your-little-finger Irish performers you'd ever have the pleasure to meet and if it wasn't for the sheer earnestness of them you'd wonder how they ever had the gall to dash through the balderdash they dash through. Of course, it's partially understandable because O'Kelly's the author, isn't he, of the cockamamie concoction he has strung together as the wild romp they play all out for all it's worth and you have to bless them for powering through it all but even at 80 minutes and even at a ripping gallop it is a bit hard on the bum.  Because what do they do? They tell, enact, gut their way through a tower of claptrap from hilarious to maundering, from nutsy fagin to poetic, from old dime novels to misty blethers, from internals to externals, with them making all the sound effects and writhings, too. And if it wasn't for the indefatigable charm the two of them positively ooze, you'd be sorely tempted to vent razzes.  Ye gods, what a yarn.
There's this Larry – that's Donal O'Kelly, playwright/performer, ooh, the charm of him, mugging indicator, tender actor, who's just been let out of ten years in jail for being caught with a ton of marijuana less a few handfuls he thought nobody'd miss.  He's broke, of course, and his pal, Seamus (O'Kelly plays him, too, in fact, he plays about a dozen characters as well, in addition to all the sound effects.  He gestures, fingers become guns, pops his eyes, describes the scenery, even the action.  He does everything except tell us why he's doing everything. We audience have to do something, too, don't we, such as pay attention and wonder.  It's not an easy job.  Ours or his.)
Well, Larry is cajoled into stealing a statue of the Madonna.  With a damaged ass.  Not the Madonna's, his.  He fell from the second story where he'd been clutching a drain pipe because a cat sitting on the window sill up there – yes, you have to swallow that bit first, it's early on before the other bits you have to swallow – that cat clawed Larry whereupon Larry fell to the ground on his arse – it's Irish we are – and broke his cell phone and the pieces went – oh, you don't want to know but it's part of the plot and not just airy persiflage – and Larry had to go to hospital to get the pieces out of – oh, no, it's worse telling without the charm. So, anyway, he gets Seamus to photograph his – er – dilemma and give him the film as evidence. Of what, don't ask.  It's plot.  And this is very early in the play, my dears…
Well, who should be in this abandoned church but Sister Martha, that selfsame wonderful Sorcha Fox enacting her and oh so many others and all imbued with Sorcha's charm, even when she's being the statue itself.  And Larry accidentally breaks off a blessed hand.  And puts it in his pocket. Not to worry, playwright O'Kelly weaves this into the plot, too.
Sister Martha has been nunning in Nigeria these past sixteen years but was ousted thanks to the wicked machinations of a huge, malevolent oil company that's poisoning the earth and water and making the poor little children puke, get sick and die. And she's entrusted with a roll of film to smuggle into Ireland which is the evidence of the evil head of the evil oil company committing flat out murder. Tell no one.  And trust no one.  Give it only to Henry Barr. Aha! You that have been paying attention note: another roll of film!  Two rolls of film! There's plotting for you! Something clever is going to transpire you can be sure!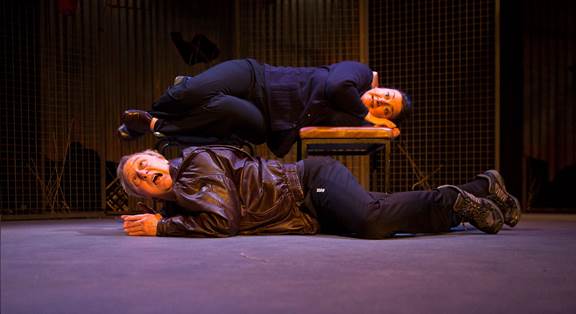 Larry and Martha endure countless episodes – little things – all described, sounded out, enacted so clearly we don't have to deduce a thing, just read the performance. All kinds of circumstances: held prisoner, hairbreadth escapes, communes with nature, avoiding pursuit by evil Nigerians here in Ireland who want The Film. Everything at the behest of driving Jim Culleton, their director, who leaves no stone of playwright O'Kelly's unturned, if you'll pardon the expression, all of this in a setting by John Comiskey of wire caging artfully pierced surrounding two mismatched chairs.  Everything else trolled out by O'Kelly and Fox, climbing stairs, driving vans, mucking about at a boggy pond, at a waterfall, watching a salmon, ekeing through countryside, bracing into and around Dublin, miles and miles, up, down, around, all in two chairs and an artfully pierced wire cage.  Daunting.  Dauntless. Until the Big Thing, right?
Do they make it to the end?  Do we? Ah, the charm.  If you ever, ever doubted the charm of the Irish, you've met the epitome in Donal O'Kelly and Sorcha Fox.  I give the edge to Sorcha.
Little Thing, Big Thing. At 59E59 Theaters, 59 East 59th Street near Park Avenue.  Tickets, $24.50 - $35. tickets@59e59.org 80 min. thru Sept 27.