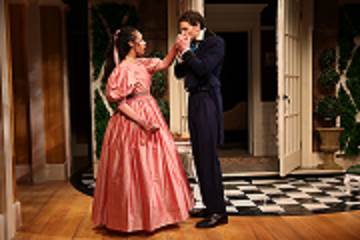 Caroline Strang and Ian Holcomb
London Assurance
                                                      By Eugene Paul
With a New York assurance bordering on sorcery, director Charlotte Moore romps through one of the most delectable and enchanting  -- and fiendishly difficult to perform – of theatrical endeavors,  the drawing room farce and comes up a winner all round  with Irish-American Dion Boucicault's 1841 triumph, London Assurance , itself a ground breaking braggadocio  of a piece. Her splendid company of players are having such a good time it's infectious. And never have they been turned out more handsomely. Costume designer Sara Jean Tosetti's slit eyed take on  frills and furbelows of the period suit set designer James Noone's  flummeries to a tee. Among the fittings and appurtenances, I don't recall a fancier eye catching floor. Such a doozy.
With this, the second play Boucicault ever wrote, at age twenty–one, he went on to as blazing a bonfire of a career, scandalous highs, scandalous lows, as anyone could ever dream of, frequently putting on the stage pages torn from his too colorful life. (It's said he wrote or rewrote three hundred plays. Which is a puzzlement, considering his amorous history. Where'd he find the time?)
We find ourselves in fashionable Belgrave Square, London, sly wretch Cool (excellent Elliot Joseph) manservant to Sir Harcourt Courtly  ( wickedly splendid Colin McPhillamy) constantly twiddling and twitching  his employer's egotistic preenings as well as his actual diminished locks and augmented girth. Sir Harcourt sees himself as a lady killer and is not at all surprised to be preparing to marry the eighteen year old ward of his good friend,Max Harkaway ( fine Brian Keane). Nor is Harkaway surprised at the arrangement.  There's an actual fiddling of property in the match benefiting the much older Sir Harcourt.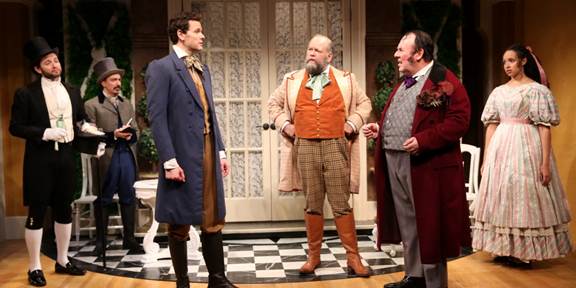 photos by Carol Rosegg
Overhearing these arrangements ( lots of eavesdropping going on in these vintage plays) are Charles Courtly,  (dashing Ian Holcomb) Sir Harcourt's young rake of a son and his ne'er do well rapscallion of a companion Dazzle (delightful Craig Wesley Divino) who thinks they ought to crash the party at Oak Hall, the site of the impending wedding. Dazzle can worm himself into any situation – and does – but young Charles is still learning, perfectly willing to assume a new identity, say, young Hamilton?  Hamilton it is. His disguise?  Spectacles.

Rachel Pickup & Colin McPhillamy
With a gentle rumble of the setting, we are in Oak Hall, Gloucestershire, young Grace Harkaway (bewitching Caroline Strang)  doing something usefully useless while housemaid Pert (delightful Meg Hennessy) does something uselessly useful and bumptious lawyer Mark Meddle (bumptious Evan Zes) does more of the same plus much alert hiding and ducking  chairs to engage in the inevitable eavesdropping they all seem to need so . The crashers, Dazzle and  - er – Hamilton, would adapt easily except that Hamilton, young Charles Courtly, falls instantly and madly in love with Grace, who, shudder, is on the point of becoming his mother.  Something must be done.
Thank Heavens for the arrival of Lady Gay Spanker (giddily marvelous Rachel Pickup) who has ridden over on her horse from the neighboring estate of the Spankers.  Her husband, Lord Spanker (terrific Robert Zukerman) much older, has arrived by carriage. She is just the machination clever Dazzle needs in order to help out his pal Hamilton who is so smitten by the adorable Grace, whose eye has an all too wise glint sussing  out the goings on.  Dazzle prevails on Lady Gay to flirt with Sir Harcourt for an immediate elopement. Lady Gay is game, among other things. And having a husband is not a very big bother. And Sir Harcourt? Nothing would please his foppish noggin more, as well as his unfailing overweening ego. It's when Dazzle presents the gorgeous dueling pistols that things get a bit testy.
Throughout, and withal, director Moore dispenses  a light hand and a wealth of silly bits guiding  her remarkable company in  decorating their already decorous proceedings, but, as always, the play's the thing.  And Boucicault remains then as now a crowd pleaser. But you gotta pick and choose, and the Irish Rep has chosen well.
                                                          *
London Assurance. At the Irish Repertory Theatre, 132 West 22nd Street.  Tickets:$50-$70. 212-727-2737. 2 hrs, 20 min. Thru Jan 26.