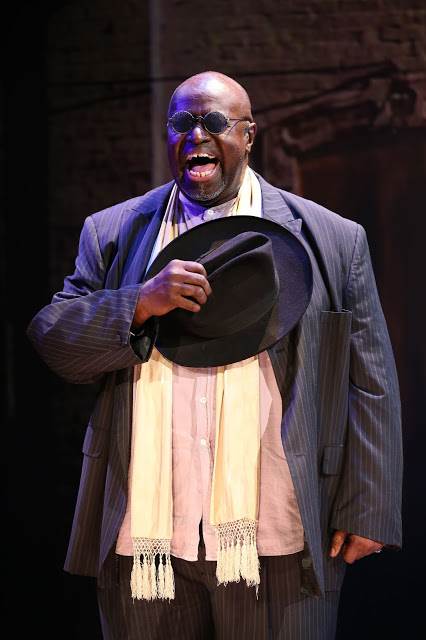 by Deirdre Donovan
Following a season with so many musicals suffering from elephantitis, the musical Lonesome Blues is refreshingly intimate.  An homage to the legendary bluesman Blind Lemon Jefferson, it breezed into the York Theatre on June 12th and will sojourn there for a brief run.
Co-written by Alan Govenar and Akin Babatunde and performed by Babatunde, the show features 32 musical numbers that are culled from the master's oeuvre, gospel, traditional blues, and original songs by Govenar and Babatunde.  Set in Chicago, the whole piece is sung in a talkin' blues style, with Babatunde insinuating himself into Blind Lemon and various other personas.
Babatunde isn't the only performer on stage.  Sitting at stage left on a small stool, David Weiss accompanies the singer on a folk guitar.  Weiss brilliantly plays a mix of smooth mellow tones and syncopated rhythms, plucking away with his finger pick to create sonic effects that evoke atmosphere or reinforce dominant images embedded in a song. The connection between the two is palpable.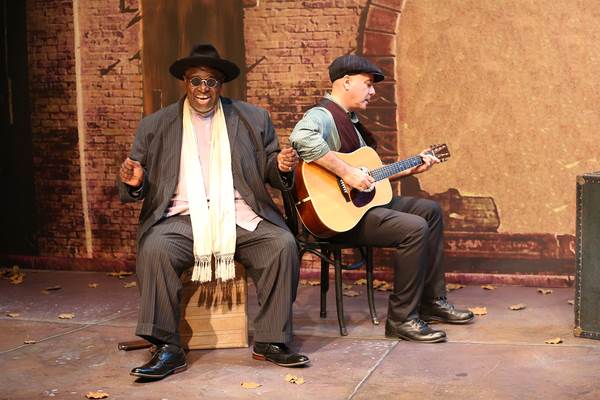 PicAkin  Babatundé and  David  Weiss   Photo  Credit:  Carol  Rosegg.
Lonesome Blues is part biography, part concert.  For 80 minutes, Babatunde disappears into the bluesman Blind Lemon and tells his story with unexaggerated concentration and deep commitment.  Babatunce doesn't inundate us with biographical facts all at once but slowly parcels out this, and that, detail about the musician who was dubbed "The Father of the Texas Blues."
For those newbies who aren't acquainted with Blind Lemon, he was born to Alec and "Classie" Banks Jefferson on September 24, 1893, on a farm in Couchman (about 80 miles south of Dallas).  He was the youngest of seven children (each and every one a boy).  Blind from birth, Blind Lemon grew up in Texas and eventually crossed paths with the country blues singer "Lead Belly" (Huddie William Ledbetter) in Deep Ellum in 1912.  It was a momentous event for the young Blind Lemon.  Their friendship blossomed in that famous neighborhood in East Dallas, a hotbed of country blues and fast living.  The two musicians would travel together for the next four years, finding gigs, breaking women's hearts, and getting into "trouble." 
The two artists' life together in Deep Ellum is echoed in the lyrics of old-time ballads like "Deep Ellum Blues," "Elm Street Blues," and Bobbie Cadillac's "Carbolic Acid."  As Babaunde launched into this musical triptych at the York, one can almost see the tattoo parlors, the beer pubs, and the hustle-bustle that defines the steamy streets of Deep Ellum.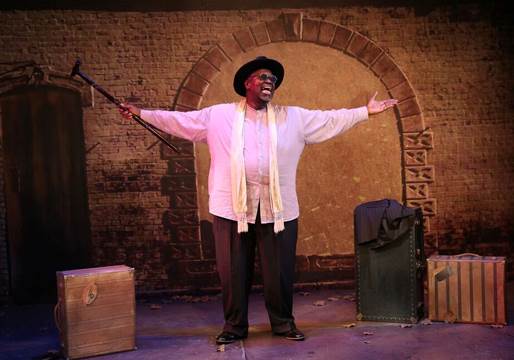 Babatunde and Govenar's original songs blend right into the dramatic fabric of the show and give us a better foothold on Blind Lemon as an artist and man.  In their "Gossip Interlude," we listen to the local gossips wag their tongues about Blind Lemon, pointing out how foot-loose and carefree the bluesman seemed to be.  There's Miss Annie ("He moves from town to town, hmmff"), Smittie ("Why does a man who's supposedly blind sometimes wear glasses?"), Quince ("He's blind all right"), and Emma ("Now, chile, I didn't even know the man could talk!"), all sizing up the legend.  When this original song is through, we might not have a crystal-clear picture of who Blind Lemon was, but we do sense that he stirred up a heap of gossip and was a bluesman extraordinaire.
Lonesome Blues meanders along, uncovering the story of Blind Lemon in his native Big Sky country and beyond.  We learn in the paean "Choo Choo" that Blind Lemon was a travelin' man who rode the rails.  While the song "Choo Choo" captures the aura of train travel in the early 20th century, the ballad "Indiana Harbor" gives a more realistic picture of how Blind Lemon and his soul-mate Lead Belly survived as musicians.  Yes, they would travel the trains cost-free—but they had to sing for their supper and entertain the folks on board till everybody got to their destination.  To drive this point home, Babatunde impersonates the Conductor and barks: "You boys sit down.  You going to play music?"  And, naturally, the only answer for Blind Lemon and Lead Belly was "yes".
During the show, we learn how Blind Lemon got his big break.  It happened, not with him knocking on any doors, but simply by singing his heart out on the Dallas pavements, hoping passersby would toss coins his way.  They did.  But the proprietor of R. T. Ashford Shoe Shine Parlor and Record Shop also heard Blind Lemon's high-pitched voice outside his shop.  And he wrote to Paramount Records about the tin cup troubadour who was blind.  He got a reply back from a mogul named Mr. Mayo Williams at Paramount Records.  And the rest, as they say, is history.  Blind Lemon began recording with Paramount Records and the "second city" became Blind Lemon's second home. 
The best scene in the show?  Perhaps watching the transformation of Blind Lemon from small to big time.  Babatunde, as Blind Lemon, re-enacts how the bluesman sat in front of a recording studio microphone in Chicago in 1925, singing "Broke and Hungry Blues" for Paramount Records.  To ratchet up the drama even more, Babatunde seamlessly morphs into the Recording Engineer who once bombarded Blind Lemon with instructions for the recording.  Naturally, Blind Lemon grew weary of hearing "another take, please."  But he also knew that he wouldn't be paid unless he met the company's demands.  So Blind Lemon kept singing for each "take"—and made himself a name.
Lonesome Blues is aptly titled.  Loneliness, after all, is the dominant theme throughout.  But the "lonesome" in the title can also underscore how Blind Lemon's physical blindness permanently set him apart from the "seeing" world. 
Babatunde's Blind Lemon, in fact, wears tinted glasses and curiously never makes eye contact with the audience.  He seems, in fact, to be a latter-day Homer, staring inwardly into his soul and spinning out poetry for posterity.
In a program note, artistic director James Morgan describes how he designed the "Chicago" set for Lonesome Blues by having a 1995 photo from Florida blown up and printed, along with a tromp 'loeil sidewalk" by Morgan's associate, Michael Harbeck (and his brother Jacob).  The geographic and period incongruities didn't bother Morgan at all since he was attempting to evoke the mood and atmosphere of Blind Lemon's Chicago.  In any case, it works.
B. B. King, Lead Belly, Bob Dylan, and the Beatles have all claimed to be heirs of Blind Lemon.  And the playwright August Wilson would listen to his soulful songs daily for inspiration.  
Okay, the musical arguably runs a whiff too long, and could benefit if a couple of songs were cut from the piece.  But don't ask me what songs should be jettisoned or how Babatunde's between-song patter could be trimmed.
Lonesome Blues, directed by Katherine Owens, is an ideal way to acquaint oneself with the legendary Blind Lemon Jefferson.  Babintunde has the pipes and acting talent to give flesh-and-blood to the legend.  Okay, this show doesn't have the glitter and dash of a Broadway musical.  But it does have soul.
Through July 1st
At the York Theatre Company at Saint Peter's Church, 619 Lexington Avenue, Manhattan.
For more information, phone (212) 935-5820 or visit yorktheatre.org
Running Times:  80 minutes with no intermission.