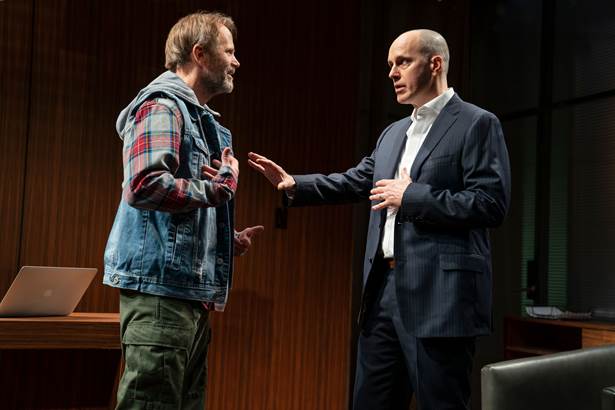 Lee Tergesen and Kelly AuCoin                      photos by Joam Marcus
Long Lost
                            By Ron Cohen
"Just because we came from the same womb, I'm supposed to be responsible for you forever and ever no matter what kind of shit you do?"
That's what David, a well-heeled Wall Street consultant, asks his wastrel brother Billy in Donald Margulies's play, Long Lost, being given its New York premiere in a solid, if not galvanizing, Off-Broadway production by the prestigious Manhattan Theatre Club. And David's question pretty much embodies the gist of Margulies' writing here, an exploration of the inescapability of family connection.
Margulies, who won a Pulitzer Prize for Drama in 2000 for his off-Broadway hit Dinner with Friends and was a finalist for his Sight Unseen and Collected Stories, has a knack for creating recognizable characters you can empathize with, caught up in tense situations. And that talent is well evident in Long Lost. The smartness of the writing and the well-shaped dramaturgy are tempered, however, by a certain predictability in this family drama.
Billy (Lee Tergesen), addicted to drugs and wild behavior which he blames on a "chemical imbalance," has after years of absence reemerged into the life of David and his family, a seemingly perfect picture of well-meaning New York affluence. David's wife, Molly (Annie Parisse), has given up a successful law practice to run a shelter for abused wives and their children. Their son, Jeremy (Alex Wolff), is a loving kid attending Brown University.
LeeTergesen and  Alex Wolf
Returning from lunch, David finds Billy lounging on his office couch. It's not a happy reunion. When they were boys, Billy, the elder, terrorized David, punching him in the face while he slept, pummeling him in the back of the car while the family rode to church.
David, as he tells us, rose from his farm-upbringing by dint of his hard work and smarts. But life held a darker path for Billy, whose misadventures were climaxed by a family tragedy. When a crack-smoking Billy passed out, the flames led to a conflagration that burned down the family home, killing the brothers' mother and father and resulting in jail time for Billy.
Now, Billy tells David he's dying of cancer, and a reluctant David agrees to take him home, at least for the time being.

LeeTergesen,Kelly AuCoin, Alex Wolff and Annie Pariss
Once ensconced in the family apartment (overlooking Central Park, of course), Billy's presence, as you might expect, is the catalyst which forces out into the open a double whammy of disastrous secrets.
The script touches on a number of subjects, with varying degrees of heft. There's the matter of parents' responsibility for their children's sex lives, as Molly discusses Jeremy's relations with his college girlfriend. The motivations of the charity efforts of the well-heeled are also questioned, as illustrated by Molly's fund-raising. Then, there's the collateral damage of infidelity and finally, the nature of death, as Billy looks toward his demise.
But mainly it's the tenacity of family ties that informs the play, and it ends with a depiction of that bonding across generations, tenuous as it may be, between Jeremy, now caught up in an upset of his home life, and a supportive Billy.
Under Daniel Sullivan's well-measured direction, Margulies' story unwinds with precision, and the four actors give solid, convincing performances.
Behind his self-assured Wall Street veneer, Aucoin lets us see the tormented kid David once was, and Tergesen as Billy nicely leavens smarminess with a roguish charm. Parisse's Molly projects an inherent intelligence along with womanliness, while Wolff's Jeremy has a youthful freshness.
There are some gripping moments, and it should be noted that when one of the long-kept secrets was crudely revealed at the performance reviewed, it elicited audible gasps from the audience. For the most part, though, there is something like a mood of reserve in the proceedings, so as to perhaps not overemphasize the familiar template of plot: prodigal returns causing havoc. It keeps Long Lost from really hitting you in the gut.
On balance, though, a Margulies play is always to be welcomed. This is intelligent material well produced, with all the well-hewn physical trappings you expect of MTC in John Lee Beatty's set designs, particularly eye-filling in depicting the tastefulness of David's luxurious apartment, and in the character-defining costumes of Toni-Leslie James.
Long Lost may not totally absorb you in its storytelling, but it won't lose your attention either.
Review posted June 2019
Off-Broadway play
Playing at Manhattan Theatre Club, NY City Center Stage 1
131 West 55th Street
212 581 1212
https://www.nycitycenter.org/pdps/2018-2019/long-lost/
Playing until June 30