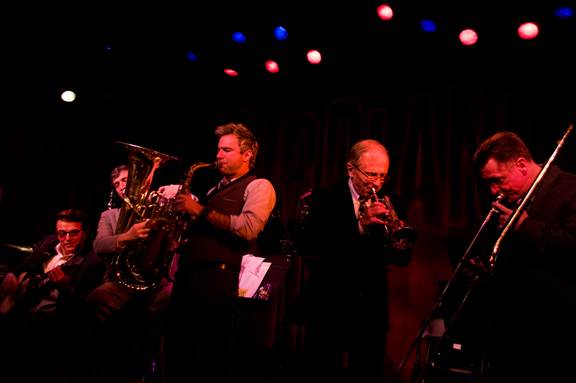 Photos by Michael B. Friedman
David Ostwald tuba ,Ed Polcer cornet, Adrian Cunningham – clarinet, alto sax,
Harvey Tibbs trombone, Vince Giordano banjo
David Ostwald and his Louis Armstrong Eternity Band at Birdland
                                                         by Jeanne Lieberman
The day after New Year's Eve was dreary, very cold, most people home recovering from the night before. However the cure for the day-after blues was a blast of heat that happens every Wednesday at the famous jazz emporium, Birdland, where David Ostwald and his Louis Armstrong Eternity Band channel the music of the 20's and 30's.
A colorful figure now in his 14th year of residency there, Ostwald, who takes requests "on the back o a $100 bill", states "I am the delivery man for Armstrong's spirit, not just his music but the kind of man he was".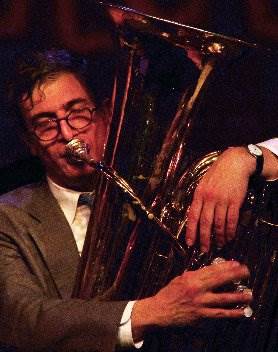 Ostwald, who sets the pace and chooses the songs as he goes, leads a magic meld of multigenerational music meisters that varies slightly from week to week.
This evening's syncopating sextet featured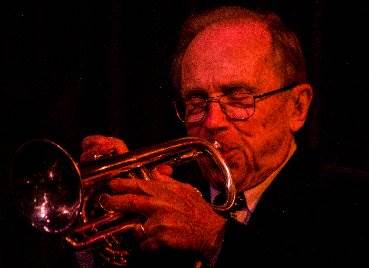 New Jerseyian Ed Polcer, a cornetist who was   the leader of the famous Eddie Condon band;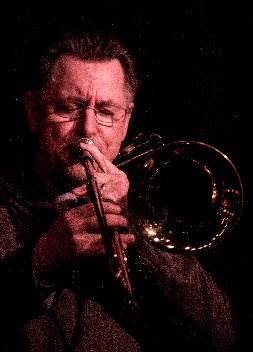 Harvey Tibbs, up from Virginia on trombone,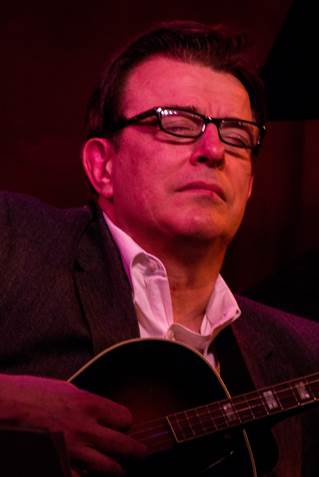 the celebrated Long Islander Vince Giordano of the renowned Nighthawks (now at the Iguana Mondays and Tuesdays) on banjo and vocals;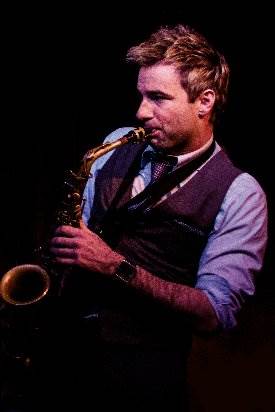 And the youngest and most astonishingly talented Adrian Cunningham from Australia, who delivered an innovative style and substance rarely heard on clarinet and alto sax
Experiencing the group is like listening to a musical conversation. Ostwald chooses the subject and sets the tempo, and the group joins in. One instrument, sometimes the cornet, or the 'bone, delivers a straight forward melody. Then each instrument takes its turn making its own statement, variations on a theme. One by one they improvise on it, dancing around it, the tuba driving it along and keeping it grounded, the percussion providing the foundation in a steady beat with the banjo player/singer adding a frisson of levity to it all. These "conversations": may seem spontaneous and intuitive but underneath they are highly and traditionally structured but each musician may be as articulate as he wants with his solo.  The drummer usually has the last word before the group brings it all home.
Opening with easy relaxed tempo version of "Until the Real Thing Comes Along", perfect to draw in the crowd,  they  then eased into a more lively  "Home Again in Alabama" complimented by  Vince Giordano's friendly vocals.  It was Cunningham who took the melody on his jaunty clarinet then handing it over to Polder on the cornet, who added  some Condon-esque riffs before Tibbs' trombone  lent it an earthier quality, each instruments adding a little more dimension to the piece. Then Saylor took over in a flamboyant percussion solo that silenced the room until Oswald's tuba ended the "conversation".
The old chestnut "Tin Roof Blues"  was a down and dirty drag tempo rendition with a slow struttin tuba, the trombone sliding into the melody, the cornet  jazzed it up bringing it back to the band who syncopated  it, over to the clarinet who  caressed it starting slow and low  ultimately signing off with Giordano's banjo.
Ostwald then signaled an up tempo to "liven it up"  with "My Chinatown", a tune famous in the 30's that Armstrong composed in the 'teens which proved a fast paced jubilant staccato work enhanced by Cunningham's joyous  sax and Ostwald's pulsing tuba.
Throughout the performance the musicians showed their respect and generosity towards each other as Oswald and Giordano periodically left the stage to provide a better view of their new drummer Saylor to display his virtuosity and indeed his rhythms were compelling, At times Polser and Tibbs left the stage to accommodate Cunningham's multi octave, multi layered performance.
Vince sang "Dinah" a 1933 Armstrong opus that can be seen in a Scandinavian concert on UTube,
A terrific version of the blues classic "St. James Infirmary" gave the trombone the melody which he delivered with appropriate mournful sounds, soon t be echoed by the versatile band as Vince Giordano delivered its poignant message. 
  "Its getting a little dark in here – let's liven it up" said maestro Ostwald and they did with the happiest tune of the evening,  Armstrong's  1930's piece  "Mahogany Hall" to which Giordano added a bit of Armstrong's famous "scat" style.
The set cooled down with a soothing "Till the Right Man Comes Along" an ended with an all out version of another Armstrong number as if to emphasize their mastery of the genre.
As the photographer and frequent visitor Michael Friedman, whose pictures are featured in this article, said "sometimes they're good, sometimes they're great and sometimes they're out of this world. But they are never bad. Tonight they really connected".
About Birdland: Named for alto saxophonist and jazz pioneer Charlie "Bird" Parker who dubbed it "The Jazz Corner of the World," Birdland opened on December 15th 1949. For 60 years it has been home to jazz legends, from Parker, John Coltrane Duke Ellington and Count Basie to Oscar Peterson, Hank Jones, Diana Krall and everyone in between. The original 52nd street location was a cultural barometer and meeting place, inspiring the songs "Birdland" and "Lullaby of Birdland," and serving as a regular haunt for celebrities and cultural figures. The modern incarnation is a state of the art nightclub featuring award winning Southern and Cajun cuisine, first rate sound and lighting and a who's who of contemporary musical artists, 7 nights a week.
Birdland Jazz Club is pleased to announce their thrilling line-up of
TICKET INFORMATION: Purchase tickets at: www.BirdlandJazz.com
315 W 44th Street
For more information and reservations call 212-581-3080.
Ticket prices will vary by performer. At the tables, there is a $10 food/drink minimum per person in addition to the music charge. At the bar, the music charge will include one complimentary drink with no additional minimum.