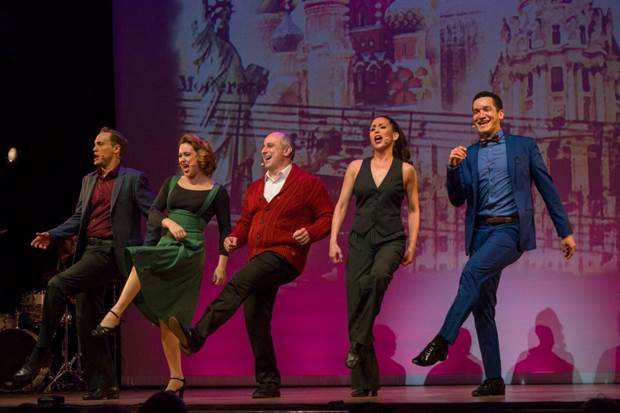 By Deirdre Donovan
Whether you are a flag-waving American or not, you would likely have been delighted by Irving Berlin:  American, the latest offering from the 92nd Street Y's Lyrics & Lyricists series.  Directed, co-written, and choreographed by Noah Racey, the concert was choc-a-bloc with dozens of Berlin's beloved songs and sprinkled with fascinating anecdotes about the legendary songwriter. 
The concert coincides with the 100th anniversary of Berlin's composing the patriotic song "God Bless America." Many still argue that it should be our National Anthem--and who can blame them?  It's far and away easier on the tonsils, has a hummable melody, and glows with genuine patriotism.
While the program was a joyous celebration of the creation of Berlin's famous anthem, it also turned into a wonderful opportunity to present a large musical swath of Berlin's unforgettable songs.  Racey wrote in his program note that Berlin penned over 1500 songs during his 80 year-long career, including the scores to 20 Broadway musicals, 15 Hollywood films, and garnered eight nominations for an Academy Award. 
Perhaps Jerome Kern said it best with his famous quote:  Irving Berlin has no place in American music—he is American music."
The two-hour concert that unspooled in Berlin's honor at 92nd Street Y's Kaufmann Hall captured the many moods of the legendary artist.  Although some might argue that the concert zig-zagged from anthem, to ballad, to ragtime in a helter-skelter fashion, and followed no strict chronological pattern, it did succeed in reflecting the multi-faceted talent that Berlin possessed and how his songs continually tended to surprise people.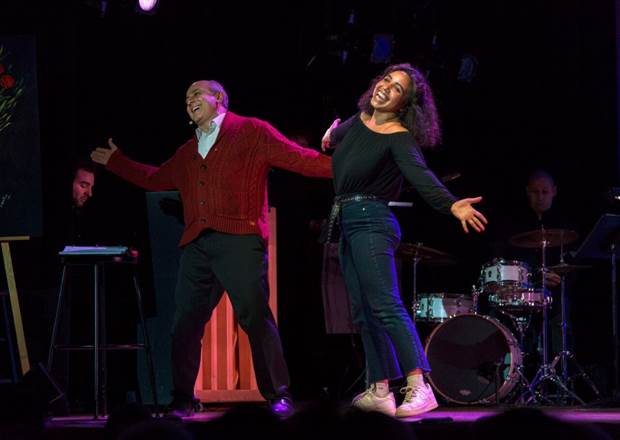 The cast was led by Stephen DeRosa as Irvin Berlin, with Jada Temple stepping in as an interviewer attempting to "break the code" of how and why Berlin wrote so many enduring songs.  The other triple threats on stage included Holly Butler, Danny Gardner, Emily Hsu, Bryonha Marie, and Richard Riaz Yoder.
The event kicked off with an ensemble number "Marching Along with Time," which suitably introduced the theme of "time."   Sung by five members of the company (Yoder, Hsu, Gardner, Butler, and Temple), it was an ideal choice for this retrospective look at Berlin's life and works.  On its heels came "Cohen Owes Me Ninety-Seven Dollars," which DeRosa delivered with incredible relish and élan.  Berlin, a Russian Jew who immigrated with his family to New York City at age 5, could poke fun at his own race, and did so with when he created the latter song in 1915.  Unsurprisingly, it turned into a classic that continues to make Jew and non-Jews alike smile.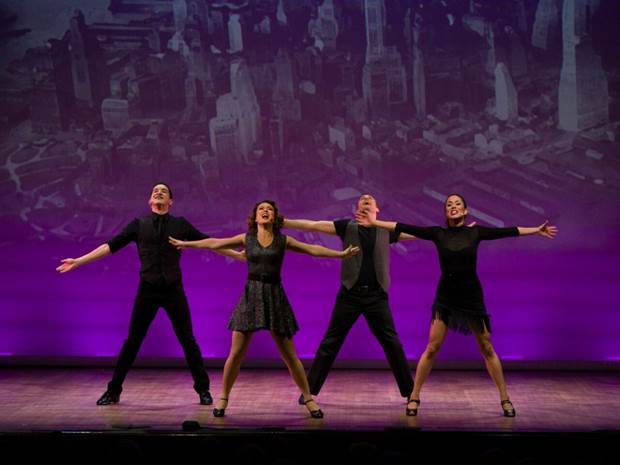 The concert kicked into high gear with "Alexander's Ragtime Band."  Laurence Bergreen, in his biography As Thousands Cheer:  The Life of Irving Berlin noted that "Berlin smashed the mold with his groundbreaking hit, "Alexander's Ragtime Band," with its chorus of thirty-two effervescent bars."  It became Berlin's first major hit and would gain more fame when the 1938 film of the same name appeared.  DeRosa dusted off the old song in real time at the 92nd Street Y, sharing that it's secret was that "it was unique and familiar at the same time."  It literally chimes a bit with Stephen Foster's music but has Berlin's fingerprints all over it.
Naturally, "God Bless America" (cut from Yip, Yip Yaphank revue 1918) pulled on the patriotic heartstrings of everybody.  DeRosa contextualized the piece by pointing out that the song's "hook wasn't about the war but about the country."  Little wonder that the anthem still speaks to Americans today.
While the 20 songs performed in Act 1 re-acquainted you with Berlin's oeuvre, Act 2 allowed you to see the long shadow that he has cast over the American musical landscape.
 The curtain rose on "Steppin' Out with My Baby" from the film Easter Parade, with Gardner, Hsu, Yoder, and Butler snapping their fingers and smoothly sailing through the lively song.  Other standouts form Act 2?  Well, judging from the audience's response, three songs definitely lassoed everybody's heart: "They Say It's Wonderful" from the musical Annie Get Your Gun (charmingly crooned by Hsu); "Cheek by Cheek" from the film Top Hat (romantically sung by Gardner); and the classic hit "Always" (performed with velvet smoothness by DeRosa).
Beyond the superb smorgasbord of Berlin songs, the production values were in place.  Chelsie McPhilimy's projections were visually spot on, as was John Kelly's lighting.   A special shout out to the live band (Justin Smith/violin, John De Simini/reeds, Leo Huppert/bass, Dan Weiner, drums) and music director Dan Garmon.  Without upstaging the performers, they added pizzazz to the concert.
True, the performers relied on hand-held scripts to keep the dialogue flowing throughout the show.  But nobody ever buried their nose in them.  And, most importantly, their voices could be heard to those sitting in the back rows of the capacious Kaufmann auditorium.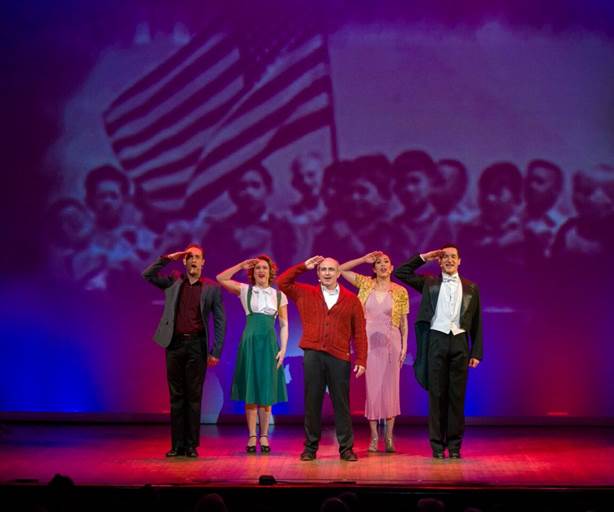 Photos: Richard Termine
The musical confection wrapped up with –what else?—"God Bless America" (the 1938 revised version) sung by the company.  No question that Berlin, affectionately dubbed the Father of the American songbook, would have approved.
Five performances only.  March 24th - March 26th.
The next event for Lyrics & Lyricists:  Lynn Ahrens: A Lyric Life May 5th - May 7th.
For more information, visit www.92y.org/lyrics
Running time for Irving Berlin:  American:  approximately 2 hours with one intermission.
Next:
May 5, 6, 7
Lynn Ahrens: A Lyric Life