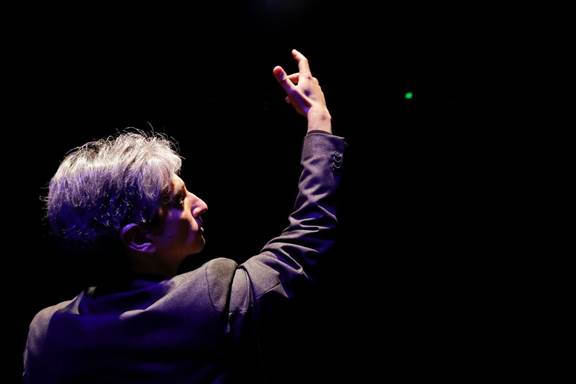 Hershey Felder                           photo courtesy of Hershey Felder Presents
                                                   By Eugene Paul
Maybe consummate master of words William Shakespeare wondered if music be the food of love, but Leonard Bernstein, master of music knew that music is love.  And God.  And all. At least in Hershey Felder's richly emotional, deeply moving solo drama in which Felder runs the gamut from young, passionate Lennie to old, passion spent Maestro Bernstein, a triumph and a tragedy. Music was everything to Bernstein; it shaped and shattered and crowned and drove his life, as incredible Hershey Felder doesn't just tell us, he shows us.  Along the way he is not only the Incomparable, he becomes Lenny's exasperatingly negative father, he adopts the personas of giant mentors Rodzinski, Koussevitzky, Walter, Copland and others.
And how does young Lennie barrel his way into a life of music when Papa insists in a barrage of Yiddish and Russian he learn a trade, get into business, make  money, support a family? He gives piano lessons at a dollar a lesson on meshugineh Tante Clara's piano that she left in their hallway, to kids he scrounged up.  And with that money he paid his own way into the New England Conservatory of Music because Papa flatly refused. When he was thirteen, he made his Bar Mitzvah speech in English, Yiddish, Russian and Hebrew.  Papa still wasn't impressed. When he got into Harvard, it made no dent in Papa because he was in the music department.  He would end up a klezmer, anathema to Papa, eating in the kitchen with the help.
Leonard knew that the world of music he wanted to enter as a composer was controlled by conductors and used every wile to meet them, to get to know them, for them to get to know him. Implicit in Hershey Felder's acting out charming meetings of these musical greats, these arbiters of music, is a subtext of sexual attraction, which follows the lifelong theme of Bernstein's life, that music is love and channels his endless pursuit of love: Rodzinski's electric blue eyes, Koussie's avuncular sagacities, Copland's charming boyishness, all reach out to Lennie. And Lennie thrives.
He meets beautiful, talented Felicia Montealegre, they become friends, lovers, then part. Felicia's career takes off, and Lennie decides she is everything he needs, a mate to keep him on track, to give him the children he wants, to organize his life.  They marry and all of it comes to pass.  She gives up her burgeoning career for him, for their family, for their children.  Lennie's father has decided that at last his oldest son is a mensch. Lennie is in concert halls, Lennie is on television teaching music to the children of the world, Lennie is rabbi of music to children around the globe. He composes, he creates the Israeli Symphony, but conducting? Not until Broadway's West Side Story does he become everybody's composing darling as well.  Yes, there were other Broadway shows, On the Town, Wonderful Town, Candide, all distinguished, but not like this. This was a huge hit, changed the way musicals were shaped forever.
On top of the world. Everything to everybody. Dissatisfied. He hasn't composed his masterpiece, his great symphonic work, not yet. And everything is pulling him in different directions. He hasn't really found God, he hasn't really found Love. And he throws it all away. He falls madly in lust with Tommy and leaves Felicia and his family. Tommy lasts a year. Felicia and the children forgive him and take him back, life resumes but it is never the same. Then Felicia, his mainstay, the love of his life, contracts cancer and dies and Lennie is unmoored. Cigarette in one hand, liquor in the other, he falls off the stage in his last attempt at conducting. He writes a poem:
          Afraid
          Died in my vocabulary long ago
          Except for hurting someone I love
          And then of not writing my Piece
          Before my Not-to-Be.
What's truly astounding is how Hershey Felder, a wonderful musician, pianist performer, weaves music, music, music throughout the entire performance, which has been beautifully directed by Joel Zwick.  Felder storms, cajoles, clowns, dreams, roars through music, Bernstein's music, Wagner, Copland, Mahler and lights up our minds and hearts. So it's even more tragically bitter when he shows Bernstein realizing that his musical epitaph is there, in West Side Story, a work he considered piddling compared to the great symphony he had inside him still unsung. He felt it his punishment for hurting Felicia. That we don't agree with him, that his music in the show is our music now is his true legacy.  He has touched us all, and shown the way to his God and Love.
Maestro. At 59E59 Theaters, 59 East 59th Street near Park Avenue.  Tickets:$70. 212-179-4200.  105 min. Thru Oct.23. Extended.