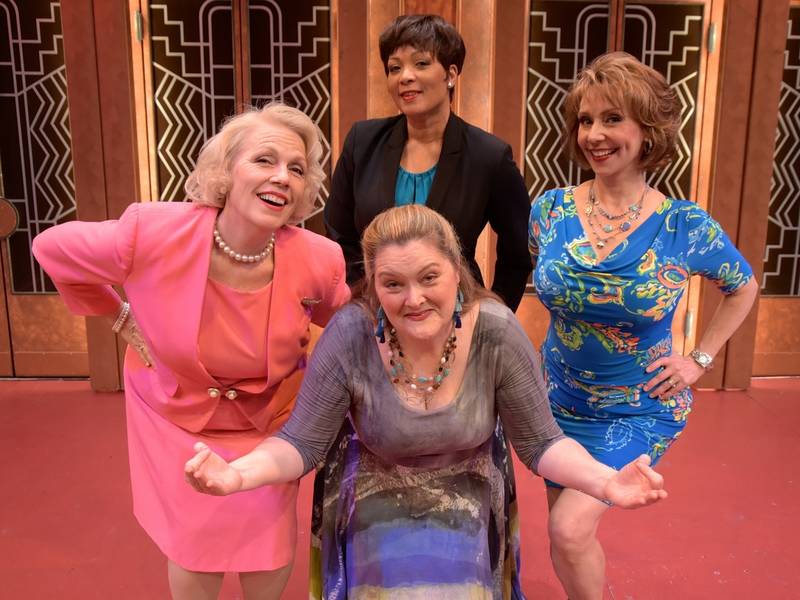 Clockwise from center: Megan Cavanagh, Roberta B. Wall, Donna J. Huntley and Debby Rosenthal (Photos by John Vecchiolla)
Menopause The Musical
                              By Edward Lieberman
Not much mystery here: the title says it all!  The show revolves around four characters, purportedly portraying four different female personality types: a "Professional Woman," played by Donna J. Huntley; "Earth Mother" (hippie), played by Megan Cavanagh; "Soap Star," played by Debby Rosenthal; and "Iowa Housewife," played by Roberta B. Wall.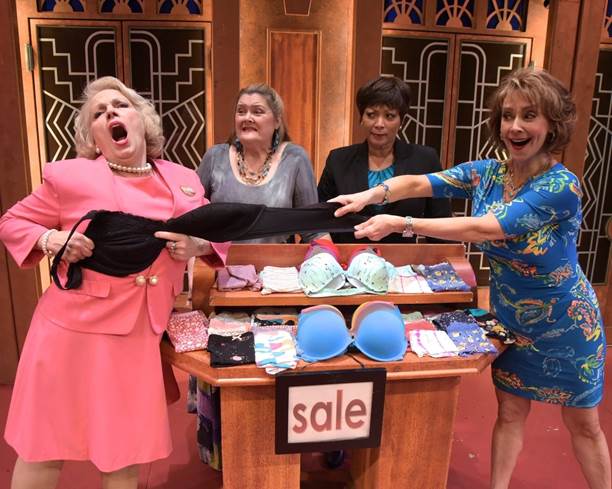 Photos by John Vecchiolla l to r: Roberta B. Wall, Megan Cavanagh, Donna J. Huntley and Debby Rosenthal
The four women meet at Bloomingdales and clash over the last black bra. Soon they are meeting each other on other floors of the store and comparing notes on "the Change" that they are all going through. Notwithstanding the description of their characters, the differences are not, at least to the "uneducated [a/k/a male] ear," developed by the largely undeveloped backstory of their character so much as the styles of each performer. Although three of the four actors can be described as "plus sized," they still bust the moves on several numbers.
That said, the attraction of the show is the adaptation of some two dozen hits from the '60's - '80's  into feminist anthems, with varying degrees of hilarity. Thus, for example, the opening number takes the song, "Chains, Chains, Chains/ Chains of Fools" and converts it into "Change, Change Change, Change of Life." That sets the tone for such other "hits" as "My Husband Sleeps Tonight" (from "The Lion Sleeps Tonight"); the Bee Gees hit, "Stayin Alive" becomes "Stayin' Awake"; Irving Berlin's "Having a Heat Wave" becomes "Having a Hot Flash"; "Puff, My God I'm Draggin"; and three other rib tickers, "I'm Lookin' for Food in Too Many Places, (from "Lookin' for Love in All the Wrong Places"); Burt Bacharach's "Wishin' and Hopin" becomes "Drippin' and Droppin"; and Smokey Robinson's "My Guy" becomea a riotous "My Thighs"!!!
Unlike the typical WBT production, which is directed, produced and cast by WBT, this is a stop on the ongoing national tour of the show, which, among other accolades, is the longest-running scripted musical in Las Vegas history, still running since 2006. All of the performers, therefore, have been working together for awhile, and they meld their talents perfectly. Although many of the songs start out as solo pieces, most end with the others joining in with four-part harmony. Three numbers stand out in this reviewer's mind: Ms. Huntley's solo rendition of "What's Love Got To Do With It," during which she tours the audience, and two numbers by Ms. Wall: the aforementioned "My Thighs," and her showstopping ode to a . . . vibrator, to the music of "Only You."
All in All, it was a hilarious, fun-filled evening, even for the males in the building! And to top it all off, the prime ribs are back!!!
Menopause runs 90 minutes, with no intermission.
Performances through March 24, 2019.                                                                                                                  
Box Office: (914) 592-2222; www.broadwaytheatre.com       
PROSTATE, THE MUSICAL