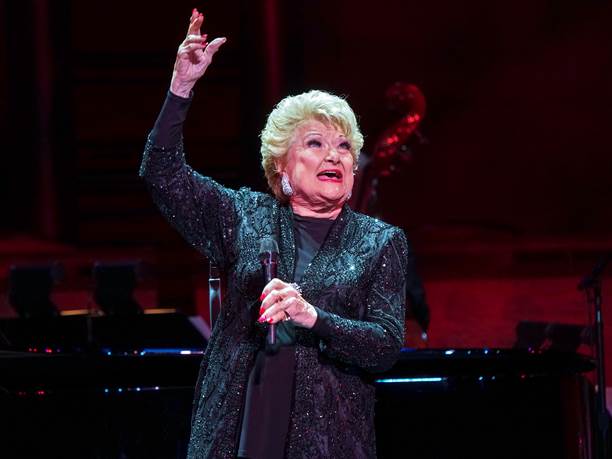 By Barry Bassis
Stars of cabaret sing the Great American Songbook
Mabel Mercer (1900 -1984) was a legendary cabaret singer, who was admired by audiences and by other singers. Frank Sinatra said, "Everything I know about singing, I learned from Mabel Mercer" and called her "the best music teacher in the world." She didn't give formal lessons, but Sinatra, Billie Holiday and others religiously attended her shows, where she was regally seated as she performed.
The Mabel Mercer Foundation just put on the 29th annual series of concerts called the New York Cabaret Convention at the Rose Theater at Jazz at Lincoln Center. There were four concerts, each with a different theme, of which I attended two.
"You and the Night and the Music Celebrating Rosemary Clooney, Barbara Cook and Julie Wilson" paid tribute to three great singers, all of whom sang in cabaret, though Clooney also starred in movies and Cook created some of the iconic roles in Broadway musicals. Wilson, known as "the Queen of Cabaret," was also a Tony nominated actress for her part in the musical "Legs Diamond" and acted in movies and television.
The concert featured songs at least one of the three honorees sang, though there was some overlap in their repertoires. The performers at the concert made no attempt to recreate the styles of the three women. For example, Darius deHaas sang a smooth "Sophisticated Lady" (from Clooney's album of Duke Elllington songs, which she recorded with Duke), with more melisma than she did.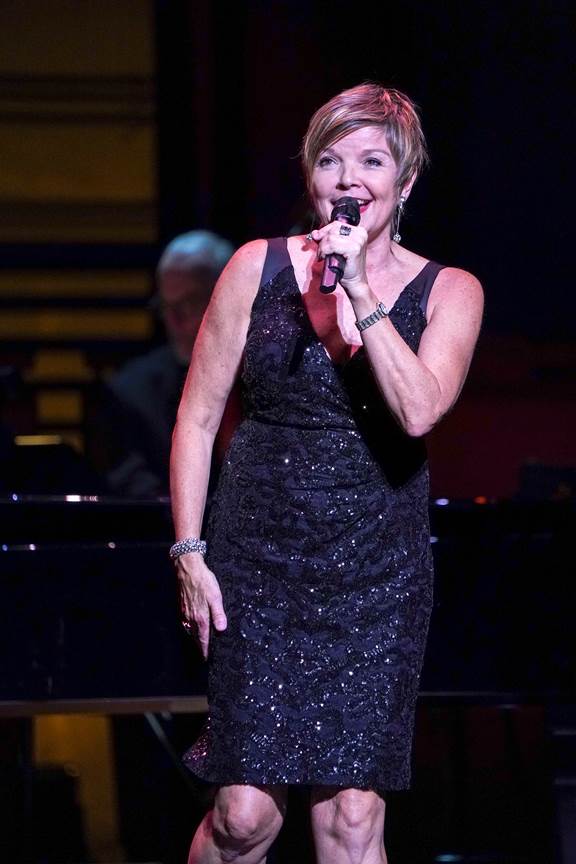 Photo credit Richard Termine
The show started with Karrin Allyson, one of the leading jazz singers, doing "The Surrey with the Fringe on Top" and "Body and Soul." Both have been sung by innumerable jazz vocalists as well as instrumentalists. She really swung on the Rodgers and Hammerstein piece.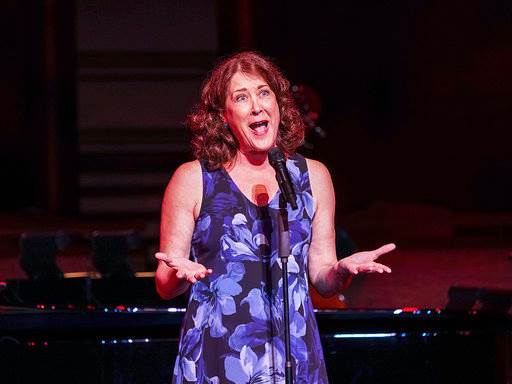 Karen Ziemba (who is not only a terrific singer but also a dancer and actress) first did the funny
"My Dog Loves Your Dog" and later a sweet "Count Your Blessings" (which Rosemary Clooney recorded on her Christmas album).
James Naughton delivered a resonant "The Folks Who Lived on the Hill" with his firm baritone and later returned with "I Ain't Got Nothing But the Blues," where he sounded a bit like Joe Williams.
Laura Shoop showed off a pure soprano that recalled Cook in "'Til There Was You" (from Music Man) and "Vanilla Ice Cream"(from She Loves Me), two songs that Cook introduced in the original Broadway productions.
Kenita Miller delivered a soulful version of Billie Holiday's "God Bless the Child" and a lively version of the theme song from the t.v. show "Maude."
                              Photo credit Richard Termine
Jay Leonhardt (the excellent bassist who accompanied the singers) himself sang "Hey There" from Pajama Game. While he doesn't have the vocal resources of the other performers, he demonstrated that he could put out a song without much voice.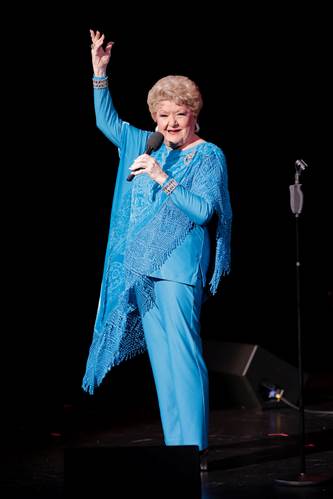 Marilyn Mayes             Photo Richard Termine
The showstopper of the evening was the phenomenal 90 year old Marilyn Maye. She first sang Sondheim's defiance of time and setbacks from Follies, "I'm Still Here." She returned near the end of the show with songs with the same theme of perseverance: "I've Got a Lot of Living to Do," "The Secret of Life" and "Here's to Life." At the end, the audience gave her a standing ovation.
The Night They Invented Champagne: The Lyrics of Alan Jay Lerner
Alan Jay Lerner was a brilliant lyricist, with Frederick Lowe and Burton Lane and other distinguished composers, including Kurt Weill, Andre Previn and Leonard Bernstein. His songs won Academy Awards, Grammy's, Golden Globes and Tony Awards and he also wrote scripts for stage and screen, winning an Academy Award for the script for the film, An American in Paris and again for Gigi. His greatest triumph, with Lowe, was My Fair Lady, currently revived in high style on Broadway. In 1971, he was inducted into the Songwriters Hall of Fame.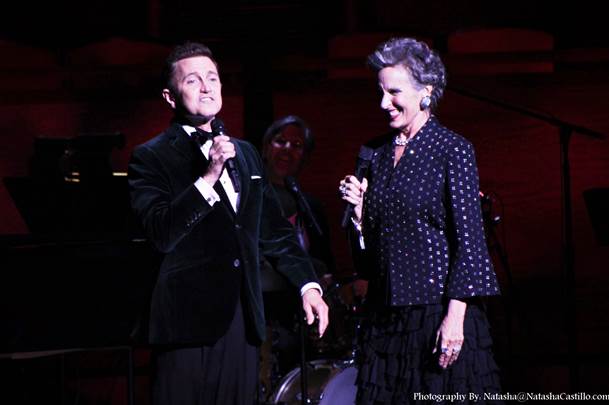 The affable co-hosts of "The Night They Invented Champagne" (a song from the screen musical Gigi, also a collaboration with Lowe) were Jeff Harner and Andrea Marcovicci. In addition to providing occasional nuggets of information, they sang separately and together (the title song and the comic "I Remember it Well").
Many of the classic songs were refreshed by switching genders. Thus, Iris Williams sang "I've Grown Accustomed to his Face," Sally Mayes sang "I'm Getting Married In the Morning" and Joshua Lance Dixon performed "I Could have Danced all Night."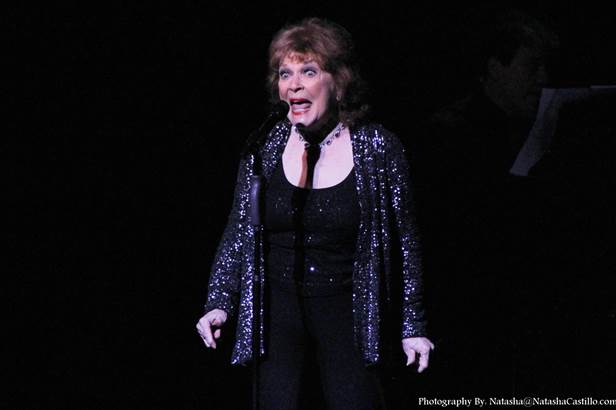 Anita Gillette stayed in gender for "Just You Wait, Henry Higgins," preceded by her account of being coached for the part by Rex Harrison's understudy.
Sidney Myer feigned humiliation at being told the perfect song for him to do at the concert was "I'm glad I'm not young anymore." Barbara Brussell spoke about Lerner's depression after his French wife abandoned him, taking their son with her to Europe. In response, Lerner made the comment that the marriage was his most expensive French lesson. In a more sober mood, he penned "If Ever I Should Leave You" (from Camelot), which Brussell sang with sensitivity.
Marta Sanders rocked the house with the torch song from On a Clear Day You Can See Forever, "What Did I Have that I don't have?" She started quietly and her singing grew in volume and intensity.
One of the more obscure songs was the witty "Garbage" from an uncompleted musical version of My Man Godfrey.
Each concert was a reminder of the extraordinary cabaret singers carrying on Mabel Mercer's tradition and the tremendous body of songs written by Americans in the last century. I look forward to returning to the New York Cabaret Convention next year.